Monday, June 25, 2018
FEI 2* Oswestry Scope Festival - Round Up
Sunday 27 August 2017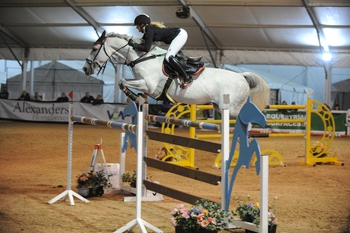 Yazmin Davis topped an epic jump-off to draw the FEI 2* Oswestry Scope Festival (24 - 26 August) to a close winning the top-billed Alexanders Horseboxes grand prix with the only double clear on Zilverster.
Forty combinations tackled course-designer Raf Suarez's meaty 1.45m world ranking track, and eleven found all the answers to access the jump-off. But clears were scarce as early riders chased the clock with newly crowned National Champion Annabel Shields holding the lead on Wet Wet Wet with a very fast four faults after hitting the vertical going in to the penultimate double.
Emma Slater also made just one error on Art D Usance, but proved four seconds adrift to slot behind Annabel.
The pressure was on, but Yazmin opted to go for the clear on the 13-year-old Guidam daughter Zilverster, and although they rattled the vertical in the double, all the fences remained intact to earn victory. "We needed that bit of luck and going for a clear suited us, she isn't the fastest against the clock," said Yazmin, who will now give this mare a few easy weeks.
Yazmin was again in winning mode on her National Championships double winner Zanbowa Z, the Zandor Z eight-year-old topping the initial day's medium tour 1.30m by 1.02 sec in a strong 16-horse jump-off. "I find he's better over bigger fences and he has a huge stride," said Yazmin, who won both Foxhunter Masters and the grade C championship at Stoneleigh.
In the last two weeks, Paul Barker has been the main man with numerous wins on the county show circuit at Shrewsbury Flower show, Anglesey and Flint and Denbigh. But he effortlessly switched from big grass rings to indoors and surfaces to claim a winning hat-trick. The on-form Happy Boy – winner of the area trials at Anglesey and Flint and Denbigh – claimed two wins, topping the big tour accumulator with 1.28 seconds in hand. "He's jumping these tracks easily now," said Paul, who also sped round the final day's medium tour speed on the Kannan 10-year-old to take the top spot.
Paul outpaced all with the super-speedy Sandors Legacy to head the middle day's medium tour 1.35m two-phase with just 0.27 seconds to spare. The 12-year-old Legacy posted several wins on the county show circuit of late but easily switched to the indoor arena and maintained his winning form, pushing Liane Smith and Wellington M into second.
James Smith lifted the Halsall Electrical big tour 1.45m in a thrilling 10-horse jump-off which saw the lead change constantly as riders dared with tighter angles and risky gallops to a tall final vertical.
Yazmin Davis and Zilverster reduced Anthony Condon's time with Zira VH Kapelhof Z but they in turn were soon demoted as Helen Tredwell cut an amazing 1.54 sec away with Larksong. But an on-form James – winner of the early 1.40m HOYS wildcard at the National Championships two weeks earlier – found another shortcut to knock a further two sec away on Bolton Gate Ben. "He's great indoors and loves the atmosphere," said James.
Chris Franks headed a 30-strong jump-off in the small tour 1.25m final with Mega Heat Wave, an 11-year-old by The Maegabyte owned and bred by Mary Ann Baker. "I can trust her to run and jump, she is so careful," said Chris, who took the win with 0.72 seconds in hand over long-time leader Joe Clayton with Eye Catcher.
Gail Burchmore made her final competition with Grauffs Clear Round a winning one in Friday's small tour 1.25m. First to go, Gail scorched around the track on the Clearway nine-year-old to win by 0.54 seconds. "He's been on a roll and won four 1.30m classes on the trot, and this was a lovely way to finish," said Gail. "I'm happy he is going to a five star home."
Ireland's Aoife Dooley headed the opening small tour 1.25m from second draw with the ultra-quick Alvatore to claim the 80-strong class. Nearest rival Adam Botham was 1.14 sec in arrears for second with his newly-crowned national 1.30m champion Dakota.
Hannah Barker, 12, followed her uncle's advice, three-time winner Paul Barker, and topped the amateur grand prix with Cartouche III. Thirteen tackled the jump-off, with Hannah smoothly executing a tight turn into the double to take the win by 0.16 seconds. "The turn was on, we had to take it to win the class," said Hannah.
Tony Pearson maxed on his final draw in the first of the amateur 1.25m classes, executing ultra-tight turns to claim victory on Tracey Cottrell's Manhattan 12-year-old Amadeus M."He gives everything a go, he's so competitive," said Tony, who had to settle for second the following day.
Holly Hammond took day two's amateur class, racing to the top with 0.63 seconds in hand on the palomino mare Bellissima, an eight-year-old daughter of Bazaars Texas she has ridden for four years.
For full results visit www.scopefestival.org
Image: Yasmin Davis and Zilvester