Friday, May 24, 2013
EUROPEAN VIEWING TRIALS AT WALES & WEST
Tuesday 08 May 2012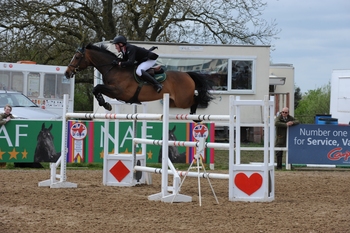 The David Broome Event Centre played host to the Wales & West European Viewing Trials for the Pony, Children, Junior and Young Riders hoping to catch the selector's eye.
Running over four days the show saw many talented riders pass through its gates.
The final day (Monday) saw the main classes of the show take place. To start the day off it was the Children's Tour Grand Prix. It was West Sussex based Ella Popely who came out on top taking the title with Sandra Pavitt's Amaryllis Van De Heffink.
"She gives me so much confidence" said Ella, at her second show with this mare, who returned to her a month earlier – "I love her, and can't thank Nicole (Sandra's daughter) enough for giving me the ride."
The European Pony Trial Grand Prix went to the Double 2011 European Gold Medallist, Nottinghamshire based Beth Vernon. Riding her mothers (Allyson) Falaza the pair sliced corners in a seemingly unhurried pace to snatch the victory.
"She's amazing and continually surprises me by coming up with the goods" said Beth, 16.
The Big Tour Junior Grand Prix was taken by Irish rider Sven Hadley.

Scotland's James Smith came out victorious in the Big Tour Young Rider Grand Prix producing the only round one clear riding Leona Smith Winday II.
"She's been jumping 1.30m – 140m, this was her first outdoor show" said James, who bought the Romantico 9-year-old three years ago, "and she jumped super."
For a full list of results please click here and the full report can be found by clicking here