Emma-Jo Slater takes the honours in the SEIB Winter Novice Qualifier at Onley Grounds Equestrian Centre
Tuesday 08 January 2019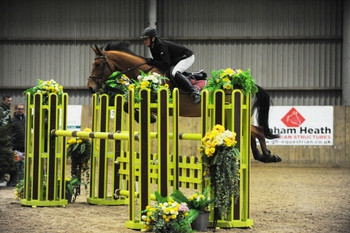 Onley Grounds Equestrian Centre in Rugby, Warwickshire was a popular choice for competitors over the weekend as eighty-four combinations came forward to compete in the SEIB Winter Novice Qualifier on Sunday with Emma-Jo Slater taking the top spot.
Thirty of the initial starters completed the first round course with a clean slate but only twelve could produce a second clear around David Cole's nine fence jump-off. With only two qualifying places on offer for the Championship Final at the Royal International Horse Show, Hickstead, West Sussex this summer, the competition was a fierce one.
On board Ross Irving's 10 year-old Belgian bred gelding Jaguar De Saint-Pierre, Emma-Jo flew through the finish line with nearly 2 seconds to spare and this guaranteed their place in the Championship Final.
Brian Thompson claimed second place with Millfield Cloe, a 7 year-old grey mare owned by Millfield Stud. They also finished with a double clear with a time of 44.36 seconds.
Onley Grounds Equestrian Centre – Sunday 6th January 2019
SEIB Winter Novice Qualifier Results
1st Emma-Jo Slater & Jaguar De Saint-Pierre – 0/0 – 42.59 seconds
2nd Brian Thompson & Millfield Cloe – 0/0 – 44.36 seconds
NB: Qualifications will be updated pending official grading of results.
Image: Emma-Jo Slater & Jaguar De Saint-Pierre in action in the SEIB Winter Novice Qualifier at Onley Grounds Equestrian Centre (CREDIT: British Showjumping)
SEIB:
SEIB Insurance Brokers formerly known as South Essex Insurance Brokers are in the top 75 brokers in the country and have been in business for over 50 years. SEIB Insurance Brokers specialise in niche markets and equestrian insurance is a large part of the business. Communication is an important key to the company's success and the ability to talk to people, explain policies and help with problems is regarded as its greatest asset and is the reason they have won many industry awards for customer care. SEIB Insurance Brokers have competitive rates for horse, horsebox, trailer, homes with stables, liability and anything else equestrian. Call for a quote on 01708 850000 or please visit www.seib.co.uk.