Sunday, May 20, 2018
Ellena Lobley is June's NAF Shining Star
Tuesday 11 July 2017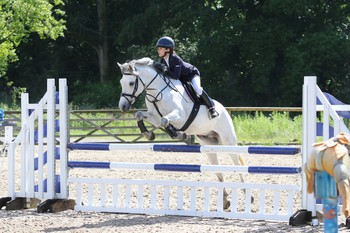 We are delighted to announce that Surrey Junior Academy Member, 13 year-old Ellena Lobley from Redhill, Surrey, has had the honour of being awarded June's NAF Shining Star. With all British Showjumping Junior Academy Members eligible for nomination, this award is a true credit to Ellena's effort and determination.
Ellena was nominated for the award by Lead Coach Christine Shubrook "Ellena was consistent with her training through the winter, showing a really good attitude and achieving her NAF Stars on the training programme. This effort is really paying off as she is showing improvement in her riding and overall horsemanship. Really well done!"
Joining British Showjumping in 2015 after realising her passion for showjumping as a member of The Pony Club, Ellena and her pony, Sparky, have come on in leaps and bounds and are now making the step up to Pony Newcomers. Upon finding out about the award, an excited Ellena said "It is really amazing to get this award! Sparky and I are still a new combination and are only just starting our journey together so it is great to have the support of the academy coaches in helping us meet our goals. I have met so many friends in the academy and it is always great to catch up with them at shows and cheer each other on; it really creates a fantastic atmosphere. I love the challenge of showjumping as every show is different. I am really pleased and will hopefully continue to improve with the help of the academy!"
Melissa Newman, NAF Brand Manager, commented "Ellena has shown that she is a deserving recipient of the NAF Shining Star. Winter is a particularly tough time when it comes to caring for horses and keeping them in tip top condition with training so it is great to see that she stayed dedicated through those months! A strong work ethic is key to being successful in sport which is clearly paying off. Well done Ellena!"
Ellena will kindly receive some NAF equine products to use alongside the supplements that she currently uses, which include GastriAid and NAF Off Deet Power Performance.
The NAF Shining Star Award was introduced when NAF became a British Showjumping Business Partner. The award is for members of a Junior Academy who have shown a great deal of commitment, progression and outstanding behaviour along with their riding ability and much more. Riders are nominated by their lead coach, and then judged and awarded by NAF to one person each month.
NAF:
NAF is the most respected and trusted brand for supplements and applications for your horses in the UK today. Using proven ingredients and creating unique effective formulations NAF has an extensive portfolio of products designed to offer something for your horse's every need.
NAF are proud to be Official Suppliers to the British Equestrian Teams and Business Partners to British Showjumping supporting the NAF Five Star Training programme and the Shining Star Awards. Jessica Mendoza says "NAF have a great team of veterinary scientists and nutritionists, they are a big help to me and are there at the end of the phone with free advice if and when you need it, 0800 373106 or info@naf-uk.com."