Wednesday, May 22, 2013
Dodson & Horrell to Sponsor British Showjumping National Amateur & Veteran Championships
Friday 04 May 2012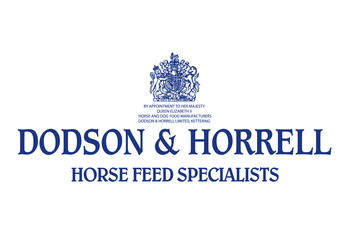 British Showjumping is pleased to announce Europe's leading horse feed specialists, Dodson & Horrell, as the new title sponsor of the British Showjumping National Amateur & Veteran Championships.

The National Amateur Championships give amateur riders and horses the opportunity to contest an end of year Amateur Final at Aintree Equestrian Centre over four different heights of fences – 90cm, 1.00m, 1.10m and 1.15m and this year's Championships will be held on 15th – 18th November 2012. The National Veteran Riders Championships, which are spilt into minor and major categories, will also be held during these dates.

Dodson & Horrell has developed its flagship product, horse feed, using over 70 years of manufacturing experience and the company prides itself on using the latest research and technology to formulate the highest quality horse feed.

Dodson & Horrell manufactures a wide range of feeds and their nutritional experts have developed feeds to suit horses and ponies that are in light work, active work or competition work. Some of their best known feeds are Pasture Mix, Competition Mix and Competition Cubes. Dodson & Horrell also manufactures to a strict code of food safety and the feed conforms to the UFAS BETA NOPS Code as required under the rules of affiliated competitions.

Sam Horrell, Senior Marketing Manager at Dodson & Horrell, said "Dodson & Horrell are delighted to be sponsoring the British Showjumping National Amateur & Veteran Championships. We are looking forward to working with British Showjumping throughout the remainder of the year and we would like to wish all of those contesting the Championships the very best of luck."

Maria Clayton, Head of Communications at British Showjumping, said "Having met and spent time with Dodson & Horrell understanding their focus on delivering quality products with top level customer service, we are thrilled that they felt the National Amateur & Veteran Championships would sit well alongside their own branding. The Championships have always proved incredibly popular and we trust that those competing across the series feel that the sponsorship is a perfect alignment, just as we at Stoneleigh do".

Andrew Tulloch, Director of Aintree Equestrian Centre, is pleased that Dodson & Horrell are supporting the National Amateur & Veteran Championships this year "It is such a wonderful competition with many riders travelling from afar to compete at this prestigious Championship. We look forward to working alongside British Showjumping and Dodson & Horrell to ensure that this year's Championship is the best yet".

The unique Championship experience that riders get from the National Amateur & Veteran Championships has proved to be a hit and the competition has gone from strength to strength year on year.
Notes to Editors:
For further media enquiries, please contact the British Showjumping Press Office on 02476 698806 or press@britishshowjumping.co.uk
Dodson & Horrell Editor's Notes:
Dodson & Horrell Ltd has been leading the way in equine nutrition for over 70 years, pioneering manufacturing methods and promoting nutritional research. The Dodson & Horrell range of high quality guaranteed horse feeds includes over 45 products for leisure and competition horses as well as feeds suitable for the breeding and racing industry. Dodson & Horrell also produce more than 25 different equine supplements and herbs. All of our products are supplied through a network of feed merchants in the UK and Europe, and exported throughout the world.
In addition to our successful horse feed range Dodson & Horrell also manufactures Chudleys Pet Foods and the Countryside Range.

For further information, please visit www.dodsonandhorrell.com or call us on 01832 737300.