Daisy Garrad becomes October's NAF Shining Star
Wednesday 29 November 2017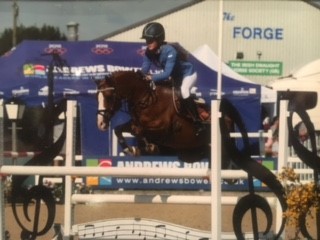 We are delighted to announce that Central Junior Academy Member, 12 year-old Daisy Garrad from Buckingham has become October's NAF Shining Star. She was up against stiff competition as all British Showjumping Junior Academy Members are eligible for nomination but it was her kindness, talent and commitment that sees her receive this award.
Daisy was nominated by Central Junior Academy Lead Coach, Mandy McGlynn "Daisy has been a member of the academy since the age of 8 and she regularly attends training sessions and camps. She has become a real asset to the academy by taking new members under her wing to impart her knowledge on how the academy works and explaining to them about the classes they can compete in. Daisy is popular with both the kids and the parents and is always happy to help with shows that our academy runs. She has a clear plan of what she wants to do with her ponies and is working on developing her riding skills to achieve her goals. She has achieved her NAF 3* Award and is working toward the 4*. Congratulations Daisy!"
After joining British Showjumping in 2014, Daisy and her ponies have gone from strength to strength, she qualified for the British Showjumping National Championships earlier this year with her pony Hatterhall Inka. Daisy commented "I can't thank Mandy McGlynn and the Central Junior Academy enough for the learning opportunities they provide for junior riders. They work very hard to raise funds for us all to benefit from subsidised training, bursaries and awards. I first met my showjumping friends through the academy and I love spending time with them all."
Melissa Newman, NAF Brand Manager, commented "Daisy is extremely deserving of the Shining Star Award. Her long term commitment to her ponies, the academy and the sport is very inspiring and something to be truly proud of. Daisy's enthusiasm to develop her riding coupled with being a keen and helpful support to new members is a recipe for success. Well done Daisy!"
Daisy will kindly receive some NAF equine products to use alongside the supplements that she currently uses, including Superflex to keep her ponies in great shape and Leather Balsam, food and soft soap for tack to match!
The NAF Shining Star Award was introduced when NAF became a British Showjumping Business Partner. The award is for members of a Junior Academy who have shown a great deal of commitment, progression and outstanding behaviour along with their riding ability and much more. Riders are nominated by their lead coach, and then judged and awarded by NAF to one person each month.
NAF:
NAF is the most respected and trusted brand for supplements and applications for your horses in the UK today. Using proven ingredients and creating unique effective formulations NAF has an extensive portfolio of products designed to offer something for your horse's every need.
NAF are proud to be Official Suppliers to the British Equestrian Teams and Business Partners to British Showjumping supporting the NAF Five Star Training programme and the Shining Star Awards. Jessica Mendoza says "NAF have a great team of veterinary scientists and nutritionists, they are a big help to me and are there at the end of the phone with free advice if and when you need it, 0800 373106 or info@naf-uk.com."