Wednesday, April 25, 2018
Christopher Smith takes top spot in the Equitop Myoplast Senior Foxhunter Second Round at North Cumbria Area Show
Monday 15 May 2017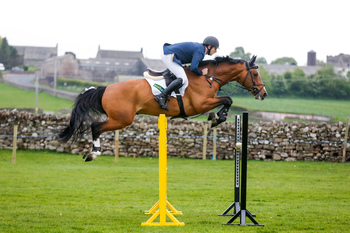 The North Cumbria Area Show at Greenlands Equestrian Centre, Carlisle played host to this week's Equitop Myoplast Senior Foxhunter Second Round and it was Christopher Smith who claimed victory.
With two direct qualifying tickets on offer for the Equitop Myoplast Senior Foxhunter Championship Final at Horse of the Year Show in October, each of the thirty-five starters had their sights set on producing a treble clear. The first two rounds over a technical course designed by Rafael Suarez saw just five combinations left to battle it out in the final jump off.
Christopher Smith from Hyde in Cheshire shot straight in to first place on board Emily Whiteside's 8 year-old bay stallion, Warriors Glory. This pair held their nerve as they headed into the five horse jump off to deliver a treble clear in 44.93 seconds.
Taking home second place was Douglas Duffin from Dollar, Clackmannanshire and Pyjama Jack, a 9 year-old bay gelding owned by Fiona Horne. This partnership left all the fences standing in a time of 46.22 seconds.
With the top two taking the direct qualifying tickets for the Equitop Myoplast Senior Foxhunter Championship Final, the combinations in third to fifth took home the chance to compete at the British Showjumping National Championships.
North Cumbria Area Show – Saturday 13th May 2017
Equitop Myoplast Senior Foxhunter Second Round
1st Christopher Smith & Warriors Glory - 0/0/0 – 44.93 seconds
2nd Douglas Duffin & Pyjama Jack - 0/0/0 – 46.22 seconds
3rd Holly Miller & Felicio III - 0/0/0 – 53.73 seconds
4th Rachael Connor & Zaha – 0/0/12 – 55.92 seconds
5th Robert Murphy & Harriet – 0/0/12 – 73.12 seconds
NB: Qualifications will be updated pending official grading of results.
Image Credit - Digital Works Ltd
The Horse of the Year Show 2017 will take place from the 4th – 8th October at Birmingham's NEC. The British Showjumping National Championships 2017 will take place during the 8th – 13th August at the National Agricultural and Exhibition Centre (NAEC), Stoneleigh Park, Warwickshire.
Equitop Myoplast:
Equitop Myoplast® is a unique amino acid supplement specifically designed to support lean muscle growth, helping horses to respond and cope with the demands of training and rehabilitation. The blend of amino acids in Equitop Myoplast supports lean muscle growth in older horses that lose condition easily, those in intensive training or competition as well as young and developing horses. This popular amino acid supplement is the leading equine supplement sold by veterinary surgeons in the UK(1). References – (1) GFK industry sales data MAT Jan 17. For more information please visit www.equitop-myoplast.co.uk.