Monday, June 25, 2018
Chloe Reynolds secures victory in the Nupafeed Supplements Senior Discovery Second Round at Chard Equestrian
Monday 10 July 2017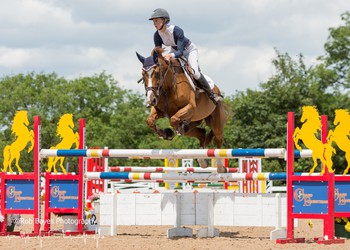 Chard Equestrian in Crewkerne, Somerset had glorious weather on Sunday when they played host to a Nupafeed Senior Discovery Second Round and it was Chloe Reynolds who secured victory with a speedy treble clear.
With a keen field of fifty-seven starters all looking to claim a place in the Nupafeed Supplements Senior Discovery Championship Final, which will be held during the British Showjumping National Championships in August, a competitive class unfolded. The first two rounds saw poles fall, leaving twenty-four talented combinations to go forward to the final jump off.
Local rider Chloe Reynolds from Bridgewater, Somerset produced an unbeatable performance riding Conchello Gold, a 6 year-old chestnut mare owned by Jane Reynolds, straight in to first place. This combination delivered two foot perfect rounds to take their place in the final jump off, where they went on to storm round the newly shortened course in 30.20 seconds.
Scooping second place was Claire Daniels from Tintagel, Cornwall riding her own 8 year-old grey gelding El Paso RK. This pair put forward a treble clear performance and stopped the clock in 34.47 seconds.
Chloe continued her treble clear form on Sally Waters' 12 year-old black gelding, Kara. This partnership jumped three strong clear rounds in 34.55 seconds for third place.
With another eight combinations also achieving a treble clear, a total of eleven combinations now go forward to the Nupafeed Supplements Senior Discovery Championship Final.
Chard Equestrian – Sunday 9th July 2017
Nupafeed Supplements Senior Discovery Second Round
1st Chloe Reynolds & Conchello Gold – 0/0/0 – 30.20 seconds
2nd Claire Daniels & El Paso RK – 0/0/0 – 34.47 seconds
3rd Chloe Reynolds & Kara – 0/0/0 – 34.55 seconds
4th Alice Bennett & Faroon – 0/0/0 – 35.67 seconds
5th Laura Bennett & Big Bang – 0/0/0 – 36.01 seconds
6th Kathrine Wright & Adelaide II – 0/0/0 – 36.39 seconds
7th Rebecca Mason & Vancurtis – 0/0/0 – 36.48 seconds
8th Anna Austin & Larigo II – 0/0/0 – 40.36 seconds
9th Helen Mitchell & Castleview Murphy – 0/0/0 – 40.59 seconds
10th Taylor Greenwood & Katrina – 0/0/0 – 40.72 seconds
11th Rebecca Mason & Pure Pleasure II – 0/0/0 – 42.50 seconds
NB: Qualifications will be updated pending official grading of results.
Image Credit - Rob Bayes Photography
The British Showjumping National Championships 2017 will take place during the 8th – 13th August at the National Agricultural and Exhibition Centre (NAEC), Stoneleigh Park, Warwickshire.
Nupafeed Supplements:
Imported from Germany, Nupafeed supplements combine advanced scientific research with the highest quality ingredients to make their products truly unique. The Nupafeed range includes: the highly acclaimed MAH® Liquid and Syringes to calm and reduce stress, Flex GLM (Green Lipped Mussel) joint supplement and Staying Power to aid energy, strength and stamina. Used by top professionals, including John Whitaker and Philip Miller, Nupafeed products are permitted for competition and are available by mail order. Nupafeed aims are to ensure an unbeatable quality of product, supplied with friendly and honest advice. The team have experience in conversing with customers who represent all levels of horse ownership, in every discipline. For more information, visit www.nupafeed.co.uk.