Chantelle Duggan claims The Champagne Cave Winter Grades B & C Qualifier at Arena UK
Tuesday 04 December 2018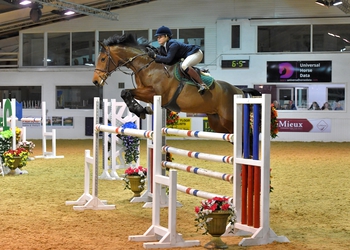 Friday the 30th of November saw Chantelle Duggan from Knottingley, West Yorkshire claim the win in the fourth of The Champagne Cave Winter Grades B & C held at Arena UK in Allington, Lincolnshire.
Thirty-four combinations came forward to tackle the course designed by Jason Abbs but only ten made it one step closer to getting their hands on the two qualifying tickets on offer for the 2019 Championship Final which is held at the prestigious Royal International Horse Show at Hickstead, West Sussex.
Riding her mother Margaret Duggan's 10 year-old bay mare Hanleen Thisthills, Chantelle delivered the quickest first round clear to take her place in the jump off. They made full use of the tight turns on offer and sped through the finish line clear with 1.81 seconds to spare
Michaela Webb from Holcot, Northamptonshire jumped the next quickest double clear of the competition on her own 6 year-old chestnut gelding Amarillo FSH. This combination finished in a time of 35.28 seconds.
Arena UK Equestrian Centre – Friday 30th November 2018
The Champagne Cave Winter Grades B & C Qualifier Results
1st Chantelle Duggan & Hanleen Thisthills - 0/0 – 33.47 seconds
2nd Michaela Webb & Amarillo FSH - 0/0 – 35.28 seconds
NB: Qualifications will be updated on the website pending official grading of results.
Image: Chantelle Duggan & Hanleen Thisthills in action in The Champagne Cave Winter B&C Qualifier at Arena UK Equestrian Centre (CREDIT: Equipics Event Photography)
The Champagne Cave:
The Champagne Cave was set up in order to source the best vintages from small niche growers in France and is now predominantly supplied by small family run vineyards. The company regularly visits the Champagne region to check on the produce and witness the production process first hand. The Champagne Cave has handpicked some of the finest champagnes, many of which are not found for sale elsewhere in the UK. Their 'clos' wines are from one of the few remaining walled garden vineyards whilst their Grand Cru magnum champagnes are made by a grower who only produces 500-1000 magnums a year. Shop the selection via www.thechampagnecave.co.uk.