Wednesday, April 25, 2018
British Showjumping's Team NAF finish 2nd on the Nations Cup League following Drammen
Friday 12 May 2017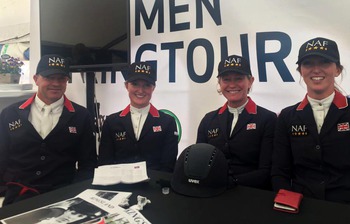 Following the 5th place finish for the team of four competing in the CSIO3* Nations Cup in Drammen, Norway this evening Great Britain are now sitting in 2nd place on the 2017 European Division 2 league table. Drammen, the second competition of the season, saw the Brits pick up 60 points to add to their 90 secured in Belgium which sees us sitting just behind Belgium who currently lead the table just 40 points head.
The course in Drammen was definitely a tough one that required forward riding to stay within the time allowed and even Ireland, who took the title, finished on a relatively high penalty score of 20. Belgium took 2nd place by being just one time penalty behind them whilst France finished 3rd on 24 penalties and the Netherlands 4th on 29 penalties.
For Great Britain, it was a total of 33 penalties that saw the team finish in 5th place following some mixed performances. Phillip Spivey from Ipswich, Suffolk with the 9 year-old bay mare Darya I Nur, owned by Gregory Forrest and Phillip took the role of pathfinder for the team. Darya I Nur, who was stepping up for her first appearance on a team picked up 8 penalties in the first round followed by 12 in the second.
Harriet Nuttall from Yeovil, Somerset with the 13 year-old chestnut gelding A Touch Imperious, owned by Rupert Nuttall didn't look their usual selves in the first round when they accumulated 13 penalties to become the dropscore, however they seemed a lot more settled in the second returning home on 5 penalties as a result of a touching a pole and breaking the finish line just outside the time allowed.
Jessica Dimmock from Northamptonshire with the 9 year-old bay mare Cybel II, owned by Jane Knight would have been absolutely delighted with her debut performance on a senior team when she jumped clear in the first round returning a zero penalty score for Great Britain. They were unlucky to pick up 4 penalties in the second round but their delivery throughout the competition was a good one and was pivotal in Great Britain securing some of the much valued league points on offer.
Julie Andrews from Preston, Lancashire with the 12 year-old bay gelding Ayrton IV, owned by Eva Bjorkman didn't look as settled as normal in their first round when they picked up 12 penalties towards the latter end of the course. However, their second round certainly looked like they had got back into their stride and it was just 4 penalties allocated to them which allowed the team to nudge Poland into 6th place as a result of them sitting one time penalty behind us.
The Drammen Grand Prix will be on Sunday 14th May at 13:00 hrs local time and all eyes will then be set on the next Nations Cup where points are available which will be in Lisbon at the end of the month.
For further information on the show and full results once the show is underway, visit www.drammenspringtour.com. Full information in respect of the FEI Nations Cup series can be found by visiting www.fei.org.
British Showjumping would like to thank NAF, title sponsors of the Senior Nations Cup Teams along with the Children, Junior and Young Rider teams.
NAF's premium range of Five Star brands include Superflex, Superflex Senior, PROFEET, Optimum, Magic, Oestress and Respirator Boost with quality at the heart of everything they do. They are a UFAS (Universal Feed Assurance Scheme), GMP+ (International Feed Assurance Scheme) and BETA NOPS (Naturally Occuring Prohibited Substances) accredited company and this enables them to guarantee full traceability on all the natural ingredients they utilise in their formulations, which are also selected in compliance with the FEI guidelines for Clean Sport. For further information, visit www.naf-equine.eu/uk/index.jsp.
The GBR showjumping teams are supported by the British Equestrian Federation's World Class Programme, funded by UK Sport through the National Lottery. The Programme focuses on identifying talent, developing potential and maximising medal-winning performances on the world stage.