British Masters International CSI2* at South View Equestrian Centre 2018
Monday 02 July 2018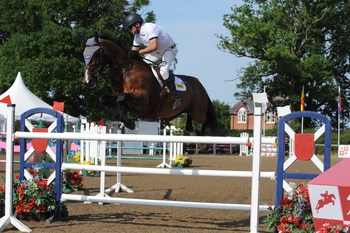 Three years after his first victory, local Cheshire man Keith Shore landed the World Ranking 2* Grand Prix to be crowned British Masters Champion with Betty Brandon's Mystic Hurricane on the final day at Wettenhall.
Forty-four tackled course-designer Mark McGowan's 13-fence track where a restrictive time caught out early competitors, with four riders leaving all the fences intact but returned on one time fault. But others soon upped the pace and an eventual six came forward to a tense and exciting jump-off in the sun.
"The course walked OK but the time was tight," said Keith, who applied his usual tactics of "jump the first day, rest the second and jump the grand prix on the last day," with his seasoned campaigner 'Hurri' and they worked well.
Nicole Pavitt got the ball rolling and as first to go, had no option but try and set a quick target. However, the penultimate vertical fell for the home-bred 8-year-old Paris 16 (Don VHP Z x Quo Vadis) and they dropped to an eventual fifth.
Jess Dimmock set the standard with the scopey Harriri – a former ride of Emily Moffitt – but Keith immediately found tighter lines and eased ahead with the tornado 15-year-old Mystic Hurricane to win with 0.41 seconds to spare.
Day one's 1.45m winner The USA's Julie Welles with Nouvelle posted the quickest time of the class, but the rail coming out of the double fell to drop them to fourth as Geoff Billington – another local from Cheshire – used his final draw on Con Man JX to return and other clear and slot into third place.
Winner of Warrington Horse Show's Area Trial a month ago, third in Royal Highland's International Stairway and second in Grand Prix, Keith and Hurri have been on recent form.
"He feels good, he skipped through the double and was good on the roll-back to the final line," said Keith.
An on-form Paul Barker notched up a hat-trick of wins and almost made it four. He doubled up on wins with Lux Fabulous in the small tour, getting the show off to a great start with the opening 1.30m two-phase, taking the win by 0.96 seconds on the 13-year-old gelding. And the speedy pair repeated their win in day two's 13-strong 1.30m jump-off with 0.69 sec in hand.
Paul's third win came in the medium tour 1.40m accumulator with Joker, Sovereign Equestrian's Kannan 11-year-old Happy Boy stepping up to the plate to land victory by a handsome 3.54 seconds.
"They are both on great form and ticking over well and the courses suited both of them," said Paul, who lists recent wins at Bramham and Royal Highland.
Paul was narrowly denied a fourth win in the concluding medium tour 1.40m table C speed, again with Happy Boy. The gelding matched Paul's fervour for speed but they clipped out the penultimate vertical, although they were so fast they held the lead for the majority of the way.
Annabel Shields had other ideas and used her penultimate draw to maximum effect, urging Carnoneybridge Challenger into a win with 0.23 seconds in hand.
"He over-reached yesterday but was back on flying form today. He's fairly nippy and quick across the ground and he loves to run and jump," said Annabel on the Irish-bred Hermes De Reve 10-year-old. "I've had a four-fault show and left it until the last class, but he pulled it out of the bag."
But there was another win for the Barker family as Paul's niece Hannah landed the amateur 1.10m Grand Prix for the second consecutive year on Cartouche II.
Nine contended the jump-off but Hannah found all the right moves to claim the top spot by more than three seconds.
"He's got a long stride, I could take out strides down the distances and he's very careful," said Hannah.
Nigel Coupe secured victory in the middle day's 1.45m two-phase with the final draw on his Northcote Grand Prix winner Jubilee III, denying long-time leader Mennell Watson and the Cobretti stallion Whisper In The Win by 0.66 seconds.
"It was my luck going last," said Nigel, who has found the use of a water treadmill with this 14-year-old mare has paid dividends – "She didn't quite feel right but the treadmill has tightened her up in her body."
Louise Saywell topped the Small Tour Grand Prix with an early round in the 13-horse jump-off by 1.36 seconds on Old Lodge's 9-year-old Sharp Image.
"He super-careful and super-competitive but quite spooky," said Louise on the Calvados Z gelding. "I had to go all out as I was drawn early, but I kept on tight lines and in a rhythm."
Millie Allen outpaced all in day one's medium 1.40m on with a 0.49 second advantage on the classy Quinu De Pravia, a 9-year-old by Action Breaker she has ridden since October.
Cheshire-based Sarah Williams lifted the amateur 1.20m title by 1.77 seconds in a hotly-contended 16-horse jump-off with her home-bred 11-year-old Calvaro Star, a daughter of Calvaro Z out of a Quick Star mare and current National Champion after winning at the Spring Championships.
"She's dead honest and she's jump from anywhere, she so bold and brave," said Sarah, who last won this title in 2014.
Sarah is kept busy supplying and fitting Equipe and Amerigo saddles, so showjumping has to come second – "But she's so honest I can drop her then pick her up again, and she's just the same."