BLUE CHIP WINTER SHOWJUMPING CHAMPIONSHIPS 2018
Monday 09 April 2018
Exciting new combinations took home rugs and sashes from the popular Blue Chip Winter Showjumping Championships – now in its 27th year.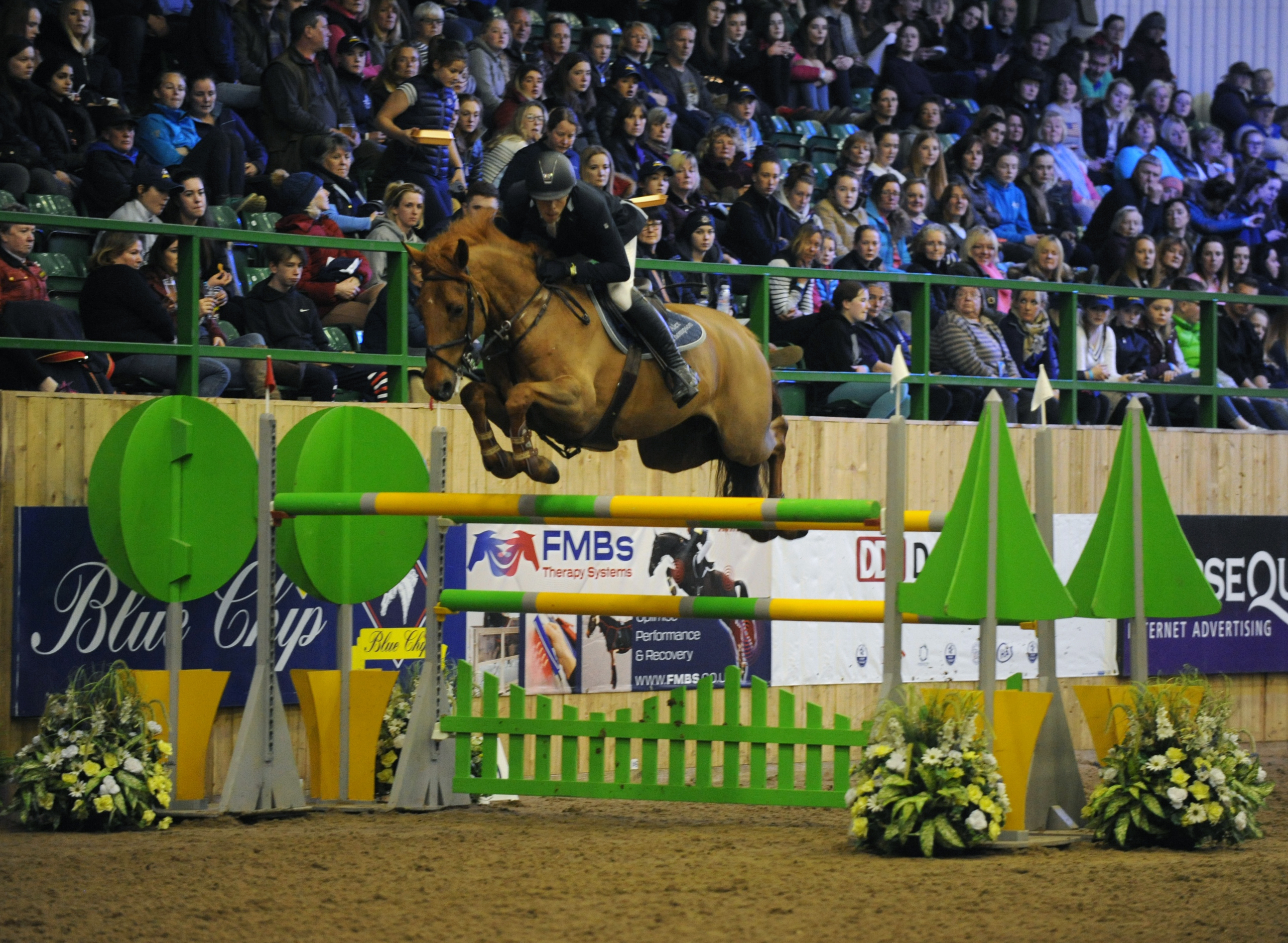 Alex Thompson came to the fore in the Blue Chip Grand Prix with Cathalina V, a 9-year-old Catoki daughter he has produced steadily for the past three years.
Nine of the thirty-four starters posted clears over Paul Connor's 13-fence track with fourth-drawn Alex using smooth lines to secure the £2,500 first prize by 2.67 seconds.
"I've always taken my time with her, I didn't want to race her against the clock," said Nottinghamshire-based Alex, who only came for this class.
Harry Wainwright's opener on the It's the Business nine-year-old, Pinheiro Beech. took second with Miles Pearson and his home-bred Larino eight-year-old Castiel in third with a super double clear.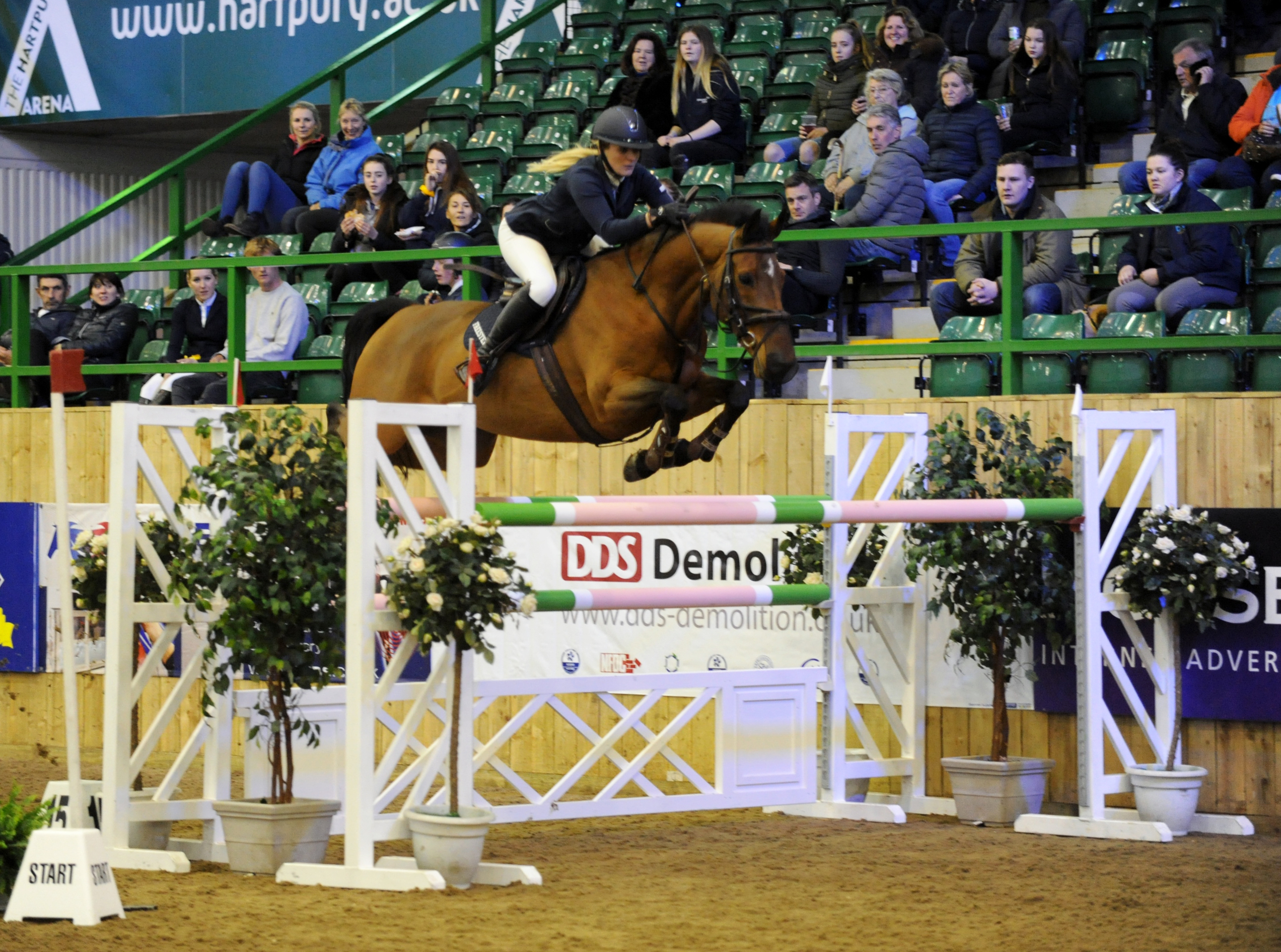 Kerry Brennan and the feisty, crowd-pleasing Wellington M notched up their ninth win in a row with the Blue Chip Pro Challenge on Thursday night – much to the spectators' delight.
With eighteen vying for the top spot, the jump-off promised to be hot, but almost half the class hit the 'Blue Chip' oxer, until 12th draw John Daker provided a clear on Credit Card. But Kerry and the ever-eager 'Wellie' soon wiped seven seconds from the time to score another win.
John had to settle for third when late-drawn Mark Edwards eased Montreuxs Tale into second place.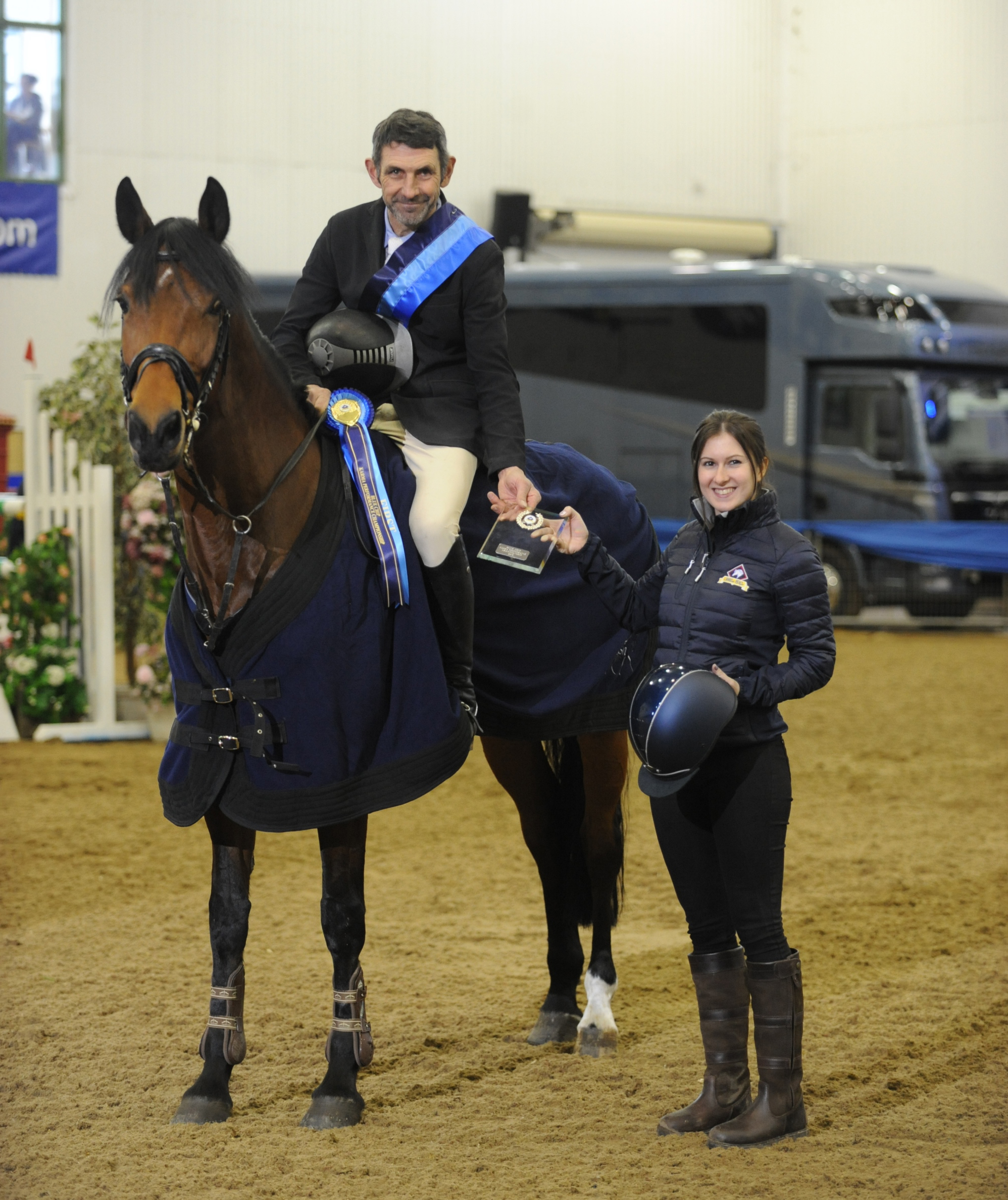 Adam Ellery lifted the Blue Chip Karma Performance Championship in a fourteen horse decider with Fairway, an 8-year-old mare owned jointly with Darren Juleff.
"She's the sweetest-tempered mare who loves her jumping," said Adam, who made the five hour journey from Cornwall worthwhile.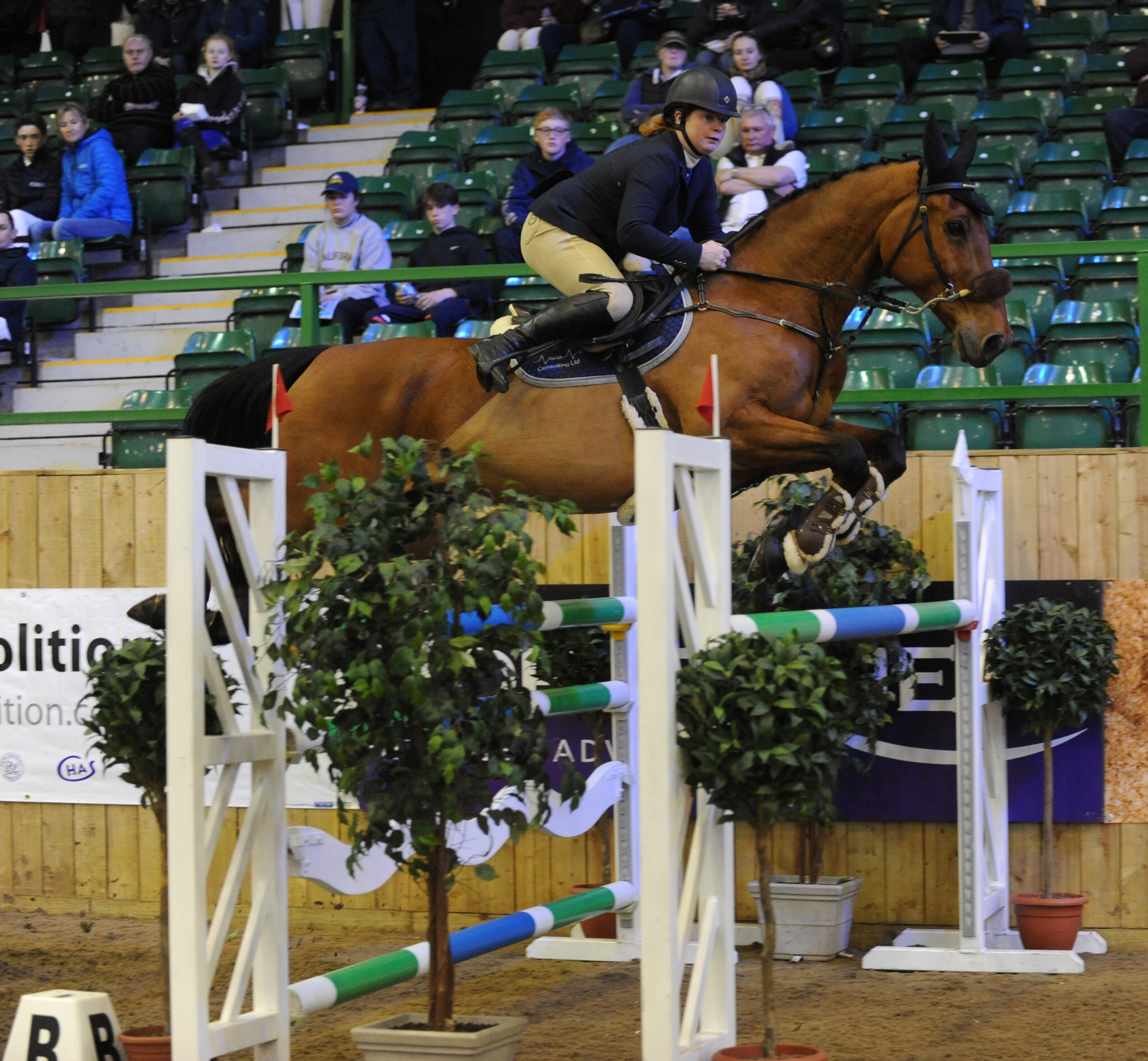 After 10 years of trying, Ami Measor finally took home a Blue Chip sash and rug after winning the Blue Chip Dynamic B and C Championship with Plucain in a sixteen strong jump-off.
"We've been coming here since his British Novice days – he's 15 now," said Ami, who hopes to move Plucain up to Area Trials this year.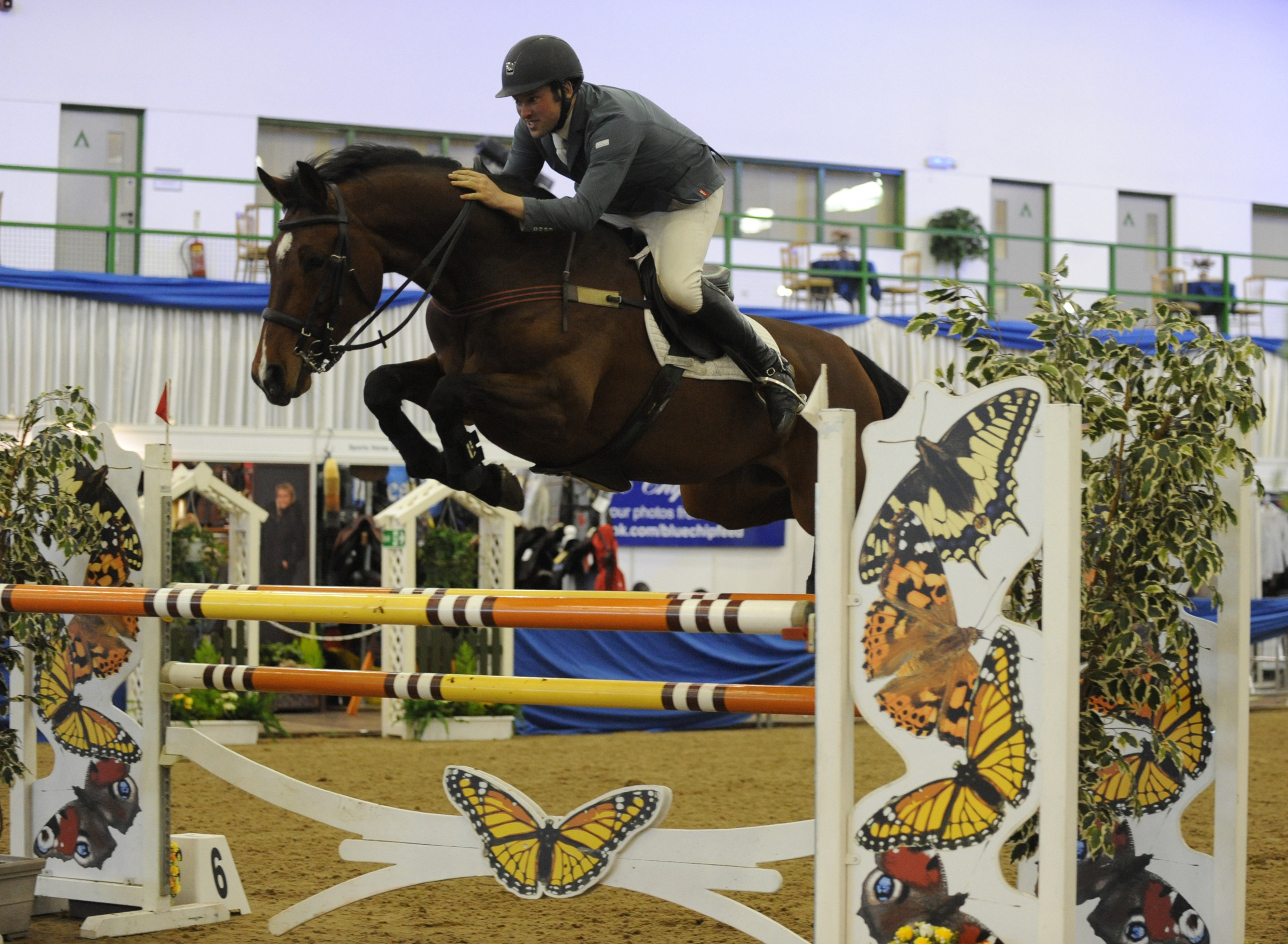 John Crippen raced to the top in a hot twenty-two strong jump-off in the DDS Demolition 1.25m Championship with Patricia Brown's The Flying Fox III.
"This class suited her down to the ground," said John who meets the 11-year-old mare at shows.
A delighted Sophie Cornwell-Boote claimed the Blue Chip Joint RLF Power Championship with her mother Jackie Cornwell's home-bred Vanilla Ice III, an 8-year-old who traces back to King of Diamonds.
"This is amazing, it's our first show since January as she had a virus and only came back into work five weeks ago," said Sophie.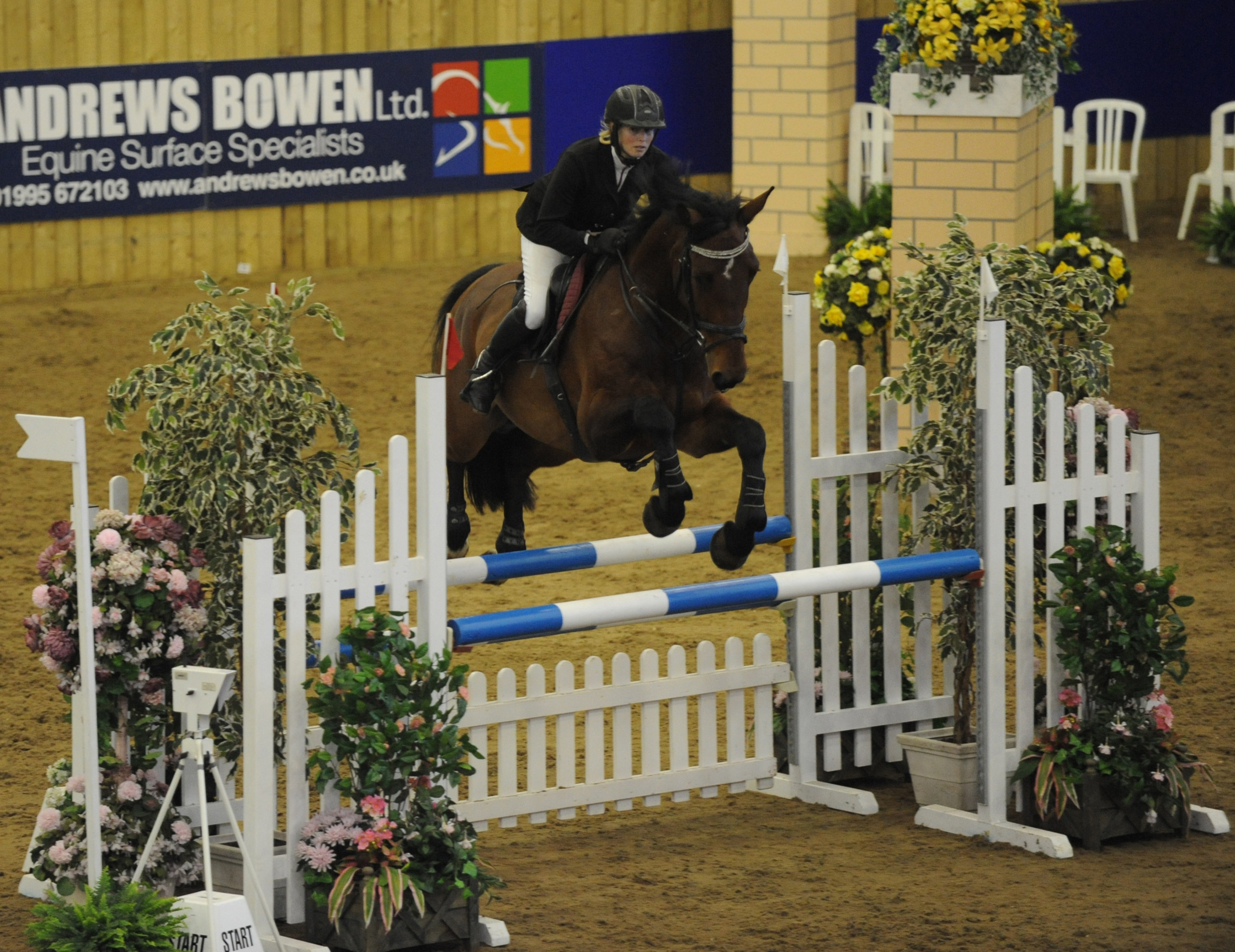 A Blue Chip veteran who claimed her first Championship win twenty-one years ago, Emma-Jo Slater was again in the top spot in the Joshua Jones UK Discovery, winning with Kim Barzilay's home-bred Kimba Uttah. The 5-year-old is half-brother to Billy Twomey's International ride Kimba Flamenco, out of the same mother, Uttah Van Indihof and by the home-bred stallion Kimba Kannarko.
"He's similar to Flamenco at this age, very easy, and good to do," said Emma-Jo, who relegated Ryan Page and Varco II by 0.71 seconds in a hot, thirty six strong jump-off.
Ryan had claimed the first Championship of 2018 with the HorseQuest UK Novice title on Di Fairclough's Varco II, a 6-year-old stallion by the Voltaire son Winston.
"He's lovely, kind and a trier – he galloped to the last and jumped it easily," said Ryan. "He has foals on the floor and is standing at stud this season."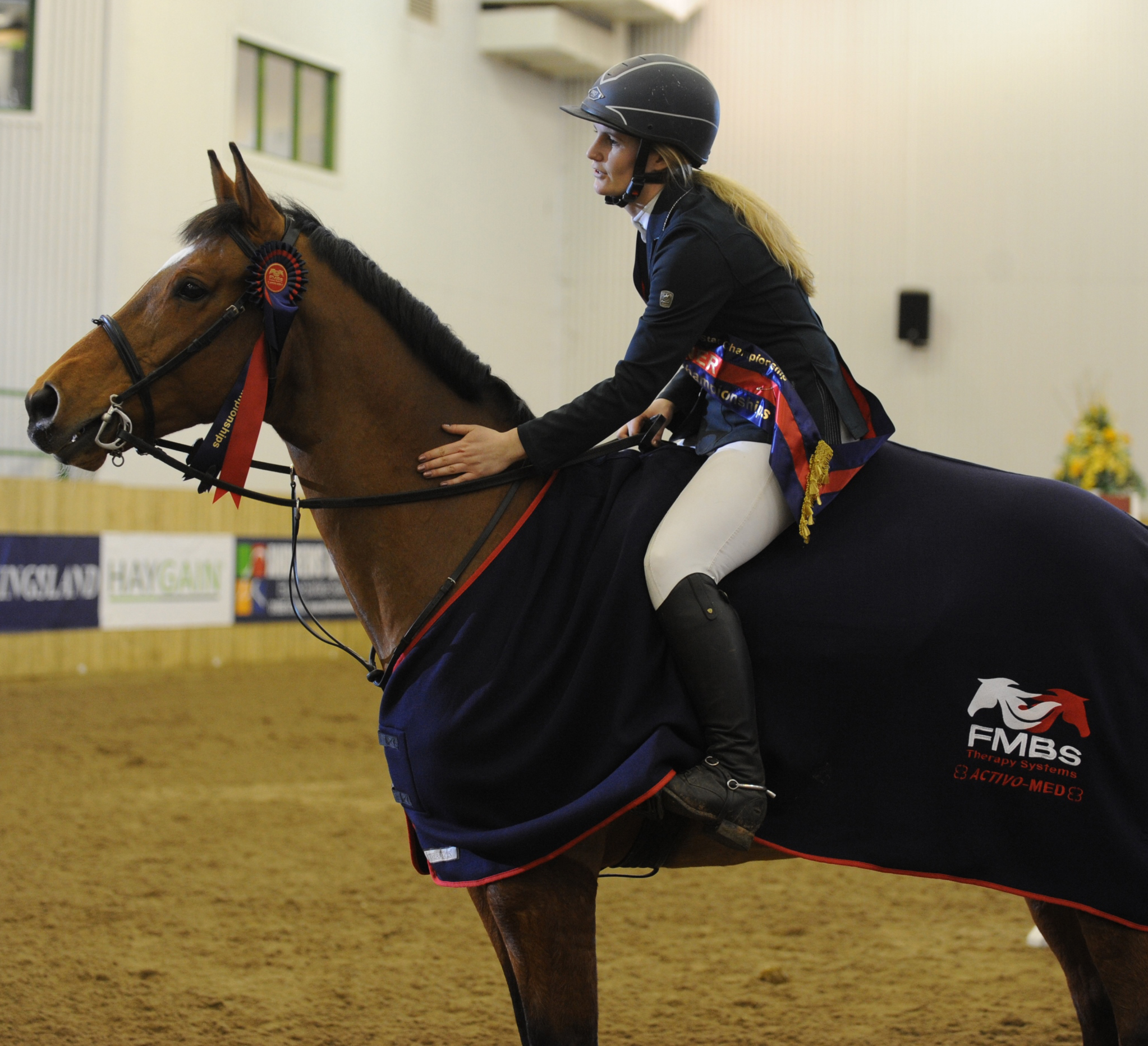 Catherine Mills claimed her biggest win in the FMBs Therapy Systems Star Championship on Florian Van Orshof, a Belgian-bred 13-year-old bought from trainer Sally Jobson-Scott eight years ago.
"I didn't like the jump-off course at first, but I got a dream shot on every turn," said Exeter-based accountant Catherine, who popped the planks with the sharpest of angles to take victory in the twenty-eight strong jump-off by 0.76 seconds.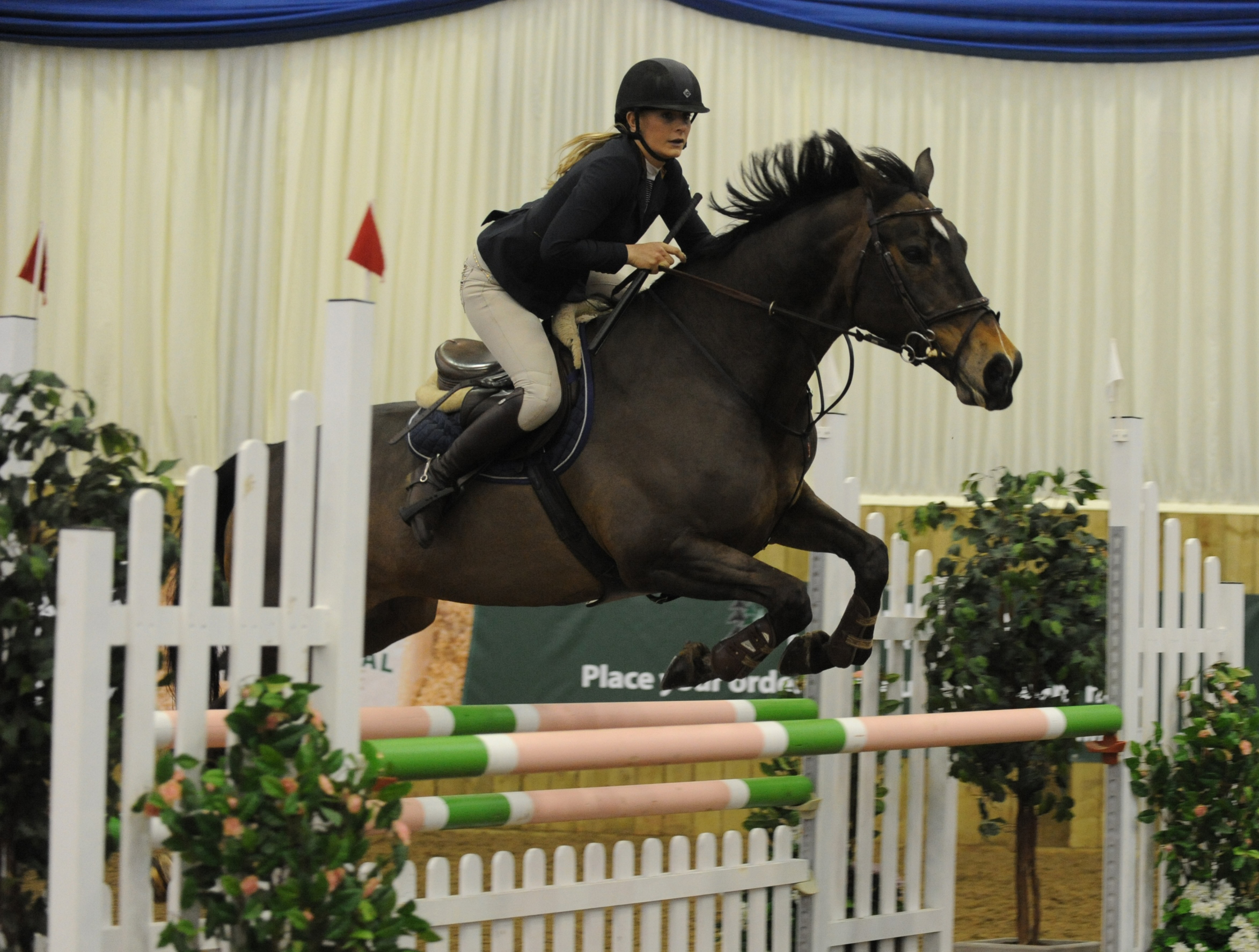 A flying round by Anya Brown secured the Haygain Hay Steamers Diamond Championship by 0.73 seconds on Pam Hillard's 16-year-old Vera.
"She's a little star, the easiest horse I've ever sat on," said Anya, who last won a title at these Championships eight years ago in the Pony Discovery with By Chance.
Alice Young justified taking time off from GCSE revision by winning the Blue Chip Pro Sparkle title with the opening round of the six-pony jump-off on the 13-year-old Suzie Two Coats.
"She's so genuine, I trust her completely," said Alice, 15, who has ridden the skewbald mare for two years.
An on-form Jessica Howard was unbeatable on the final day, claiming a hot double of wins with the HorseQuest UK Sapphire and Coral Championships aboard Adrienne Staunton's Tinkas Gentleman Jim. Both classes were won with ultra-tight lines and a daring gallop to the last.
An almost impossibly tight turn in the sapphire could have gone either way.
"I was very sharp back to the plank but he trusted me to jump it," said Jessica, who has formed a bond with this 15-year-old pony.
Jessica is based at Keysoe Equestrian Centre, and the support she receives is invaluable.
"Simon [Bates] is great and always makes sure the jumps are available for me to use when I need to," said 15-year-old Jessica.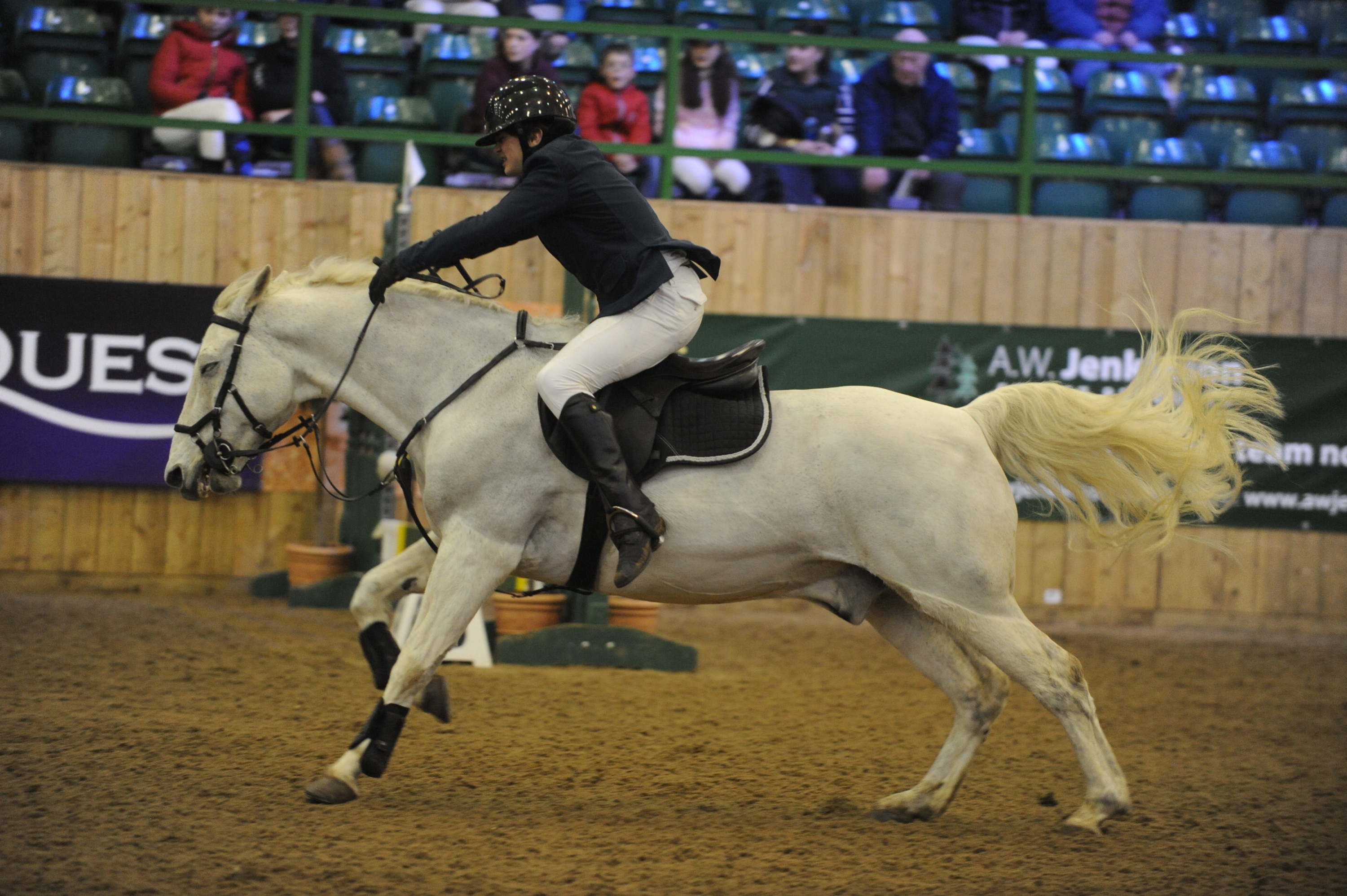 Harry Foulds made the magic happen at his first visit to the Blue Chip Championships with a flying round to take the Eskadron Pony Discovery title on the 16-year-old Connemara pony Magic Moments IV.
"I closed my eyes to the last and prayed he'd jump it," said Maidstone, Kent-based Harry, 15, who was off to Essex the following day to compete in a schools competition in Essex.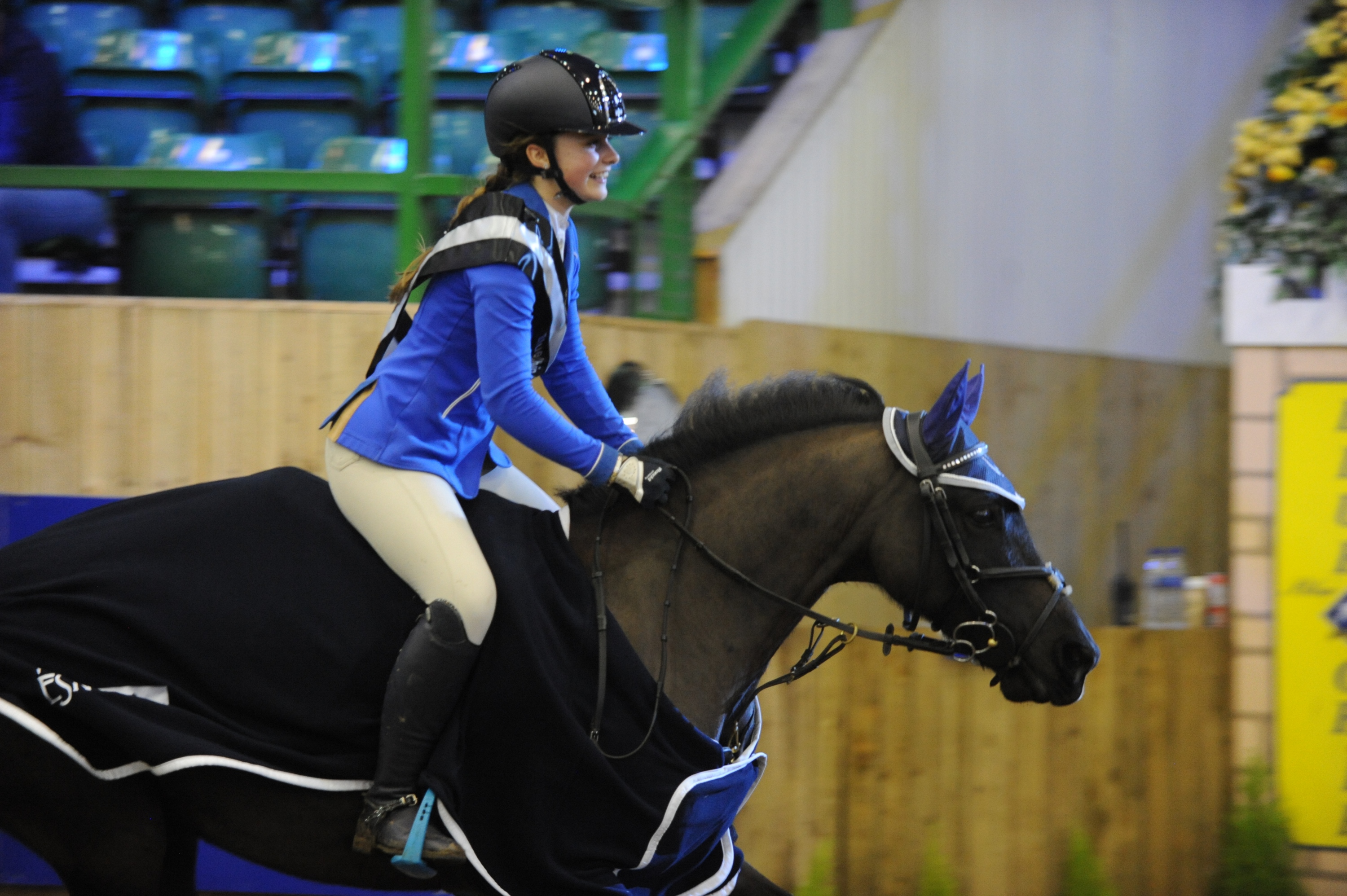 Lucy Spittle outpaced all her thirty-four jump-off rivals to take the Pikeur Novice Pony crown on the 8-year-old Brecklyns Not A Problem.
"He's perfect and makes sure I have fun," said Lucy, 12.
NB: Qualifications will be updated on the website pending official grading of results.