Monday, June 25, 2018
BLUE CHIP WINTER SHOW JUMPING CHAMPIONSHIPS
Monday 10 April 2017
All roads led to Hartpury and the Blue Chip Winter Showjumping Championships as this five-day meeting – now in its 26th year – proved more popular than ever and guaranteed early starts and late night finishes.
Kerry Brennan rounded off a great night on Gala evening with a crowd-pleasing win in the Grand Prix with her mother Liane Smith's charismatic Wellington M.
Fifteen of the forty-seven starters posted initial clears over course-designer Paul Connor's 12-fence track. First off Ben Walker set a seemingly unhurried standard on Downes Howard's Roulette H, but it wasn't until mid-drawn Kerry that anyone came near.
The effusive pair proved in top form, however, even though the feisty 14-year-old 'Welly' has only just returned to competition after a 10-week holiday. A flyer to the final Blue Chip oxer earned a deserving victory.
"He's very glad to be back in action and loves a jump-off," said Kerry.
A late challenge from Phillip Miller on Brendon Stud's home-bred Unbelievable Lady could only come within two seconds for second place, pushing Ben into third.
Fresh from a show in Le Mans, France, Tracy Priest forged ahead in a strong 20-horse Blue Chip Pro Challenge Trophy jump-off to claim victory on Caruso D'Eres Z.
"He is naturally quick and usually in the money," said Tracy, who had a quiet winter after finishing fourth in the HOYS Newcomers and Grade C finals on this Calvaro Z 8-year-old.
Matt Sampson and the Evison family's Ebolensky shaved just 0.02 sec off Katie Pytches' opener with CSF Olympic Lady to claim the Blue Chip Dynamic B and C title.
"We'd aimed for this class and had a quiet warm-up yesterday," said Matt, who thanked the Evison family for their ownership and support since gaining the ride on the 8-year-old mare in December.
Chloe Reynolds came for one class at these championships and promptly won the Blue Chip Karma Performance title with opening round on Jane Reynolds' consistent Grenadier Volo, a Numero Uno x Quidam de Revel 6-year-old. And there was an added bonus – Chloe, 18, also won a brand new Prestige saddle.
"I'd been planning to buy a new saddle," said a delighted Chloe.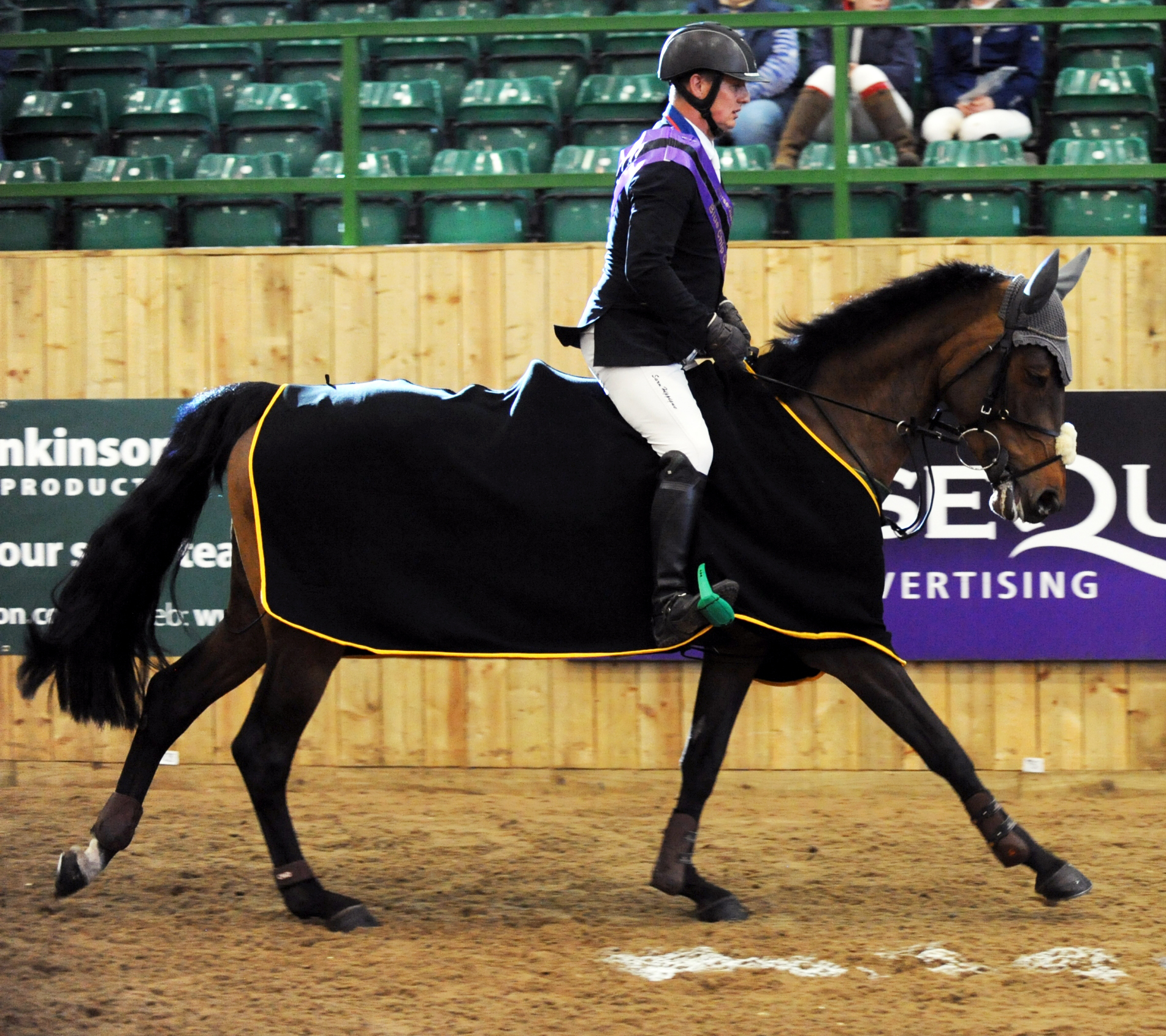 Julian Mincher posted a double victory, taking home the coveted sashes and rugs from the HorseQuest UK Novice and DDS Demolition 1.25m Championships.
Despite feeling distinctly under the weather, Julian negotiated tight turns at a good pace to head a competitive, 23-horse jump-off to take the 1.25m by 4.24 seconds on Vanessa Pymont's Risk It, an 11-year-old by Mr Darcy.
"He is so consistent and has won countless times for me in the two years I've jumped him, he's little with a big heart," said Julian.
Julian cut every available turn to the quick and rode a flourishing gallop to the last to claim the Novice title on Equity by 2.79 seconds.
"She's easy and straightforward, a proper winner," said Julian, who bought this 5-year-old two months ago.
Michaela Huntington landed the Blue Chip Joint RLF Power Championship on the For Fashion 6-year-old Gina Trojka S in a 27-strong decider and credited British Showjumping's 'Step up to Gold' programme.
"The training and the trip to Bonheiden has helped enormously," said Michaela, who travelled Gina alongside top horse Alegro Z and contended her first world-ranking class.
Katie Shaw landed the Ariat Star title with a flying gallop to the final oxer on her sister Emma Sargeant's home-bred Fools Business, a 16-year-old by Its The Business.
Thirty-five from eighty-two starters made this a hot jump-off, but Katie kept her cool to claim victory with the final round, taking out a stride to the final oxer to win with a flourish.
A former equine management student at Hartpury College returned to the venue to score her biggest victory, Chloe Coward heading the Joshua Jones UK Discovery Championship on her Blue Chip debut with H BlokX.
The Der Senaat sired 5-year-old was bought last September after Chloe "fell in love at first sight."
Lesley Mitton rode like she was on the hunting field to win the Haygain Hay Steamers final with the 12-year-old Heart Of Savannah.
"She's amazing out hunting, as brave as a lion," said Lesley, who has only showjumped for the past 18 months and won by two and a half seconds.
PONIES
Perdita Digby conquered all to take the Blue Chip Pro Sparkle JC/JA Championship with a flying round on her mother Sophie's Kayleighs Star.
"She's the kindest pony ever and gives me so much confidence," said Perdi, 14, who originally jumped this 14-year-old mare in British novice before Chloe Reynolds loaned her for two years and contended the 2014 HOYS newcomer and Foxhunter finals.
Elloise Smit jumped to the top on her Blue Chip debut, taking the HorseQuest UK sapphire title on Deborah Smit's 9-year-old Bearnaderg Star in a 33-pony decider.
"She was a very green five-year-old when we bought her, but we've progressed together," said Elloise, 13.
Forty-one from a field of one hundred and five contended the Animo Pony Discovery, but undaunted Ella Dalton, 15, sliced corners and angled fences to take the title on Stambrook Maestro.
"He's amazing, so perfect," said Ella, on the 14-year-old working hunter pony bought last November.
Flo Norris, 15, claimed the HorseQuest UK Coral title with a deceptively quick, smooth round on Cisca Norris' Irish-bred 10-year-old Craughwell Boy, winning by 1.48 seconds.
"He knows his job and what to do," said Flo, 15, who relies on the training advice of British Showjumping accredited coach Lynne Bevan.
Essex Hunt North Pony Club member Pippa Curran, 12, landed her biggest win in the Animo Pony Winter Novice Championship on her first visit to the Blue Chip Championships. She easily headed the 14-strong jump-off with 1.61 seconds to spare on Alex Curran's 11-year-old Te Amo Valentine.