Ben Maher makes history one year on from Olympic glory
Sunday 04 August 2013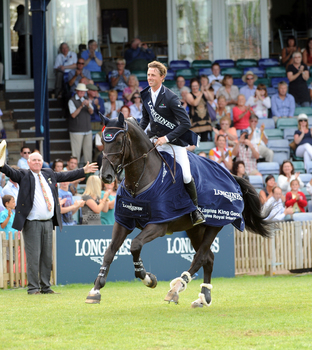 One year ago Ben Maher began his London 2012 Olympic campaign, jumping for the first time in the spectacular Greenwich arena as part of a team that would soon claim gold for Great Britain. Twelve months on to the day, Ben claimed his first victory in the historic Longines King George V Gold Cup at Hickstead, one of the oldest and most valuable Grands Prix in the country.
The Hertfordshire-based rider had yet to win the class, also known as the British Grand Prix (with a €200,000 total prize fund), but it has always been one of his main aims. "There are a few big classes that every showjumper wants to win and the Hickstead Derby [which Ben won in 2005] and the King's Cup are two of them - I've come close to winning this a couple of times so it feels great to have finally done it," said Ben.

Once again the crowd was delighted to see a British rider win on home soil. "You can't beat a home crowd. I love jumping in England and don't get to jump here as often as I would like for my sponsors, my owners and my whole support team," Ben added.
A total of 49 riders came forward for this finale to the Longines Royal International Horse Show, with many of the world's top combinations hoping to claim the €66,000 first prize. But only three could clear the tricky 1.60m high first round, with Ben and fellow Olympic gold medallists Marcus Ehning (GER) and Ulrich Kirchhoff (UKR) going through to a jump-off. Ben was first to go in the second round with his Olympic stallion Tripple X III owned by himself and Quainton Stud, setting a fast clear in a time of 48.88 sec. A fence down cost Ulrich the win, before last to go Marcus Ehning picked up four-faults, although he did have the fastest time.
It was a thrilling end for a week filled with highs and lows for the 30-year-old. He won the Bunn Leisure Trophy on Thursday with Aristo Z but later struggled in the Furusiyya FEI Nations Cup™ on Friday, picking up 8 faults and 13 faults with Tripple X III. "After Friday's performance, I didn't even know if I should be in the class today," said Ben. "But he had been jumping well prior to the FEI Nations Cup, so I didn't know where it came from. I went home scratching my head, and decided to change his bit for today. I wouldn't normally change it before such an important competition but I know every hair on his body and I knew it was right for him. He enjoyed his job today and I felt like I had my horse back."
The first class of the day, the Royal International Accumulator, went to Kevin Staut (FRA), who scored the maximum of 65 points to win on the grey stallion Taran de la Pomme, ahead of Britain's William Funnell and Billy Balou in second.