Monday, June 25, 2018
Ashlea Silk-Jones produces a win in the Nupafeed Supplements Senior Discovery Second Round at Quainton Stud
Tuesday 16 May 2017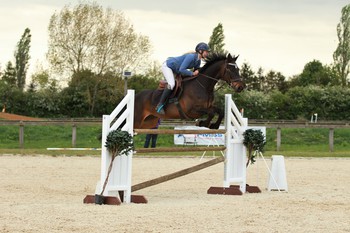 A strong field of ninety-two starters made their way to Quainton Stud in Buckinghamshire for the Nupafeed Supplements Senior Discovery Second Round and it was Ashlea Silk-Jones who produced the winning performance.
On Saturday, a battle ensued with each rider setting their sights on securing a treble clear as this would see them take a place in the Nupafeed Supplements Senior Discovery Championship Final, which will be held during the British Showjumping National Championships in August.
With twenty-six competitors taking their place in the jump off after producing a double clear in the first two round, the final jump off would prove to be truly pivotal as eyes fell on the all-important clock to decide the winner.
Ashlea Silk-Jones from Romford, Essex pulled out all the stops to guide Jacqueline Jones' 6 year-old dark bay gelding Vesuvs Vinetto in to first place. With the leader board stacking up with treble clears and the time tight, this pair were able to top off their consistent performance with another clear in an unbeatable time of 47.80 seconds.
Jumping into second place was Alice Godfrey from Billericay, Essex riding her own 5 year-old bay gelding, Hannibal S. This partnership crossed the finish line in 48.53 seconds, leaving all the fences standing for a treble clear.
Bringing home third place was Emma Ashworth from Bicester, Oxfordshire on board Marysia Orzazewska's 7 year-old chestnut mare, Fjara. This pair jumped a treble clear and finished up in a time of 49.08 seconds.
With another eleven combinations also achieving a treble clear, a total of fourteen combinations now go forward to the Nupafeed Supplements Senior Discovery Championship Final.
Quainton Stud – Saturday 13th May 2017
Nupafeed Supplements Senior Discovery Second Round
1st Ashlea Silk-Jones & Vesuvs Vinetto – 0/0/0 – 47.80 seconds
2nd Alice Godfrey & Hannibal S – 0/0/0 – 48.53 seconds
3rd Emma Ashworth & Fjara – 0/0/0 – 49.08 seconds
4th Ryan O'Sullivan & Vaya Con Dios Z – 0/0/0 – 50.10 seconds
5th Ryan O'Sullivan & Pepsi II – 0/0/0 – 51.26 seconds
6th Christopher Whinnett & Scarthill Cruise – 0/0/0 – 51.48 seconds
7th Emma-Jo Slater & Tinkas Symphony – 0/0/0 – 51.78 seconds
8th Samantha Oliver & Gluk – 0/0/0 – 51.86 seconds
9th John Steels & Gitana Van Huize Ruisdael - 0/0/0 – 52.03 seconds
10th Jack Markham & Hanellie – 0/0/0 – 53.13 seconds
11th Emma-Jo Slater & Royal Trooper II – 0/0/0 – 53.74 seconds
12th Florence Bellm & Tootsie Brimbelles Z – 0/0/0 – 54.54 seconds
13th Ryan O'Sullivan & Balou Sea – 0/0/0 – 57.23 seconds
14th Mary Jo Crawford & Trent Balthos – 0/00/0 – 60.43 seconds
NB: Qualifications will be updated pending official grading of results.
Image Credit - Alison Parker Photography
The British Showjumping National Championships 2017 will take place during the 8th – 13th August at the National Agricultural and Exhibition Centre (NAEC), Stoneleigh Park, Warwickshire.
Nupafeed Supplements
Imported from Germany, Nupafeed supplements combine advanced scientific research with the highest quality ingredients to make their products truly unique. The Nupafeed range includes: the highly acclaimed MAH® Liquid and Syringes to calm and reduce stress, Flex GLM (Green Lipped Mussel) joint supplement and Staying Power to aid energy, strength and stamina. Used by top professionals, including John Whitaker and Philip Miller, Nupafeed products are permitted for competition and are available by mail order. Nupafeed aims are to ensure an unbeatable quality of product, supplied with friendly and honest advice. The team have experience in conversing with customers who represent all levels of horse ownership, in every discipline. For more information, visit www.nupafeed.co.uk.