Anja Moret wins Connolly's RED MILLS Senior Newcomers Second Round at The College Equestrian Centre, Keysoe
Wednesday 07 June 2017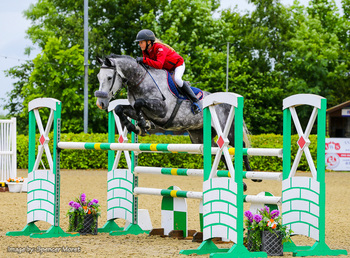 Under rain clouds at The College Equestrian Centre in Keysoe, Bedford, seventy-one hardy combinations came forward to jump in the Connolly's RED MILLS Senior Newcomers Second Round and it was 15 year-old Anja Moret who topped the table.
Each rider began the class with high hopes of claiming one of the two qualification spots on offer for the Connolly's RED MILLS Senior Newcomers Championship Final, which will be held during this October's Horse of the Year Show.
Following two challenging rounds of showjumping, just seven horses and riders were taken forward to the final jump off and only one combination went on to secure a treble clear.
Anja made the journey from Chelmsford, Essex worthwhile as she rode Spencer Moret's 7 year-old grey gelding, Fell Capone, to the win. This combination proved their talent for accuracy as they jumped two confident clear rounds to book a place in the jump-off before going on to be the only combination to deliver a treble clear. They stopped the clock in 50.67 seconds.
Scooping up second place was Adam Botham from Radway, Warwickshire riding Jerome Du Luot, an 8 year-old chestnut gelding owned by Michael Lyons. This pair had speed on their side as they crossed the finish line in 49.17 seconds but unfortunately had a pole down early on the course leaving them with four faults.
The riders and horses that finished in third to fifth took home the chance to compete in the Connolly's RED MILLS Senior Newcomers Masters at the British Showjumping National Championships.
The College Equestrian Centre, Keysoe – Tuesday 6th June 2017
Connolly's RED MILLS Senior Newcomers Second Round
1st Anja Moret & Fell Capone – 0/0/0 – 50.67 seconds
2nd Adam Botham & Jerome Du Luot – 0/0/4 – 49.17 seconds
3rd Bryony Ward & Figaro VII – 0/0/4 – 49.84 seconds
4th Rosie Gunn & Jagerbomb – 0/0/4 – 51.73 seconds
5th Claire Robertson & Cillfhiachrach Trend – 0/0/4 – 53.51 seconds
NB: Qualifications will be updated pending grading of results.
Image Credit - Spencer Moret Photography
The Horse of the Year Show 2017 will take place from the 4th – 8th October at Birmingham's NEC. The British Showjumping National Championships 2016 will take place during the 8th – 13th August at the National Agricultural and Exhibition Centre (NAEC), Stoneleigh Park, Warwickshire.
Connolly's RED MILLS:
Connolly's RED MILLS is an Irish family owned company, providing precision nutrition for a wide range of equine needs. The company was established in 1908 in Co. Kilkenny, and today, exports to over 50 countries worldwide. For people who value their horses as high performers, Connolly's RED MILLS has been the automatic choice for over 100 years. We know just what it takes to get you the best results in terms of equine nutrition, health, well-being and performance. Some of the most successful high-performance sport horses in the world have been fed on Connolly's RED MILLS and we are delighted to launch our new dedicated Sport Horse range of feeds. The quality products that produce these results are supported by nutritional research along with some of the most technologically advanced innovation and manufacturing processes in the world. For further information, please visit www.redmills.co.uk/Horses/Home.