Sunday, May 20, 2018
Amy Hardcastle delivers the KBIS Insurance Senior British Novice Second Round win at Ashby Show
Tuesday 11 July 2017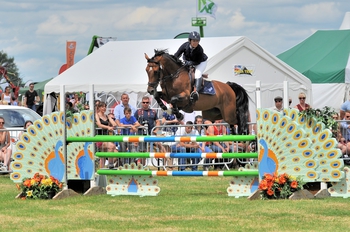 A busy weekend at Ashby Show in Coalville, Leicestershire saw the KBIS Insurance Senior British Novice Second Round hotly contested and it was Amy Hardcastle who delivered the winning round.
All of the thirty-nine horse and rider combinations started the class with high hopes of securing a place in the KBIS Insurance Senior British Novice Championship Final which is to be held at the British Showjumping National Championships in August. With poles falling across the first two rounds, just eight combinations were left to tackle the jump off.
Amy Hardcastle from Goole, North Humberside broke the 50 second barrier to guide AJ The First, a 6 year-old bay stallion owned by Joseph Huddlestone, into first place. With a middle order draw, this pair knew it was all still to play for as they took on the jump off course. They crossed the finish line with a treble clear in an unbeatable 48.20 seconds.
Local rider Nicola Barry from Coalville, Leicestershire took second place on her 5 year-old bay mare, Highhope DD. This combination put forward a strong challenge leaving all the fences standing for a treble clear in 50.07 seconds.
With another treble clear, Nicola also scooped third place on board her 5 year-old bay stallion, Heartdancer H. This partnership stopped the clock in 50.54 seconds.
With two further riders also achieving a treble clear, five combinations will now go forward to the KBIS Insurance Senior British Novice Championship Final.
Ashby Show – Sunday 9th July 2017
KBIS Insurance Senior British Novice Second Round
1st Amy Hardcastle & AJ The First – 0/0/0 – 48.20 seconds
2nd Nicola Barry & Highhope DD – 0/0/0 – 50.07 seconds
3rd Nicola Barry & Heart Dancer H -0/0/0 – 50.54 seconds
4th Caroline Barnes & Tilla Flamengo – 54.41 seconds
5th Abigail Brain & Billy Muesli – 60.05 seconds
NB: Qualifications will be updated pending grading of results.
Image Credit - Equipics Event Photography
The British Showjumping National Championships 2017 will be hosted at the National Agricultural and Exhibition Centre (NAEC), Stoneleigh Park, Warwickshire during the 8th - 13th August.
KBIS British Equestrian Insurance:
KBIS British Equestrian Insurance is the UK's leading independent horse insurance specialists, With over twenty years of experience KBIS offer a range of policies for the leisure horse to high value sports horses with a range of veterinary cover options. KBIS's product range includes horsebox and trailer insurance, property insurance, event and show insurance, standalone personal accident cover as well as a specialist liability department offer cover for private individuals, businesses and events and shows. For further information, visit www.kbis.co.uk.