Monday, June 25, 2018
ALLINGTON CSI2*/YH1* - Round up
Friday 19 May 2017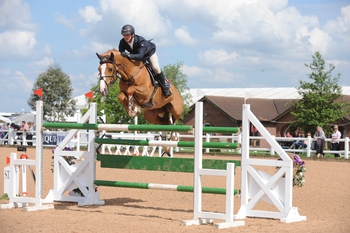 ALLINGTON CSI2*/YH1*
Smooth, polished yet deceptively quick, Ireland's Billy Twomey landed the feature 2* Equestrian Surfaces Grand Prix on Sue Davies' Pewit Nono.
Fifty came forward to contend this class over course-designer Mark McGowan's 13-fence track, and such was the quality – several five star riders featured, including John and Michael Whitaker and the USA's Lauren Hough to name just three – eighteen jumped clear. However, under the new ruling, only 25% - thirteen horses – accessed the jump-off, leaving five in the lower places despite posting penalty-free rounds.
"This rule is a good safety net for classes with perhaps 25 starters or shows on a strict time schedule, but it wasn't beneficial to this show and we look at altering it next year so all clears go through," said Mark McGowan.
Simon Crippen posted an early target with Temple Claudius, but this was quickly reduced by the stylish Irishman Billy Twomey – who is based in Britain in Nottinghamshire – by more than six seconds. Billy has carefully produced this 8-year-old by his former top ride Luidam and out of the Ginster mare Anastasia II – also a top International ride for Billy.
Keith Shore chased hard with two rides in the jump-off, but has to settle for second and third on the consistent Mystic Hurricane – a Tornado 14-year-old bred in Britain by Betty Brandon – and exciting new ride Hermes, a big-jumping, impressive 10-year-old.
Locally-based Joss Williams claimed day one's 1.40m with the versatile now 17-year-old Irish-bred mare Culmore Prospect.
"She comes out and loves the job," said Joss, who claimed the win by 0.45 seconds over the speedy pairing of Kerry Brennan and Wellington M.
Joe Whitaker and Lavarno shared the honours in the middle day's 1.40m with Joe Clayton aboard Jane Heerbeck's Carolus K DHI when both combinations broke the beam at exactly the same time despite the continuous rain making it a miserable day. Joe Whitaker maintained his form on the 10-year-old home-bred daughter of Locarno to head the 12-strong Silver Tour 1.35m Grand Prix by 1.23 seconds.
"The weather may have been miserable, but the new surface here stood up to it well," said Joe.
Joe Davison claimed second place on Coral Reef Wise Guy with Paul Barker's Happy Boy in third.
William Rekert had doubled up on day two with Silver 1.30m and Bronze 1.20m wins with the Cicero Z 10-year-old Tinkerbell W and Daniek, and the Zelote VDL 9-year-old Daniek again came to the fore in the Bronze Tour Grand Prix.
Nine chased glory here with William the only rider to break the 40 second barrier and take the class by 1.03 seconds from Tegan Jones in second on Apart EA.
William and Daniek had also picked up second in the initial Bronze 1.20m, beaten only by David Murdoch on the 8-year-old Heartbreaker mare Entesar by 0.85 sec.
Simon Crippen may have been first to go in the initial 54-strong Silver 1.30m, but he held off all challenges to win from the off with the 12-year-old mare Atlanta VIII. The pair claimed a 0.90 second advantage over Keith Shore in second place on Coriander Van't Vennehof with Kerry Brennan on Dynamic III in third.
Reece Oliver headed the concluding 7-year-old final with Coalition, a Ulyses x Libero mare bought as a six-month-old foal. The pair claimed the win by 1.60 seconds from Spain's Antonio Marinas Soto on Faya Sao Miguel.
Antonio had to again settle for second in the six-year-old final, on this occasion riding Miryel, when Jessica Crosby – who works for Antonio and his partner Ellen Whitaker – used her final draw to gallop into the top spot on Harvey. Jessica's home-bred gelding by Lanardo, a son of Locarno, won with 2.53 seconds in hand.
Going last proved advantageous, the five-year-old final also fell to the final draw in the form of India Payne with a new ride, Louis Simmons' My Pippa VD Zwartbleshoeve, at their first show. They relegated Simon Crippen on Allan Clutterbuck's impressively scopey Budgie by 1.37 seconds.
Wiliam Bayes Jones topped the Small tour 1.10m and the 1.15m final with Panacee, a 20-year-old by Concorde.
"He's so consistent and careful, I know I can trust him," said 18-year-old William, who has ridden this great schoolmaster for the past three years.