Monday, June 25, 2018
Alexanders Horseboxes Scope Festival 2017 - National Round Up
Sunday 27 August 2017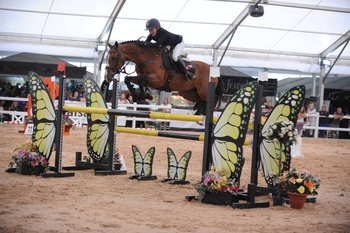 The Alexanders Horseboxes Scope Festival (UK) Supreme Championships 2017 came to a close on Saturday 26th August after a full weeks jumping at Oswestry Showground.
A round-up from the national classes can be found below with full results available at www.scopefestival.org.
HORSES
Louise Saywell's final round flyer in the seven-strong jump-off claimed the Westcoast Express ladies title for the second year running. On both occasions, Graham Ward's 12-year-old Feigtling stepped up to the plate. "He loves the job and just comes out and wins, he's always looking for the next fence, I can't thank Graham enough for letting me ride him," said Louise.
In a sizzling jump-off where riders progressively dared with quicker rounds, Mark Edwards emerged triumphant in the EMS Asset Management B and C with Tony Hill's Quidde De Buisson Z. "He's a happy horse and loves Mark, they trust each other," said Tony.
An unbeatable Emma-Jo Slater hit form in the Tacklockers.com 1m novice final, taking the top three places in a whirlwind of a jump-off. Newly-crowned British novice and discovery champion Kings of Leon – an Argento 8-year-old owned by Kim Barzilay – again stepped up to the plate. "He loves the job," said Emma, who took second on Fielina and third on Harmony Z.
Adam Botham secured the Blue Riband 1.20m on new ride of six weeks Flipper Nouveau, Marcine and John Marshall's Flipper D'Elle 7-year-old bought from Tim Stockdale. "He's so careful, we think a lot of him," said Adam.
Scotland's Isy Lindsay, 16, made her Scope debut a winning one with the Smarter Training 1.15m title on new ride Cruise On Tina, a Cruise On 10-year-old. "She's so like my pony, we clicked straightaway," said Isy.
Cheshire Draghounds whipper-in Lesley Mitton galloped to victory in the 95cm and Buckaroo Saddlery adventurer championships with the 12-year-old Heart Of Savannah. "We are good at riding fast over fences after hunting," said Lesley, who purchased this Heart Throb mare from breeder Barbara Scott.
Will Edwards topped a strong under 23 title on the 7-year-old Candies B, who traces back to Bit More Candy – Will's father Carl's ride in the Sydney 2000 Olympics. "She's naturally fast, I don't have to worry about the clock with her," said Will, 17.
Anneliese Aitken secured the Graham Heath under 16 title with the Irish-bred 8-year-old Walk The Line. "I felt nervous but I kept quiet and in a rhythm," said Scotland-based Anneliese, 14.
Scotch Corner, Yorkshire-based Courtney Thompson, 19, claimed the Graham Heath 85cm novice debut with Dwyfach Mabon, a 7-year-old bought in February. "He's my lovely 15.2hh and an absolute star," said Courtney, who praised the show on her first visit – "I've had a fabulous time and will definitely come again."
Simon Crippen kept super-smooth to land the 6 and 7-year-old on James O'Sullivan's Lux Trendy, an Ultimate Trend 7-year-old who traces back to Lux. "He's big-framed and still needs to mature, but he took his first championships show here in his stride, I just let him roll," said Simon.
Demi Watson's Zambesi x Casanova gelding Illonois topped the style and performance points for the 4-year-old title. "Beautifully produced with a nice way of going," said Rowland Fernyhough, joint judge with Mike Florence. "She's the best horse I've ever owned – super-easy and level with a good brain," said Demi.
Graham Babes topped the 5-year-old title with the talented Ma Fleur JS, a mare with Emerald Van T Ruytershof x Cassini II bloodlines. "She's been special from the off and won the 3-year-old loose-jumping competition at Northcote Stud two years ago," said Graham.
PONIES
Scope debutante Nicole Lockhead-Anderson continued on her fabulous run of form to lift the Squibb Group Dunglenn 148cm championship in a 13-pony decider with Gangnam Style.
The ultra-consistent Nicole, 15, had claimed four titles at the National Championships, including two on the 8-year-old Gangnam Style. "This is his first 1.30m class but he finds it easy and is such a character," said Nicole.
An on-form Claudia Moore doubled up with the POYS 148cm Elite debut and Waddesdon 138cm title. Claudia won the 148cm debut from the front with Delflip in a five-pony jump-off. "She's so amazing, she does everything for you," said Claudia, who has ridden this straightforward 10-year-old mare since she was 10.
Only two of the 28 starters in the Waddesdon 138cm achieved a round one clear, but Claudia's opening clear on Tullineaskey Fear Deas took the honours when Tom Francis-Jones faulted aboard Kiltomer Hero. "He's so comfortable, if I make a mistake he does it for me, I love him to bits," said Claudia, on the Irish-bred 16-year-old.
Eloise Burden was another to double up, taking both Direct Insurance bright star and Graeme Ash novice masters. She clinched victory in the bright star championship with former eventer Beech Hill Arthur. "He's not the bravest at home, but in the ring he concentrates," said Bicester, Oxfordshire-based Eloise, 13, who has ridden the purebred Connemara 11-year-old 18 months.
New ride of six weeks Coolatooder Liath topped the novice masters for Eloise with a flyer to the last. "The course suited her, she has a long stride so I can power forward," said Eloise. "Both ponies have done me proud."
Fife-based Shaunie Greig, 14, landed the Wicks Group 1.20m with new ride Destavelars Misty at their third show together. "It's the first time I've blasted her against the clock, she's strong with a big stride," said Shaunie on the 14-year-old mare.
Allana Clutterbuck claimed a three second victory in the 7-year-old Elite with Sue Evans' Atomic Du Bary in a head-to-head with Madiy Jamison on Flavia. "He hasn't jumped since May when he qualified for the HOYS Foxhunter, but he's so cool and experienced he doesn't need lots of shows," said Allana.
Izzi Ryder, 15, topped the 5 and 6-year-old Elite with Cuilin Dun, an Irish-bred 6-year-old bought via trainer Bernice Stronge 10 months ago. "He's easy in every way and this jump-off suited him with lots of turns, I trusted him to turn inside to the last," said Newbury, Berkshire-based Izzi.
Eight-year-old Noora von Bulow topped the CGS Construction 128cm with the reliable 16-year-old Peppino Il Grande in an eight-pony decider. "He's fast, careful and good at turning, I feel confident in the ring with Peppi," said Noora.
Noora had to settle for second and third with Peppino and Bellfield Benjamin in the Graham 128cm primary championship as Izabella Rogers outpaced all with Whinney Lass to secure the title with two seconds to spare. "She's a character, a princess at home and all she wants to do is jump in the ring," said Chelmsford, Essex-based 9-year-old Izabella.
The wonderful 24-year-old The Agent claimed the Graham Heath 138cm for Jake Myers, executing virtually impossibly tight turns to take the title from 2016 winner Madison Heath on Sonas Barney. "He always has the scope for tight turns and I trust him," said 13-year-old Jake.
National stepping stones champion Ella Hall captured her second title in two weeks in the Cats & Pipes 138cm with a flying round on Calusa in the 14-pony jump-off. "He hasn't got the best manners but he's very careful," said Ella, 12, who took over the coloured 12-year-old from sister Charlotte a year ago.
Olivia Sponer outpaced all in the Cats & Pipes 128cm with the super-speedy Trefriw Eros, a 9-year-old she has competed for 11 months. "He likes to go on long strides and jump but we won it on the turn inside to the double," said London-based Olivia, 11, who acquired this pony a year ago.
Amy Barrett, 16, jumped to a double of victories with the Cobra 10-year-old Cobra Kaa, taking the Peace Love World adventurer and pony progressive novice titles. Both were won with a gallop to the final fence. "She's light on her toes and I could trust her to jump clean over the last," said Amy.
Atiya Bussey executed smooth and neat lines to claim the Mandy Hall 1.15m on Ranchwood Latte, a 12-year-old mare inherited from sister India in October. "She's a princess with an amazing jump and good at turning," said Atiya, 12.
Katie Bradburne, 9, lived up to her racing roots [dad is Lambourn trainer Mark Bradburne and mum is former jockey Gee Armytage] to gallop to victory in the Tiny Tots on Cappagh Misty. "She's good at galloping and turning," said Katie, who got the 24-year-old in April.
Image: Claudia Moore and Tullineaskey Fear Deas