Abigail Hall scoops KBIS Insurance Senior British Novice Second Round win at Waterford Equestrian
Tuesday 10 July 2018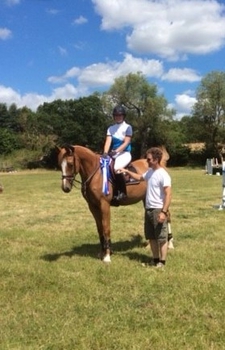 Abigail Hall proved to be a dominant force in Saturday's KBIS Insurance Senior British Novice Second Round at Waterford Equestrian in Durham when she took both first and fourth place.
Twenty-five keen combinations started out in this second round and all of the riders were aiming to claim a spot in the KBIS Insurance Senior British Novice Championship Final. Following the first two rounds, just six combinations were able to gain access to the final jump off.
Abigail, who is based in Morpeth, Northumberland, headed up this second round on Empress I, a 9 year-old bay mare owned by Justin Beckwith. This pairing delivered three accurate rounds and picked up the pace in round three to finish in just 32.90 seconds.
With another three combinations also achieving a treble clear, a total of four combinations now go forward to the KBIS Insurance Senior British Novice Second Rounds Final.
Waterford Equestrian – Saturday 7th July 2018
KBIS Insurance Senior British Novice Second Round
1st Abigail Hall & Empress I – 0/0/0 – 32.90 seconds
2nd Billy Davidson & Ballinamonapark Hquinn – 0/0/0 – 33.65 seconds
3rd Anneli Larsson & Miss Southburn Piccalilli – 0/0/0 – 34.38 seconds
4th Abigail Hall & I D A - 0/0/0 – 35.03 seconds
NB: Qualifications will be updated pending grading of results.
The British Showjumping National Championships 2018 will be hosted at the National Agricultural and Exhibition Centre (NAEC), Stoneleigh Park, Warwickshire during the 7th - 12th August.
KBIS British Equestrian Insurance:
KBIS British Equestrian Insurance is the UK's leading independent horse insurance specialists, With over twenty years of experience KBIS offer a range of policies for the leisure horse to high value sports horses with a range of veterinary cover options. KBIS's product range includes horsebox and trailer insurance, property insurance, event and show insurance, standalone personal accident cover as well as a specialist liability department offer cover for private individuals, businesses and events and shows. For further information, visit www.kbis.co.uk.