A win for John Whitaker in the Horse & Country TV Challenge Cup
Sunday 08 October 2017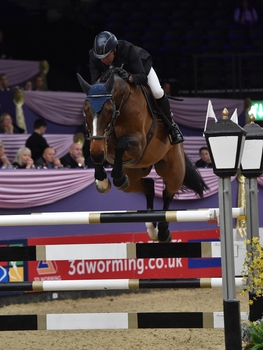 John Whitaker completed an outstanding double at the 2017 Horse of the Year Show by thrilling a bumper Sunday afternoon crowd at Birmingham's Genting Arena. The 62-year-old Yorkshireman, who has won numerous medals for Great Britain in major showjumping championships, followed up his victory in Friday's NAEC Stoneleigh Stakes by landing The Horse & Country TV Challenge Cup.
The two-phase competition sees riders contest the second part of the course in jump-off mode, and it proved to be an exciting battle between John and his fellow in-form British rider Helen Tredwell.
Drawn second to go, Helen clocked 32.19 seconds with Larksong, and John admitted afterwards that he knew the Buckinghamshire rider had set a testing time to beat.
But John showcased all of his experience with nine-year-old bay gelding Crumley and managed to clip two hundredths of a second off Helen's time, while third place went to Belgian challenger Jos Verlooy, riding Caddie R.
"It's great to win here," John said. "He jumped really well. I was fourth to go. Helen Tredwell was quick enough, and there was an option of an inside turn to the last gate, which was risky, but I realised I had to do if I wanted to beat Helen, and it came off.
"The horse is still improving. He is nine-years-old so he hasn't got much experience and is not quite used to this atmosphere with this fantastic crowd, but he is such a good horse. To win on Friday was exceptional, and to do it again is great, so I am really pleased."
LINK TO AUDIO INTERVIEW WITH JOHN WHITAKER:
http://www.lloydbell.co.uk/access/client_zone/Hoys17_WhitakerJ_day5.mp3
Image Credit: 1st Class Images