A French win in The Thistledown Stakes
Saturday 07 October 2017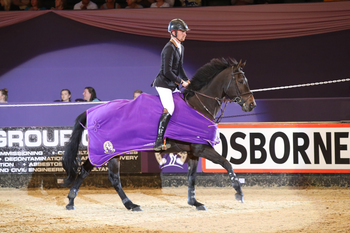 Frenchman Titouan Schumacher continued his sparkling Horse of the Year Show debut by winning the Thistledown Stakes at Birmingham's Genting Arena. The Normandy-based rider finished second in Friday's Grandstand Welcome Stakes behind Irishman Anthony Condon, but he went one better as he returned to action on 15-year-old mare Oceane de Nantuel.
Seven combinations made it through to the jump-off, including five British riders - Helen Tredwell, William Funnell, Mennell Watson, John Whitaker and Robert Whitaker - but Titouan proved almost half a second quicker than anyone else.
The 23-year-old clocked 34.83 seconds, and Helen got closest on Larksong, posting 35.21 seconds, with William and Billy McCain almost a further second behind. Titouan, who is based near top British rider Guy Williams in France, said: "It is my first time here. It is an amazing show, and I am really happy to be here. My horse is really fast that I won on today, and all the horses I have here are on really good form."
Titouan has already won more than £5,000 in prize money less than halfway through the international programme, and his current form suggests he could be a serious contender for Sunday's Leading Showjumper grand prix.
LINK TO AUDIO INTERVIEW WITH TITOUAN SCHUMACHER:
http://www.lloydbell.co.uk/access/client_zone/HOYS17_schumacher_day4.mp3
Image Credit: 1st Class Images