Dodson & Horrell continue sponsorship of National Amateur & Veteran Championships for three further years
Monday 11 March 2019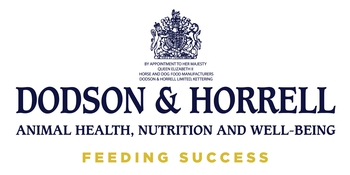 Europe's leading horse feed manufacturer, Dodson & Horrell, will be continuing with their sponsorship of the British Showjumping National Amateur & Veteran Championships for three further years. In 2021, Dodson & Horrell will celebrate ten consecutive years of sponsorship of these popular Championships.
The Dodson & Horrell National Amateur Championships give amateur riders and horses the opportunity to contest an end-of-year Amateur Final across four different heights – 0.85cm, 0.95cm, 1.05m and 1.10m. The National Veteran Riders Championships are split into minor and major categories. The Championships are one of the highlights in the national showjumping calendar.
Founded in Ringstead, Northamptonshire in 1939 and still family-owned today, Dodson & Horrell has grown to become a respected authority on animal nutrition and exports to forty countries worldwide. Their nutritionists, in partnership with leading researchers, look at recent advances in all areas of sports nutrition. This has resulted in the development of a range performance feeds which contain the best possible combinations of functional ingredients to fuel your horse. Dodson & Horrell is also the official supplier of equine nutrition to Equestrian Team GBR.
Gemma Schwarz, Dodson & Horrell's Head of Marketing, said "The National Amateur & Veteran Championships is one of the highlights of the showjumping year for many competitors and we thoroughly enjoy being a part of it. It's a fantastic opportunity for us to engage with many of our customers offering essential nutritional advice to help combinations to compete at their best."
Maria Haig, British Showjumping Head of Communications, added "The Championships are a mainstay of the showjumping calendar and we are extremely happy to be announcing Dodson & Horrell's continued alignment. The Championships offer a chance to engage with many British Showjumping members and Dodson & Horrell's continued commitment is testament to how well the sponsorship fits the brand. We also look forward to celebrating a decade of sponsorship in 2021."
The current season of Dodson & Horrell National Amateur First Rounds is well underway and riders have until the 31st August 2019 to qualify for the Second Rounds, which will be held during September and October.
Dodson & Horrell:
Dodson & Horrell has been leading the way in equine nutrition for almost 80 years, pioneering manufacturing methods and promoting nutritional research. This year Dodson & Horrell has launched various new and improved ranges of horse feed, the Balancer Range and the Performance Range.
As official supplier of nutrition to Equestrian Team GBR since 2009 Dodson & Horrell works closely with the entire team to deliver nutritional advice to both the Performance and World Class Programmes.
In addition Dodson & Horrell supports a variety of top equestrian athletes who make up #teamdandh. The ambassadors play a vital role within the company by highlighting the quality of the feed and nutritional advice. Dodson & Horrell showjumping brand ambassadors are Geoff Billington, Jess Dimmock, Yazmin Pinchen, Lauren Hough, Joe Davison and many of the Whitaker family.
For further information, please visit www.dodsonandhorrell.com or call us on 01832 737300. For any further nutritional advice please call the Helpline on 0845 345 2627 or email enquiries@dodsonandhorrell.com.