Scott Brash jumps up to world number one spot in Longines Rankings
Monday 02 December 2013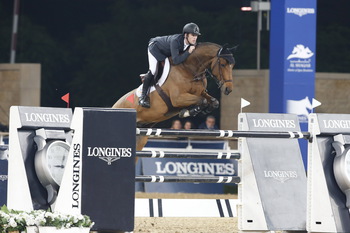 British Showjumping are thrilled to share the release issued by the FEI which show Great Britain taking the top two positions on the Longines World Ranking List
Congratulations to both Scott and Ben for positioning Great Britain as world leaders.
On hearing the news Scott Brash MBE commented "I am absolutely estatic, not just for myself, but the entire team that have worked so hard to achieve this. After the London Olympics it has always been a goal and to have achieved it is fantastic"
FEI RELEASE,
Scott Brash (GBR), currently second in the Longines FEI World Cup™ Jumping 2013/2014 Western European League standings and the youngest member of the London 2012 Olympic Games gold medal winning British team, has jumped into the world number one spot in the Longines Rankings.
The 28-year-old from Peebles in Scotland has moved up from sixth place with 2,627points, and is now 37-points clear of the former world number one, his compatriot Ben Maher (2,590 points).
Germany's Ludger Beerbaum has also moved up four places into third with 2,495 points. The USA's Beezie Madden, top-ranked female in the Longines Rankings, has dropped two places to fourth with 2,451, just one point ahead of Marcus Ehning (GER) in fifth.
Scott Brash started riding at the age of seven and competed in his first show two years later, rising quickly through the ranks to become Scottish number one. He made his international début in 2010 and was selected for the Alltech FEI World Equestrian Games™ in Kentucky the same year.
In December 2011, he took over the ride on Hello Sanctos owned by Lady Kirkham and Lord & Lady Harris, the horse he partnered to Olympic and European team gold. The latest triumph came at the Longines Global Champions Tour in Doha (QAT), when victory in the Grand Prix boosted Brash to the overall title – on his 28th birthday!
Photo caption: Great Britain's Scott Brash, pictured here with his Olympic and European team gold medal and Longines Global Champions Tour winning horse Hello Sanctos, is the new world number one at the top of the Longines Rankings. (Stefano Grasso/Longines).
Longines Rankings Top 10:
1 Scott Brash (GBR) 2,627
2 Ben Maher (GBR) 2,590
3 Ludger Beerbaum (GER) 2,495
4 Elizabeth Madden (USA) 2,451
5 Marcus Ehning (GER) 2,450
6 Steve Guerdat (SUI) 2,408
7 Christian Ahlmann (GER) 2,345
8 Patrice Delaveau (FRA) 2,325
9 Luciana Diniz (POR) 2,320
10 Gerco Schröder (NED) 2,285
The complete Longines Rankings are available here.