Trio Hit the Heights in Liverpool Puissance Thriller
Saturday 30 December 2017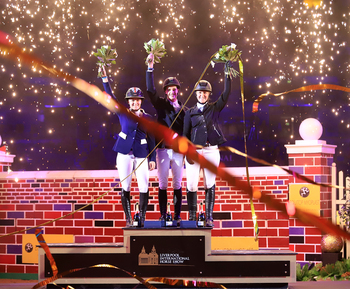 The Liverpool International Horse Show Puissance produced high-powered showjumping and a three-way tie to thrill a capacity audience at the Echo Arena on Saturday night.
The class, sponsored by Equitop Myoplast, is always a firm favourite among spectators, and once again it did not disappoint.
Four combinations made it through to the fifth and final round - with the famous red wall built to a jaw-dropping seven feet two inches - and three went clear.
British pair Holly Smith and Louise Saywell, riding Quality Old Joker and Dassler, respectively, were joined by Irishman Chris Megahey and Seapatrick Cruise Cavalier, while Anthony Condon and Cavalier Rusticana bowed out in the last round.
It was a memorable exhibition of brave, precision jumping, and the crowd lapped it up as day two drew to a spectacular close.