Trevor Breen crowned the Talent Seekers Champion 2018
Wednesday 03 October 2018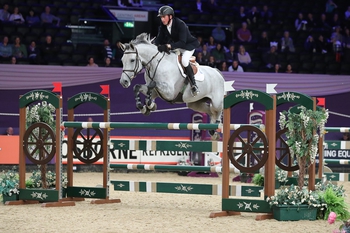 Ireland's Trevor Breen maintained his remarkable unbeaten record in the Talent Seekers, incorporating the seven-year-old Championship at Horse of the Year Show in Birmingham at the NEC Genting Arena. In true form he did it on a horse that he had never sat on until just 36 hours before the competition - Diamant S Aurora .
The mare, which is normally ridden by Tracy Priest, won in style after only three combinations from 25 starters made it through to the jump-off. Trevor triumphed in a time of 32.36 seconds from Alfie Bradstock and Eebay in second and Nicole Pavitt in third aboard Paris 16. Nicole also piloted the highest-placed seven-year-old horse in the class, finishing sixth on Gianni HC.
Buckinghamshire-based Trevor previously won the Talent Seekers in 2011, 2014 and 2015, and his latest victory made it four from four attempts.
Commenting on his win he said; "It's a great class at a super show. Everyone wants to ride here and sets their stall out to try to qualify for it. It's a show that gets the blood going.
"Tracy Priest, who normally rides the horse and has done a great job producing her to this level and qualified her for the class. She then rang me on Monday and said she was going to Barcelona for the week so asked me to take the ride. I didn't ask too many questions, and said 'yes, of course'. She brought her to my place on Tuesday morning, I gave the horse a few jumps and now I am here!
He continues: "I said to Tracy jokingly that the horse had better keep up my 100% record! She's a lovely mare. I have watched a lot of her, I've always liked her, but I only ever see her in the ring. Tracy told me that she is very laid back, very relaxed, but she lights up when she goes in the ring, and she was absolutely bang on. She went in the ring and was so relaxed. She jumped her heart out and she was fantastic. It has always been a lucky show for me, and as long as they keep having me, I will keep coming."
* Link to audio interview with Trevor Breen *
http://www.lloydbell.co.uk/access/client_zone/Hoys18_Breen_day1.mp3
Image credit: 1st Class Images