Tatiane Mauree from Berkshire is January's NAF Shining Star
Tuesday 15 January 2019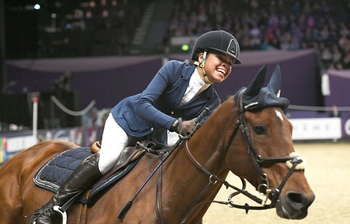 Tatiane Mauree has been awarded the NAF Shining Star for January after being nominated by Oxfordshire and Berkshire Lead Coach, Sharon Quant.
Fourteen year-old Tatiane from Newbury, Berkshire has been a committed member of the Junior Academy for several years. "Tatiane is a great sportswoman, she is always supportive and kind to others and her pony and no matter how the class has gone she always leaves the ring smiling." Said Sharon "Her happy and genuine smile shows just how much she loves her sport and her pony, and portrays how proud she is of what they are achieving together".
Tatiane has shown great skill and hard work, training her pony Horseabout Zibu (Boo) who was young and inexperienced when she took her on at Discovery level two years ago. Their hard work paid off when the combination were placed 4th and 2nd respectively in the Pony Newcomer and Pony Foxhunter Championship Finals at the 2018 Horse of the Year Show. Tatiane was also a member of the English team who won Silver at the Welsh Home Pony last year.
After finding out she was the winner of January's NAF Shining Star, Tatiane said "I am honoured to receive the award. I really enjoy the team aspect of the academy, I like working together with my friends towards the NAF 5* Awards and I enjoy the fun we have at team competitions. Next year my aim is to qualify for the Pony Foxhunter Championship Final again and step Boo up to the JA classes. I'd love to contest in the Pony Showjumper of the Year Qualifiers."
Branwen Griffin from NAF added "Congratulations Tatiane, a very deserving recipient of this month's Shining Star! With wonderful sportsmanship, dedication and determination to succeed Tatiane is bringing home some incredible results with her pony Horseabout Zibu (Boo). It's a pleasure to hear Tatiane is achieving such great accolades and that she is such a committed member of the Academy, I am certain this will of played a huge part in her success. We look forward to seeing Tatiane's trademark smile throughout 2019!"
Tatiane will now receive a number of NAF Equine products to use alongside the products that she is already using such as products from the NAF skin care range and the NAF Off fly spray.
The NAF Shining Star Award was introduced when NAF became a British Showjumping Business Partner. The award is for members of a Junior Academy who have shown a great deal of commitment, progression and outstanding behaviour along with their riding ability and much more. Riders are nominated by their lead coach, and then judged and awarded by NAF to one person each month.
NAF:
NAF is the most respected and trusted brand for supplements and applications for your horses in the UK today. Using proven ingredients and creating unique effective formulations NAF has an extensive portfolio of products designed to offer something for your horse's every need.
NAF are proud to be Official Suppliers to the British Equestrian Teams and Business Partners to British Showjumping supporting the NAF Five Star Training programme and the Shining Star Awards. Jessica Mendoza says "NAF have a great team of veterinary scientists and nutritionists, they are a big help to me and are there at the end of the phone with free advice if and when you need it, 0800 373106 or info@naf-uk.com."