Taisie de Gruchy 3rd in Young Rider Grand Prix of Lamprechtshausen
Sunday 19 May 2019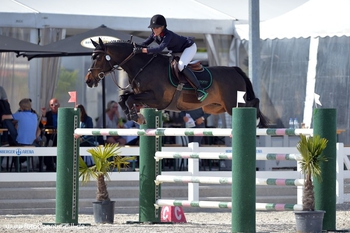 Jersey based Taisie de Gruchy, aged 21 years, finished 3rd in the Austrian Young Rider Grand Prix in Lamprechtshausen late this afternoon.
Riding the 12 year-old dark bay gelding Winner of Picobello Z, owned by Lauren de Gruchy, they were one of only three first round clears across the 1.45m course from a field of over thirty starters. Joining her in the three-way jump off were Swedish riders Emelie Hugoson-Feldt with Turmalin 1202 and Mikaela Gustaphson with Inar C.
First to go in the jump off, Taisie had a touch of a pole to pick up 4 penalties in a time of 47.09 seconds. With the following two riders then pushing hard against the clock, both also accrued 4 penalties each however Emelie's time of 43.90 was enough to secure the win with Mikaela's time of 45.10 seconds assuring them of second place.
RESULTS
1. Emelie Hugoson-Feldt (SW) & Turmalin (0/4 43.90)
2. Mikaela Gustaphson (SWE) & Inar C (0/4 4510)
3. Taisie de Gruchy (GBR) & Winner of Picobello Z (0/4 47.09)
4. Nicolas Giordano (ITA) & Beyou (1/-)
5. Cecilie Amdi (DEN) & Cuverdo Z
Full results can be found at www.horsedeluxe.at.