Six days and six new Champions at the Dodson & Horrell National Amateur & Veteran Championships 2017
Monday 20 November 2017
The ever popular Dodson & Horrell National Amateur & Veteran Championships held at Aintree Equestrian Centre in Liverpool (14th – 19th November) were once again one of the highlights of the national showjumping calendar. Following six days of thrilling showjumping, six new National Champions were crowned.
The National Amateur Championships give amateur riders and horses the opportunity to contest an end of year final across four different heights of fences – 0.85cm, 0.95cm, 1.05m and 1.10m. The National Veteran Riders Championships are spilt into minor and major categories.
"We always enjoy coming to the National Amateur & Veteran Championships having supported this since 2012. It is brilliant to see so many competitors coming back year after year and having great success. Our congratulations must go to all the competitors and our thanks to Aintree Equestrian Centre and British Showjumping for organising such a wonderful event. We look forward to seeing everyone again next year," commented Sam Horrell, CEO at Dodson & Horrell.
The Championships were all held under the Dodson & Horrell prefix and the results were as follows:
National Amateur 0.85m and 0.95m Championships
Monica Ballard from Sittingbourne, Kent did the double on Sunday when she won both the National Amateur 0.85m and 0.95m Championships.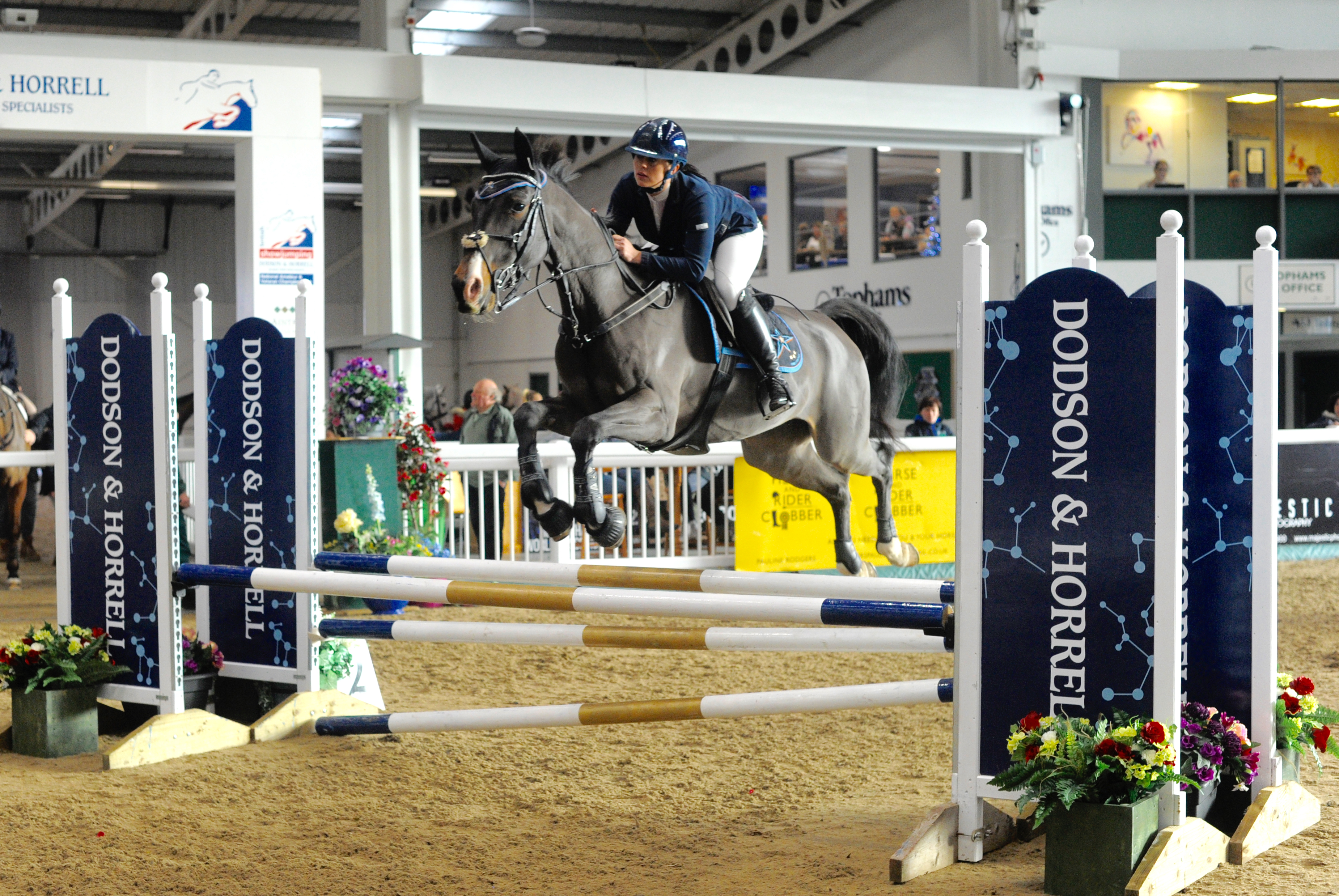 Fighting off forty-seven challengers in the 0.85m Championship, Monica topped the podium with her 19 year-old bay mare, My Amazing Grace. Thirty-four were able to access the jump off and seventeen went on to secure double clears, but it was Monica and My Amazing Grace who set the standard when they achieved their double clear in 28.78 seconds.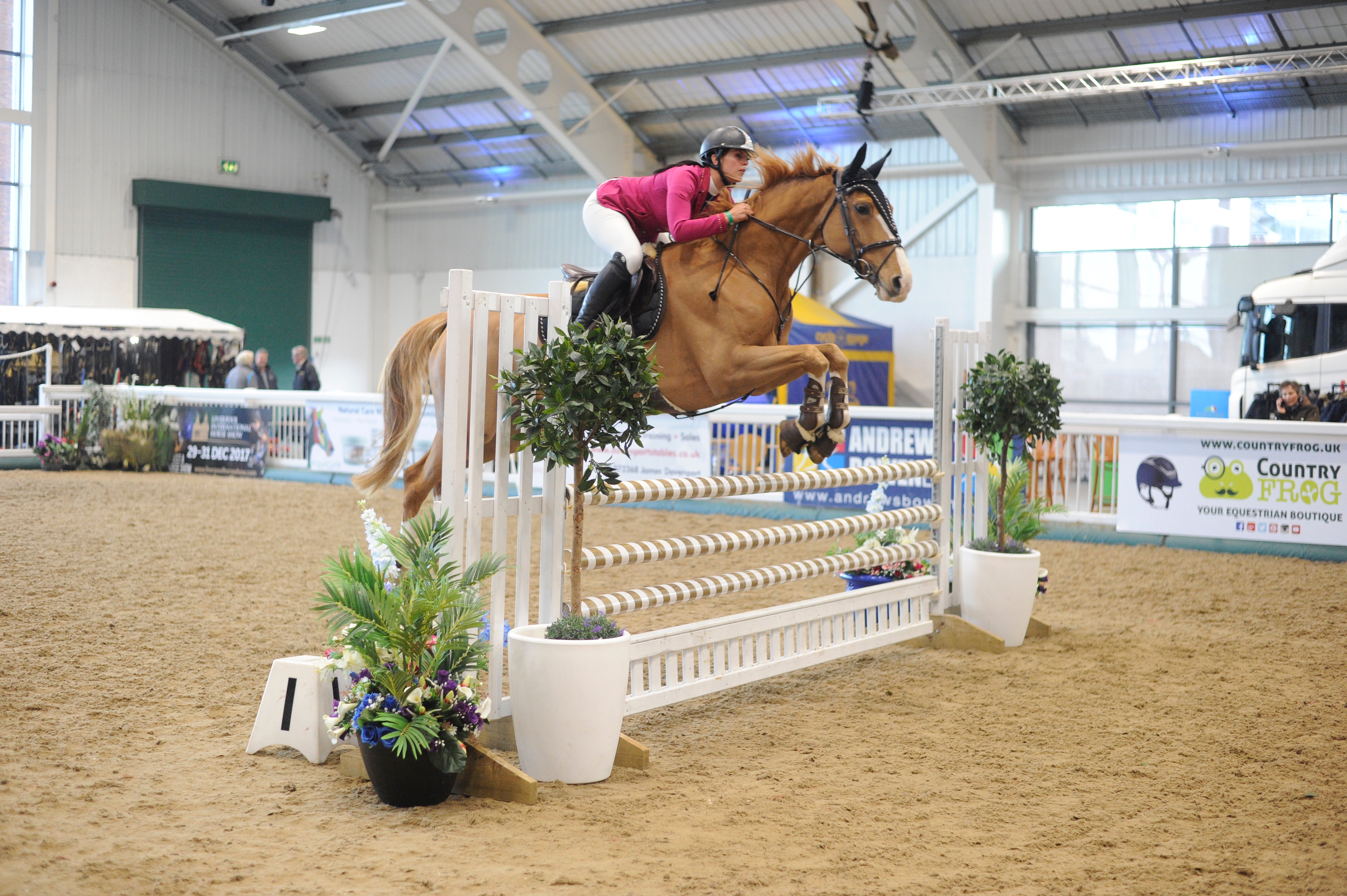 Monica secured the 0.95m Championship with her own 11 year-old chestnut mare Anemoon Van De Kapel. This partnership beat forty-six others and headed the twenty-three strong jump off with a double clear in 27.36 seconds.
Talking immediately after the prize giving's, Monica added "This is the best show of the year and it has a great atmosphere, everyone is so friendly! Both horses have been on amazing form all week and the show went very well for me. My Amazing Grace's win is all the more remarkable when you consider that she only has one eye."
National Amateur 1.05m Championship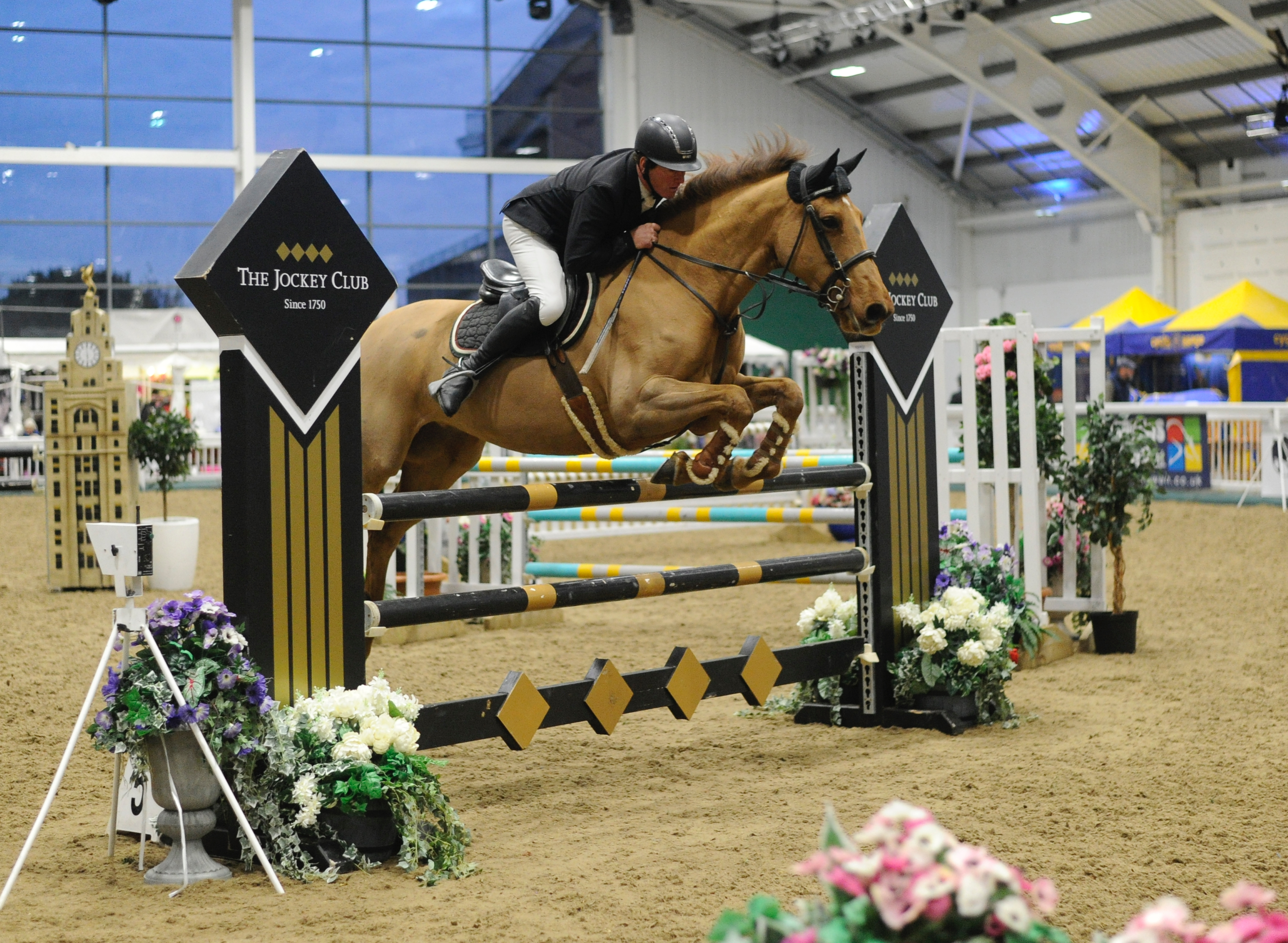 Derby's Mark Thompson took the win in the 1.05m Championship and he did so with Hunky Dory III, a 10 year-old chestnut mare owned by Michelle Yates. Forty-four contested the Championship and the pair held their own in a competitive twenty-one horse jump off.
Mark knew that that only a quick double clear would do and Hunky Dory III stepped up in fine style as she flew through the finish clear in just 37.01 seconds.
"It feels really good to have won!" said Mark "We have just missed out all week with the odd pole down so this was our last chance. It was a very quick class with each combination piling on the pressure. We were right at the end and I'm so pleased that we managed to do it.
"I have been riding Hunky Dory III for six years, I know her inside out and this makes taking the title even better!"
National Amateur 1.10m Championship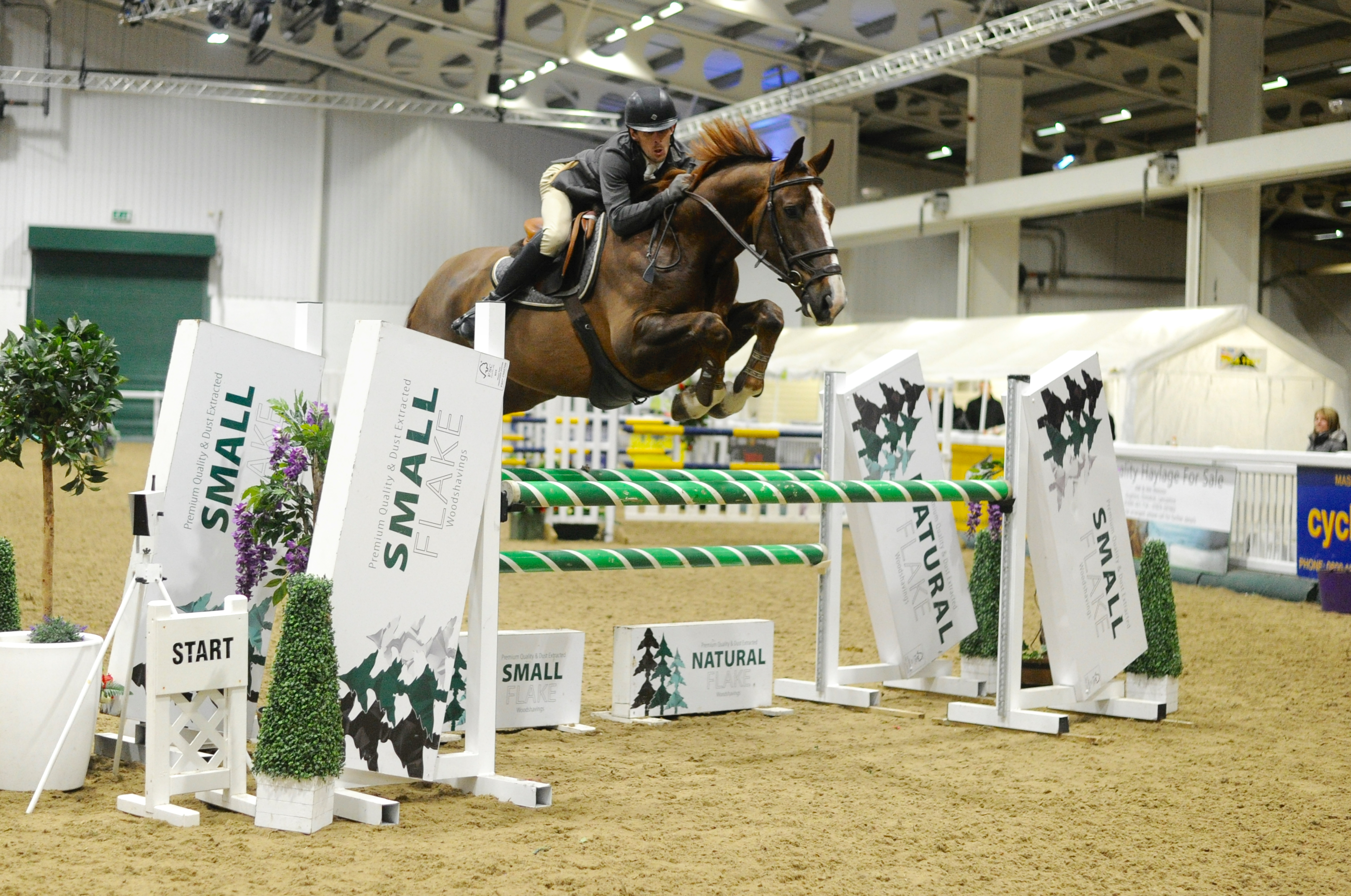 Levi Critchlow from Ormskirk, Lancashire scooped the 1.10m Championship title with his 7 year-old chestnut gelding, Valarico. They produced a blistering double clear in 27.36 seconds after a thirty-three horse class was whittled down to a fourteen horse jump off.
Over the challenging course, this pair showed their determination and an extremely pleased Levi said afterwards "I am really made up to be taking home the title and to do it on home soil with a home produced horse was the icing on the cake.
"Valarico and I won both 1.05m and 1.10m qualifiers to get here. We finished with a time fault in the 1.05m final but it is a great feeling to be able to ask a little bit more of him in the 1.10m and for him to step up so solidly."
Minor Veteran Riders Championship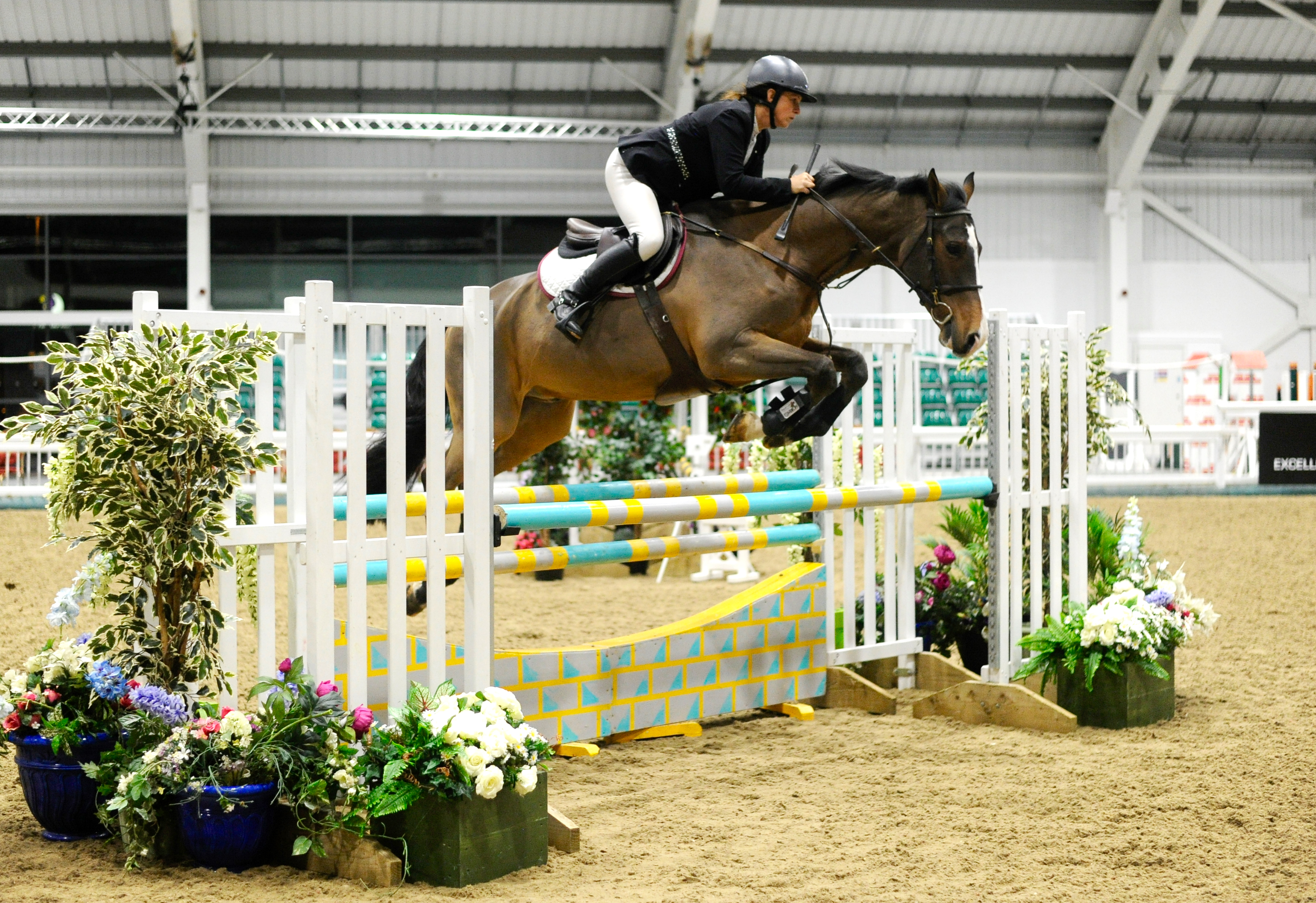 Angela Mills from Haswell, County Durham notched up another Championship win as she headed the Minor Veteran Riders Championship on her own 13 year-old bay gelding, Quids In II. This partnership bettered twenty-five others as they ruled the thirteen horse jump off with a double clear in 32.29 seconds.
Angela and Quids In II are Championship regulars and after picking up the National Amateur 0.95m Championship last year, Angela was thrilled to be taking home another title.
"I am over the moon to have won. I have been really poorly so my preparation for these Championships has been minimal but Quids In just proves what a fantastic horse he is. It was a competitive class, but Quids In is so consistent and we were able to put in the winning round. I can't tell you how pleased I am!"
Major Veteran Riders Championship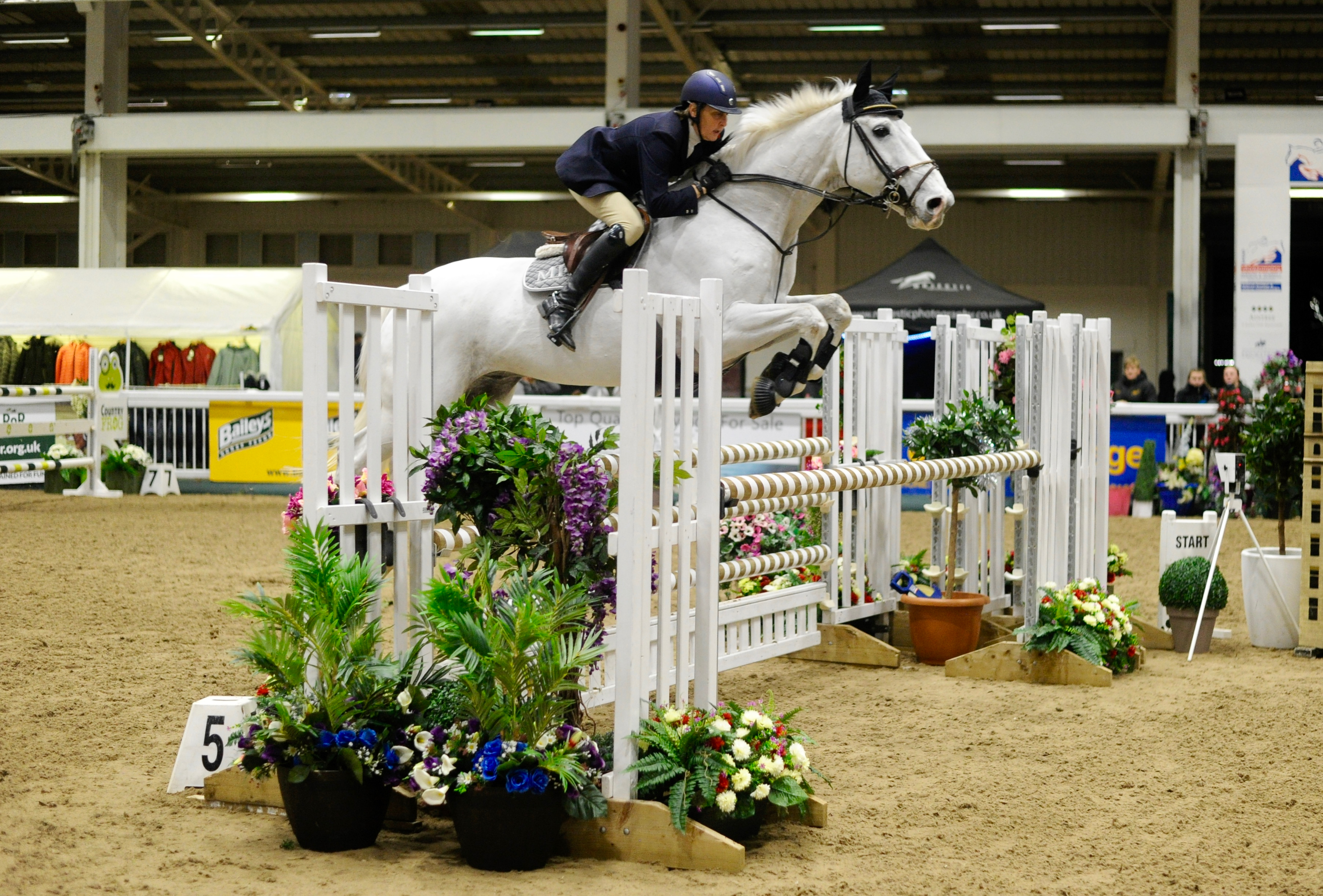 Making her Championship debut was Rosemary Tillson from Stourport-On-Severn, Worcestershire and made it a good one when she became the Major Veteran Riders Champion on Ballinteskin Laughtons Flight, a 19 year-old roan gelding owned by Mr Sport Horses.
The initial starting field of eleven was eventually narrowed down to three and a competitive jump off followed with each combination going on to secure a double clear. Rosemary and Ballinteskin Laughtons Flight knocked 1.56 seconds off the time to secure their double clear in 34.98 seconds.
Talking after her win, Rosemary said "I aimed for this class and put in around six weeks of preparation for it. Both Ballinteskin Laughtons Flight and I are veterans and we thought we'd have a go at it!
"I had my fan club cheering me on at the Championships and Ballinteskin Laughtons Flight absolutely rose to the occasion, he's so careful and reliable."
For a full list of results and further information about the Dodson & Horrell National Amateur & Veteran Championships, please visit www.aintreeequestriancentre.co.uk.
Image Credits - Majestic Photography
Dodson & Horrell:
Dodson & Horrell Ltd is a family run business that is proud of its heritage. The company is Europe's leading specialist equine feed manufacturer and a worldwide authority on nutrition and feeding. A pioneer of manufacturing methods the company has been leading the way in equine nutrition and nutritional research for over 75 years and exports to over 42 countries.
As official supplier of nutrition to Equestrian Team GBR since 2009 Dodson & Horrell works closely with the entire team to deliver nutritional advice to both the Performance and World Class Programmes.
In addition Dodson & Horrell supports a variety of top equestrian athletes who make up 'Team D&H'. The ambassadors play a vital role within the company by highlighting the quality of the feed and nutritional advice representing a variety of disciplines - carriage driving, eventing, para-dressage, showjumping and dressage. Dodson & Horrell's Showjumping Brand Ambassadors are Lauren Hough (USA), Yazmin Pinchen and Joe Davison.
Dodson & Horrell were honoured to be granted the Royal Warrant of Appointment in 1985 for horse feed and is proud to continue as Horse Food Manufacturer to HM Queen Elizabeth to the present day.
For further information, please visit www.dodsonandhorrell.com or call us on 01832 737300. For any further nutritional advice please call the Helpline on 0845 345 2627 or email enquiries@dodsonandhorrell.com.