Shaunie Greig dominates the Equithème Leading Pony Showjumper of the Year Qualifier at Arena UK
Monday 14 May 2018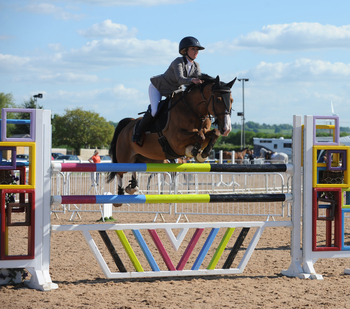 Continuing her winning form from the Blue Chip Feed Pony Newcomers Second Round earlier in the day, Shaunie Greig went on to dominate the Equithème Leading Pony Showjumper of the Year Qualifier at Arena UK's Pony Premier in Grantham, Lincolnshire.
All twenty-eight combinations had their sights set on picking up one of the three qualification tickets on offer for the Championship Final held at Horse of the Year Show later this year. The technical course saw poles fall and only two clears produced in the first round.
Building on her earlier success 15 year-old Shaunie from Fife dominated the top of the leader board jumping clear on both of her rides. Clearing all the fences in a speedy first round, Shaunie finished in 70.44 seconds on board Moonlight Flight, a 21 year-old bay gelding owned by Anne Greig. With the only clear rounds of the class being produced by Shaunie, she decided not to jump off and Moonlight Flight was declared as the winner.
The riders and ponies that finished in first to fourth took home the chance to compete in the Equithème National 148cm Championship at the British Showjumping National Championships.
Arena UK – Sunday 13th May 2018
Equithème Leading Pony Showjumper of the Year Qualifier
1st Shaunie Greig & Moonlight Flight – 0 – 70.44 seconds
2nd Shaunie Greig & Casino Royale VIII – 0 – 70.93 seconds
3rd Claudia Moore & Shamrock Du Gite – 1 – 76.22 seconds
4th Faye Sutton & Robe Ruadh – 4 – 75.15 seconds
NB: Qualifications will be updated pending grading of results.
The Horse of the Year Show 2018 will take place from the 3rd – 7th October at Birmingham's NEC. The British Showjumping National Championships 2018 will take place during the 7th – 12th August at the National Agricultural and Exhibition Centre (NAEC), Stoneleigh Park, Warwickshire.
Equithème:
Established in 1985, Equithème has gone from strength to strength in creating beautiful collections for both horse and rider. Designing and developing matching collections using fun and vibrant colours, the stylish ranges make the brand stand out in the equestrian market around the world, by using high-tech quality fabrics and a focused attention to detail with a French touch. This established French brand is famous for its forward-thinking style and one of the most iconic collections across Europe. Horse wear and apparel by Equithème is always designed around what riders, horse owners and horses themselves need out of their clothing or equipment. For more information please visit http://www.equitheme.co.uk.