SEIB Winter Novice Championship Qualifier at Aintree Equestrian Centre
Monday 02 February 2015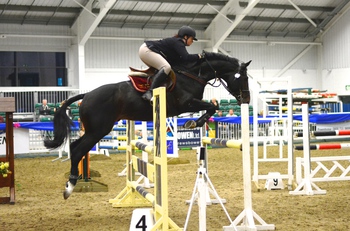 This weekend's SEIB Winter Novice Qualifier at Aintree Equestrian Centre in Liverpool proved popular once again. A total of eighty-four horses and riders came forward to contest the class, which was held yesterday as part of the Aintree Equestrian Centre Elite Show.
Competitors battled it out for the two qualifying places available for the Championship to be held at the Longines Royal International Horse Show during 28th July – 2nd August 2015 and the class was closely fought.
Thirty-three combinations produced the initial clear needed for a place in the jump off and ten subsequently delivered a double clear to put them in contention for a coveted qualification spot. With around just one second separating the top four combinations, the clock was once again crucial in deciding not only the final line-up, but also the allocation of the qualification places.
Christina Kenyon, aged 29, from Poulton Le Fylde, Lancashire produced the fastest double clear of the class on Calypsos Rampant Million, an 8 year-old bay stallion owned by Flight View Livery & Stud. Drawn twentieth to go in the jump off, this combination produced their double clear in 30.97 seconds and this result saw them achieve the only sub 31.00 seconds round of the class.
Millie Allen, aged 17, from Stockton-on-Tees, Cleveland took second place with Senator International's 6 year-old black mare, Senator Little Lusario. This combination also produced their double clear in a quick time of 31.10 seconds and this saw them secure a place in the top two and also the Championship Final.
Aintree Equestrian Centre - Sunday 1st February 2015
SEIB Winter Novice Championship Qualifier Results
1st Christina Kenyon & Calypsos Rampant Million – 0/0 – 30.97 seconds
2nd Millie Allen & Senator Little Lusario – 0/0 – 31.10 seconds
NB: Qualifications will be updated pending official grading of results.
The next SEIB Winter Novice Championship Qualifier will take place at South View Equestrian Centre in Cheshire on Saturday 21st February 2015.
SEIB:
SEIB Insurance Brokers formerly known as South Essex insurance Brokers are in the top 75 brokers in the country and have been in business for over 50 years. SEIB Insurance Brokers specialise in niche markets and equestrian insurance is a large part of the business. Communication is an important key to the company's success and the ability to talk to people, explain policies and help with problems is regarded as its greatest asset and is the reason they have won many industry awards for customer care. SEIB Insurance Brokers have competitive rates for horse, horsebox, trailer, home with stables, liability and anything else equestrian. Call for a quote on 01708 850000 or please visit www.seib.co.uk.