Scope Festival of Showjumping at SouthView Competition Centre
Sunday 25 August 2019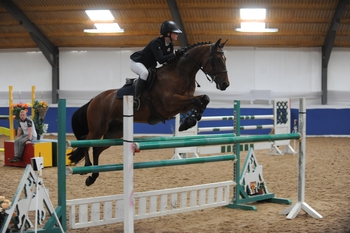 A turbo-charged Emma-Jo Slater hit top gear to claim an incredible five championship wins with 1.25m, 1.20m, 1.15m, 1.05m and 1m novice wins at the 2019 week-long annual show. The speedy Freule TN notched up a hat-trick.
Emma won the 1.25m title in a six-horse decider with Kim Barzilay's Baloubet Du Rouet x Clinton 9-year-old Freule with 1.67 seconds in hand. And the pair went on top the 1.15m by 1.19 seconds in a 10-strong jump-off and take the concluding 1.20m by an impressive 4.72 seconds in a six-horse jump-off.
She's feisty but mega-quick, mega-careful and wants to win as much as I do," said Emma-Jo.
Emma-Jo topped a hard-fought 21-strong jump-off to take the 1.05m title with Kim's Up To Date x Clinton 9-year-old Code Breaker, holding off the serious challenge from Jassy Pyke on Wood Field Clover by just 0.12 sec.
"She's lovely and such a trier," said Emma-Jo, who was also fifth with Kimba Castello.
Kim's home-bred five-year-old Castello (Castello Overcinge's Z x Heartbreaker) – newly-crowned British Novice and Nupafeed Supplements Discovery champions – topped the 17-horse jump-off 1m Novice with more than four sec in hand.
"He is so consistent and has such an amazing brain for his age, he's older than his years and so good against the clock," said Emma-Jo.
A delighted Jassy Pyke claimed her first Championship sash with a final round flyer in the Mini Veterans 11-horse jump-off to win by 0.40 seconds with Wood Field Clover, a 9-year-old bought from best friend Kim Barzilay two years ago.
"It's taken me until I'm old enough to compete in the veterans to win – I can't keep up with the young whippersnappers," said Jassy, who finds 'Clover' – "The easiest, nicest horse possible to have around."
Sinead Cox and the speedy Valtaire found a quicker route than Emma-Jo and Codebreaker to take the 1.10m title by 0.41 sec in an eight-horse jump-off.
"She's easy but took time to get used to her speed, it's ears flat back in the jump-off," said Isle of Man based Sinead, 16, who has ridden the Irish-bred 14-year-old since 2016.
Paul Barker topped a sizzling hot 19-strong decider to take the Ladies and Gents title with the Corofino I 9-year-old mare Crispina Z.
"She has a big stride and everything I've asked of her, she's delivered," said Paul.
Amanda Bywater was best placed lady in third with a breath-taking round, riding the 9-year-old mare Triple Twist with a very light contact on the reins and was cheered on by the spectators all the way.
Berkshire-based Henry Welch lifted the Graham Heath Equestrian Senior 85cm Novice Debut championship with the British-bred 9-year-old Westcoast 2nd Edition.
"She's small and can turn tight, as long as I let her travel, she does what she needs to," said Henry, who has competed this mare for the past 18 months and is just stepping up to 1.10m.
Amy Jones producing a flying round from the front on the 17-year-old Casablanca Helena to top the 21-horse jump-off in the Scope 95cm championship by 0.62 seconds.
PONIES
Tabitha Kyle had an incredible run of form in the pony classes to match Emma-Jo's record with five championships titles. She secured both 128cm and 138cm sections of the Graham Heath Primary titles, Scope 128cm and 138cm championships and the Junior Adventurer title in an amazing run of form.
Tabitha won the 128cm for the second year running in a five-pony decider on the 12-year-old Living The Dream.
"He is so naturally quick, if he's clear he's incredibly hard to beat," said Tabitha, 12, who also emerged victorious in the 138cm with the 16-year-old Lissduff Royal.
Tabitha's early lead on Playboy Van De Zoetewei was smashed by Rachel Proudley on Buttons Two in a strong 15-pony jump-off, but she came fighting back with Royal in the latter stages to win the Primary 138cm by 0.18 seconds.
Last-to-go in the 10-pony jump-off of the Scope 138cm saw the 8-year-old Playboy fill the top spot for Tabitha, the pair claiming almost nine sec in hand.
The 9-year-old Coreys Princess came to the fore in the Scope 128cm for Tabitha, her early competitive standard-setter remaining ahead for the pair to win with the only double clear.
Tabitha – who had 10 ponies at this venue – got the show rolling with victory in the first championship of 2019, winning the Scope Junior Adventurer title with Lickaun Lady with 0.55 second in hand.
"She's a lovely six-year-old mare I've ridden for six months and has all her newcomers and Foxhunter double clears for next year," she said.
Francesca Young lifted the prestigious eVet Dunglenn 148cm Championship on Carnhill Luna to record the biggest win of her career.
And she did it in style, posting the only double clear in the eight-strong jump-off, remaining cool under pressure to leave every fence intact.
"He's got a huge personality – he knows he's special – and the bigger the occasion, the better," said Francesca, 15. "The jump-off was nice and flowing and going for the clear suited him."
Francesca has ridden the 13-year-old since September.
"We got on well straightaway but started small and built our way up and only stepped up to this level a few months ago," said Francesca, who rides Luna in a Pelham with no martingale – "It's the tack he came in and it works."
A late draw obviously suits Elsi Jacques; in both Wicks pony 1.20m Jubilee and Graham Heath Equestrian under 16 championships her last-to-go efforts secured both titles.
She captured the 1.20m Jubilee for the second consecutive year on the handsome 12-year-old stallion Trevoulter Ladies Man. Ten competitors tackled the jump-off with Elsi relegating Madison Heath's penultimate target on Cisco Bay by 1.14 seconds.
"I have to keep my leg on and hold him up, he will duck out if I don't ride him properly," said 14-year-old Elsi.
In the eight-horse decider of the under 16, Elsi jumped to the top with 2.41 seconds to spare on her mother Danielle Piecha's Da Vinci V. The Carthino Z/Indoctro 11-year-old was purchased from Pennie Cornish nine months ago but a broken back and now an expected baby has kept Danielle out of the saddle and Elsi has taken the reins.
"He's so springy and has such a big stride for a little horse, I could trust him to gallop in the jump-off," said Elsi.
Madiy Jamison was another to retain her 2018 title as she used her final draw in the five-horse jump-off to take the Marnic Under 23 championship with Ultravox II.
"I got a flyer to the last and trusted him, he's ultra-fast and ultra-careful," said Madiy, 18, who has recently received her 'A' level results and secured a university place at Rease Heath in Cheshire studying Equine Science and Sports Performance.
Sienna White provided one of only two double clears to take the POYS 1.10m Elite Debut with Sky Bonita I.
"Going clear was the most important thing so I just took a sensible route," said Sienna, 16, who trains with Annette Lewis.
Sienna inherited the 18-year-old mare – who was originally bred as a dressage horse with Spanish bloodlines – from elder sister Caterina this year. "She's the nicest, gentlest mare but is small at 144cm and struggles with the distances sometimes."
Sienna and Sky Bonita had to settle for second in the Kierson Restoration Bight Star championship by just 0.21 sec as Olivia Sponer scooped the title from the front with new ride of five weeks Westcoast Express.
"She has lots of energy and is fast across the ground," said 13-year-old Olivia, on the Irish-bred 12-year-old.
Henry Squibb claimed second here on Kilcurry Dawn but went one better in the pony 1.15m championship, taking victory with the only double clear on the 13-year-old Sultan Du Bary in the opening round of the three-way decider.
"It was quite a tough track but he loves jumping, especially in the jump-off, he lights up at a show," said Henry, 13.
Eloise Burden claimed the PK Equestrian Pony Progressive Championship in an eight-pony decider with the consistent Happy Hero – a double champion in the Pony British Novice and Bronze League finals at the recent British Showjumping National Championships.
"For a five-year-old her turning skills are impeccable and she always gives 110%," said Eloise.
Lila Hill celebrated her 15th birthday a week early with her first big championship win in the Swn Y Nor Equestrian Pony Novice Masters on Oreo Patches.
"Tight turns are his forte and he's honest and genuine, he's given me so much confidence," said Lila, who headed the 23-strong jump-off by 0.98 seconds.
Diminutive but super-fast Hollie Gerken, 9, claimed the top two places in both the Tiny Tots and 128cm Debut championships with fabulous Dimples Dilema.
She outpaced all in a competitive 11-pony jump-off in the Martin and Snowden Families Tiny Tots, winning with Dimples and taking second aboard Black Jack III, 2.65 seconds separating the two.
"She's my pony of a lifetime," said Hollie, on the 19-year-old mare.
Dimples again came to the fore in the Cats & Pipes 128cm Debut in a 10-pony decider with a 2.06 sec advantage with Hollie also picking up second on Killaloe Gypsy.
An emotional Gabriel Ball made his first visit to the Scope Festival a winning one, registering his biggest win with the Cats & Pipes 128cm Debut championship on Bonnie XIII, a seven-year-old loaned from Fiona Curley and Harriet Duffety nine months ago.
"This is my first year I've registered to jump affiliated with British Showjumping," said Bristol-based Gabriel, 13, who saved the best until the last day – "I lost my course twice in the preliminary classes and circled before carrying on but qualified on four faults."
RESULTS
HORSES
1.30m CHAMPIONSHIP
1st Paul Barker & Crispina Z – 0/0 – 32.65 seconds
2nd Paul Sims & Dream Roller – 0/0 – 32.77 seconds
3rd Amanda Bywater & Triple Twist – 0/0 32.86 seconds
4th Eve Staveley & Shadow IV – 0/0 34.18 seconds
5th Sarah Billington & Uforia JX – 0/0 – 35.99 seconds
SCOPE 1.25m CHAMPIONSHIP
1st Emma-Jo Slater & Freule TN – 0/0 – 32.88 seconds
2nd Paul Sims & Oaken Gracie – 0/0 34.55 seconds
3rd Claire West & Dancer II – 0/0 – 334.64 seconds
4th Eve Staveley & Shadow IV – 0/0 35.63 seconds
5th Tors Edwards & Bella XIV – 0/4 – 36.00 seconds
SCOPE MINI SENIOR VETERANS CHAMPIONSHIP
1st Jassy Pyke & Wood Field Clover – 0/0 – 33.61 seconds
2nd Anna de Verteuil & Victory II – 0/0 34.01 seconds
3rd Elizabeth Lodge & Master Ballykean – 0/0 36.14 seconds
4th Anna de Verteuil & Bonita – 0/0 36.16 seconds
5th Sharon Taylor & Kiers Rumour – 0/0 36.56 seconds
MARNIC GROUNDWORKS UNDER 23 CHAMPIONSHIP
1st Madiy Jamison & Ultravox II – 0/0 – 40.20 seconds
2nd Morgan Carpenter & Merllyns Chocca Nova – 0/0 41.68 seconds
3rd Grace Wallace & Eau Claire V – 0/0 43.70 seconds
4th Robert Skyrme & Dungimmon Sunrise – 0/4 – 38.20 seconds
5th Laura Madden & Enesco – 0/4 51.18 seconds
GRAHAM HEATH EQUESTRIAN UNDER 16 CHAMPIONSHIP
1st Elsi Jacques & Da Vinci V – 0/0 30.33 seconds
2nd Alice Weightman & Cindy VI – 0/0 – 32.74 seconds
3rd Iwan Carpenter & Merllyns Chacco B – 0/0 – 33.59 seconds
4th Elsi Jacques & Sir Nunn Diamond Lad – 0/0 34.77 seconds
5th Alex Attwood & Zilanto – 0/0 35.33 seconds
GRAHAM HEATH EQUESTRIAN SENIOR 85cm DEBUT CHAMPIONSHIP
1st Henry Welch & Westcoast 2nd Edition – 0/0 – 24.21 seconds
2nd Ellie Bates & In The Limelight III – 0/0 25.88 seconds
3rd Emily Morris & Bean Cruising – 0/0 – 26.26 seconds
4th Phoebe Jefferies & Zipwire – 0/0 27.86 seconds
5th Libby Dean & Billyboy Himself – 0/0 29.91 seconds
SCOPE 1.05m CHAMPIONSHIP
1st Emma-Jo Slater & Code Breaker – 0/0 – 29.98 seconds
2nd Jassy Pyke & Wood Field Clover – 0/0 – 30.10 seconds
3rd Jessica Hewitt & JJ's Impressive – 0/0 – 30.34 seconds
4th Sinead Cox & Caltaire – 0/0 – 30.48 seconds
5th Emma-Jo Slater & Kimba Castello – 0/0 – 30.58 seconds
95cm CHAMPIONSHIP
1st Amy Jones & Casablanca Helena – 0/0 – 25.59 seconds
2nd Danielle Hughes & Sly Go – 0/0 – 26.21 seconds
3rd Emma Tideswell & Nelsons Tinker – 0/0 – 26.32 seconds
4th Alyssa Wright & Lady Royale – 0/0 26.40 seconds
5th Katherine Cumming & Auburn Elite – 0/0 – 28.70 seconds
1.15m CHAMPIONSHIP
1st Emma-Jo Slater & Freule TN – 0/0 – 34.92 seconds
2nd Julia Helm & Helms Rossio – 0/0 – 36.11 seconds
3rd Alice Codd & Seapatrick Dougaleena – 0/0 – 42.45 seconds
4th Sinead Cox & Cando 6 – 0/0 43.05 seconds
5th Alyssa Wright & Bekade III – 0/0 – 46.99 seconds
1m CHAMPIONSHIP
1st Emma-Jo Slater & Kimba Castello – 0/0 – 32.17 seconds
2nd Emma-Jo Slater & Calcourt Ruby – 0/0 – 36.23 seconds
3rd Samantha Poole & Alchemy Histronix – 0/0 – 37.87 seconds
4th Emma Tideswell & Jubilee Jack III – 0/0 – 39.86 seconds
= 5th Grace Hughes & Ferdi VI – 0/0 – 41.47 seconds
= 5th Annabel Windsor & Never Ending Story – 0/0 41.47 seconds
1.10m CHAMPIONSHIP
1st Sinead Cox & Valtaire – 0/0 – 31.79 seconds
2nd Emma-Jo Slater & Code Breaker – 0/0 – 32.20 seconds
3rd Annabel Windsor & MC Clover – 0/0 34.60 seconds
4th Devon Grimes & Miss Silver Dollar – 0/4 – 34.93 seconds
5th Amanda Routledge & Violetta – 0/4 42.14 seconds
1.20m CHAMPIONSHIP
1st Emma-Jo Slater & Freule TN – 0/0 – 37.83 seconds
2nd Elsi Jacques & Morgito – 0/0 – 42.55 seconds
3rd Claire Membury & Leo VII – 0/0 – 42.61 seconds
4th Elsi Jacques & Da Vinco V – 0/4 38.25 seconds
5th Grace Wallace & Eau Claire V – 0/4 40.34 seconds
PONIES
eVET DUNGLENN 148cn CHAMPIONSHIP
1st Francesca Young & Carnhill Luna – 0/0 – 41.98 seconds
2nd Ella Quigley & Rockdee Jay – 0/4 37.74 seconds
3rd Tabitha Kyle & Orchids Vienna – 0/4 – 38.11 seconds
4th Mia Newman & Oh Wow – 0/4 43.12 seconds
5th Alice Weightman & Epapke – 0/0 – 44.51 seconds
WICKS GROUP 1.20m JUBILEE OPEN CHAMPIONSHIP
1st Elsi Jacques & Trevoulter Ladies Man – 0/0 – 29.78 seconds
2nd Madison Heath & Cisco Bay – 0/0 – 30.64 seconds
3rd Glain Watkin Jones & Trevor H – 0/0 – 32.08 seconds
4th Claudia Harding & Wheres My Colour – 0/0 – 32.24 seconds
5th Charlotte Hollinhead & Alenas Ennistymon – 0/0 33.36 seconds
GRAHAM HEATH EQUESTRIAN PRIMARY 128cm
1st Tabitha Kyle & Living The Dream – 0/0 25.85 seconds
2nd Tabitha Kyle & Coreys Princess – 0/0 – 26.59 seconds
3rd Thomas Hogan & Darth Moll- 0/0 – 27.41 seconds
4th Sophie Wicks & Camizion – 0/0 – 27.72 seconds
5th Thomas Hogan & Miss Millie II – 0/4 40.52 seconds
GRAHAM HEATH EQUESTRIAN PRIMARY 138cm
1st Tabitha Kyle & Lissduff Royale – 0/0 – 25.45 seconds
2nd Rachel Proudley & Buttons Two – 0/0 – 25.63 seconds
3rd Owen Carpenter & Follow Jazzy Lady – 0/0 – 26.03 seconds
4th Tabitha Kyle & Playboy Van De Zoetewei – 0/0 – 26.28 seconds
5th Olivia Sponer & Forlan – 0/0 – 28.21 seconds
PONY ADVENTURER CHAMPIONSHIP
1st Tabitha Kyle & Lickaun Lady – 0/0 – 32.66 seconds
2nd Megan Woodcock & Glencroft Beal Na Blath – 0/0 33.21 seconds
3rd Sienna White & Ultimate Fascination – 0/0 33.39 seconds
4th Darcey Foss & Ilston Brave Dancer – 0/0 – 35.21 seconds
5th Elysia Heagren Bond & Attyrory Golden Lady – 0/4 – 31.28 seconds
SWN Y MO EQUESTRIAN PONY NOVICE MASTERS
1st Lila Hill & Oreo Patches – 0/0 – 28.30 seconds
2nd Eloise Burden & Happy Hero – 0/0 – 29.28 seconds
3rd Isabelle Morrisey & Clonlara Stripe – 0/0 31.29 seconds
4th Jasmine Guy & JJS Blue Eyed Boy – 0/0 – 31.34 seconds
5th Louise McDonald & Maily 17 – 0/0 – 31.80 seconds
PK EQUESTRIAN PONY PROGRESSIVE CHAMPIONSHIP
1st Eloise Burden & Happy Hero – 0/0 – 35.26 seconds
2nd Poppy Deakin & Icaris W – 0/0 – 42.45 seconds
3rd Lila Hill & Oreo Patches – 0/4 40.53 seconds
4th Louise McDonald & Maily 17 – 0/4 41.57 seconds
5th Elysia Heagren Bond & Beach Lady – 0/8 – 41.85 seconds
POYS 1.10m DEBUT CHAMPIONSHIP
1st Sienna White & Sky Bonita I – 0/0 39.14 seconds
2nd Henry Squibb & Kilcurry Dawn – 0/0 42.71 seconds
3rd Alice Darcis & Ruby Trevelyan Of Lyonnesse – 0/4 – 38.33 seconds
4th Ella Cook & Lucky To Be – 0/4 – 36.40 seconds
5th Tabitha Kyle & Lickaun Lady – 0/4 38.33 seconds
SCOPE 1.15m JUNIOR OPEN CHAMPIONSHIP
1st Henry Squibb & Sultan Du Bary – 0/0 – 32.25 seconds
2nd Tabitha Kyle & Nightgirl Van Het Sonnishof Z – 0/4 – 30.60 seconds
3rd Elsi Jacques & Westward Sunshine – 0/4 – 30.79 seconds
4th Sophie Wicks & Zodianne Van De Doevenbree – 4 – 68.08 seconds
5th Elsi Jacques & Dapple Grey Dew Drip – 4 – 70.77 seconds
128cm CHAMPIONSHIP
1st Tabitha Kyle & Coreys Princess – 0/0 – 33.84 seconds
2nd Tommy Goody & Hardwickview Yen Man – 0/4 – 31.49 seconds
3rd Tabitha Kyle & Living The Dream – 0/4 34.44 seconds
4th Tabitha Kyle & Borderhill William – 0/4 – 40.95 seconds
5th Sophie Wicks & Camizion – 0/8 – 51.93 seconds
138cm CHAMPIONSHIP
1st Tabitha Kyle & Playboy Van De Zoetewei – 0/0 – 26.43 seconds
2nd Paige Wright & Roche Valley Red Baron – 0/0 – 35.27 seconds
3rd Owen Carpenter & Follow Jazzy Lady – 0/4 24.92 seconds
4th Tabitha Kyle & Mister Proper – 0/4 25.63 seconds
5th Olivia Sponer & Top Silvio Hastak – 0/4 – 26.54 seconds
NEIL MARTIN TINY TOTS CHAMPIONSHIP
1st Hollie Gerken & Dimples Dilema – 0/0 – 27.89 seconds
2nd Hollie Gerken & Black Jack III – 0/0 – 30.54 seconds
3rd Abigail Wicks & Bubbas Delight – 0/0 – 33.64 seconds
4th Billy Colclough & Dunard Hollie – 0/0 – 34.36 seconds
5th Jack Martin & Top Priority II – 0/0 – 38.01 seconds
KIERSON RESTORATION BRIGHT STAR CHAMPIONSHIP
1st Olivia Sponer & Westcoast Express – 0/0 34.06 seconds
2nd Sienna White & Sky Bonita I – 0/0 – 34 .27 seconds
3rd Lila Hill & Lissroe Melody – 0/0 – 36.27 seconds
4th Ella Spearing & Laraghmore Martin – 0/0 – 37.02 seconds
5th Elle May Hart & Dun Angel – 0/0 40.64 seconds
CATS & PIPES 128cm CHAMPIONSHIP
1st Hollie Gerkin & Dimples Dilemma – 0/0 – 23.88 seconds
Hollie Gerkin & Killaloe Gypsy – 0/0 25.94 seconds
3rd Emmie horner Treflan Nero – 0/0 – 26.14 seconds
4th Sophia Parry & My Mate Murphy – 0/0 26.60 seconds
5th Sophie Parry & Bochym Beatrice – 0/0 – 27.64 seconds
CATS & PIPES 138cm CHAMPIONSHIP
1st Gabriel Ball & Bonnie XIII – 0/0 27.03 seconds
2nd Ruby Birchenough & Glenwoodstud Dark Emerald – 0/0 – 27.62 seconds
3rd Emily Flockett & Sponge Bob – 0/0 – 28.65 seconds
4th Phoebe Eaton & Ellie Jay – 0/0 – 32.18 seconds
5th Lily Parrott & Cappuccino IV – 0/4 29.18 seconds