Ryan O'Sullivan triumphs in the SEIB Winter Novice Qualifier at Crofton Manor Equestrian Centre
Monday 14 January 2019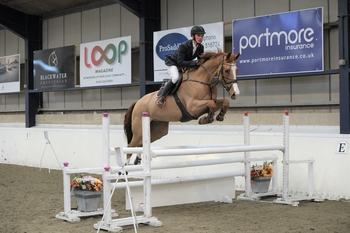 Crofton Manor Equestrian Centre in Fareham, Hampshire played host to a SEIB Winter Novice Qualifier on Sunday morning and it was Ryan O'Sullivan from Beedon, Berkshire who took the win.
Half of the initial thirty-four starters jumped clear around Matthew Hoskins' first round track but only three could produce a double clear. With just two qualifying tickets on offer for the Championship Final at the Royal International Horse Show, Hickstead, West Sussex, the allocation of these was to come down to the clock.
Riding Lisa Hinton's 7 year-old chestnut gelding Holisco, Ryan flew through the finish line with 3.42 seconds to spare and in doing so, the pair picked up their qualification ticket.
Sasha Good from Farnham, Surrey fought hard to gain second place with Kirsten Good's Luidams Diamond. They crossed the finish line in 45.24 seconds, just 0.49 seconds ahead of third placed Molly Chandler and Belianus who were hot on their heels.
Crofton Manor Equestrian Centre – Sunday 13th January 2019
SEIB Winter Novice Qualifier Results
1st Ryan O'Sullivan & Holisco – 0/0 – 41.82 seconds
2nd Sasha Good & Luidams Diamond – 0/0 – 45.24 seconds
NB: Qualifications will be updated pending official grading of results.
Image: Ryan O'Sullivan & Holisco in action in the SEIB Winter Novice Qualifier at Crofton Manor Equestrian Centre (CREDIT: Simply Event Photos)