Robert Murphy scoops the win in the Equitop Myoplast Senior Foxhunter Second Round at REC Arenas
Tuesday 14 May 2019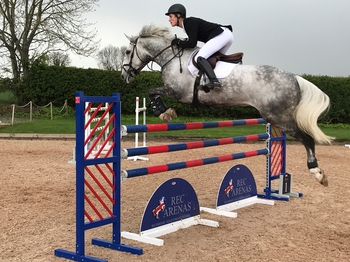 This year's Equitop Myoplast Senior Foxhunter Second Rounds kicked off at REC Arenas at Richmond Equestrian Centre in North Yorkshire and Robert Murphy was crowned the eventual winner.
There were two direct qualifying tickets on offer for the Equitop Myoplast Senior Foxhunter Championship Final at Horse of the Year Show in October and each of the forty-eight starters set their sights on producing a treble clear. Course designer Rafael Suarez set the competitors a good challenge to get the numbers down to eleven for the second round and five for the third and final round.
Robert Murphy from Preston, Lancashire produced three fantastic rounds of jumping on Highcross Violet, an 8 year-old grey mare owned by Elizabeth Jackson and Peter Murphy. In doing so, he took the win with a treble clear in 37.90 seconds and bagged his place at Horse of the Year Show.
The top two combinations secured their place in the Equitop Myoplast Senior Foxhunter Championship Final at Horse of the Year Show and the top five took home the chance to compete in the Equitop Myoplast Senior Foxhunter Masters at the British Showjumping National Championships.
REC Arenas – Saturday 11th May 2019
Equitop Myoplast Senior Foxhunter Second Round
1st Robert Murphy & Highcross Violet - 0/0/0 – 37.90 seconds
2nd Benjamin Raistrick & Heaven Can Wait E - 0/0/0 – 41.00 seconds
3rd Paul Barker & Green Grass - 0/0/0 – 41.93 seconds
4th Sophie Fawcatt & Billy Jackson – 0/0/0 – 42.26 seconds
5th Pheobe Powell & Kelly Lad II – 0/0/12 – 48.78 seconds
NB: Qualifications will be updated pending official grading of results.
The Horse of the Year Show 2019 will take place from the 2nd – 6th October at Birmingham's NEC. The British Showjumping National Championships 2019 will take place during the 6th – 11th August at the National Agricultural and Exhibition Centre (NAEC), Stoneleigh Park, Warwickshire.
Equitop Myoplast:
Equitop Myoplast® is a unique amino acid supplement specifically designed to support lean muscle growth, helping horses to respond and cope with the demands of training and rehabilitation. The blend of amino acids in Equitop Myoplast supports lean muscle growth in older horses that lose condition easily, those in intensive training or competition as well as young and developing horses. This popular amino acid supplement is the leading equine supplement sold by veterinary surgeons in the UK(1). References – (1) GFK industry sales data MAT Jan 17. For more information please visit www.equitop-myoplast.co.uk.