Revolution Sports + Entertainment, British Showjumping and the Sports Marketing Industry mourn the loss of a true professional
Monday 12 February 2018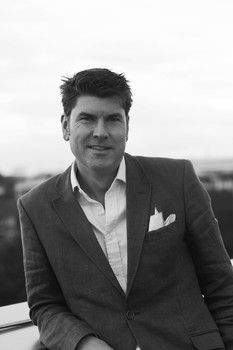 Tributes have been paid from around the world to Rod Kohler, joint Managing Director of Revolution Sports + Entertainment, an international sports PR and sponsorship agency based in London and Non-Executive Director of British Showjumping.
Kohler (pictured), who was 48, had been fighting pancreatic cancer and passed away last week.
A hugely popular and respected professional in the sports marketing industry, Kohler began his career over 20 years ago at the then sports agency Orbit International working on the Stella Artois sponsorship of the tennis championships at The Queen's Club. Before helping co-found Revolution Sports in 2005, he worked at international PR agency Hill & Knowlton where he was part of the communications team behind the successful Athens 2004 Olympic Bid. Whilst at H&K, he also worked on the Football World Cup in France, Formula 1 with the sponsors of three different teams and the Cricket World Cup. Kohler also worked at M&C Saatchi Sport & Entertainment working on numerous high-profile accounts including in Formula 1 and international cricket with Travelex, where he twice toured with the Australian cricket team to India.
In the equestrian world, for the past 10 years Kohler has worked extensively on the biggest events around the globe, including on behalf of Rolex at five FEI World Cup Finals, two FEI European Championships, and saw the launch of the innovative Rolex Grand Slam of Showjumping in 2013, where he witnessed the historic first win of the global prize by GB's Scott Brash in Spruce Meadows, Calgary in 2015.
Elsewhere in the sport, amongst other accomplishments, he helped lead the launch and activation of the Furusiyya sponsorship of the FEI Nations Cup and was especially proud of his role as the Press Attaché to the Saudi Equestrian showjumping team's historic bronze medal achievement at the London 2012 Olympic Games. In 2016, Kohler led the team managing the PR for the Royal Windsor Horse Show, which also staged the Bafta award-winning Her Majesty the Queen's 90th Birthday Celebration at the Show.
In 2017, Kohler was proud to have been part of the winning team appointed to manage the Press Operations for the 2018 FEI World Equestrian Games in Tryon, North Carolina, USA.
As a Non-Executive Board Director for British Showjumping, Kohler brought with him a wealth of experience and understanding from which the sport benefitted. Iain Graham, Chief Executive of British Showjumping paid testament to Kohler by saying "To say that Rod will be missed by all of us at British Showjumping would be a huge understatement. His professionalism, drive, knowledge and enthusiasm for the sport accompanied with an incredible sense of humour and empathy for those he worked alongside made Rod quite unique and one of the nicest people you could meet. On behalf of myself, the Board and the Communications Team at British Showjumping with whom Rod worked extremely closely with, I would like to express our extreme sadness at the news of his passing and to relay our deepest sympathy and condolences to his family during this difficult time".
Nigel Currie, former Chairman of the European Sponsorship Association, "Rod was one of the nicest people in the sponsorship business. He was a highly respected and dedicated professional with great knowledge and insight across a wide range of matters. He brought terrific enthusiasm and energy to everything he did and this contributed hugely to his success in business. He was also an excellent spokesman and outstanding ambassador for the industry and had matured into one of the leading executives in the sponsorship world who had so much more to offer.
Andrew Baldock, Chairman of British Equestrian Writers' Association, Press Association Sport Rugby Union correspondent and equestrian writer, "I got to know Rod well through the equestrian world, and I immediately warmed to a lovely man, a total professional and someone who always had the time of day for you.
"During my time covering the sport, we shared many a conversation – often over a glass or two – and he was the most wonderful company. Engaging, thoughtful and supremely-talented. That was Rod. We also had a time together as non-executive directors on the Board of British Showjumping, and his contribution to that organisation was a considerable one. I loved his refreshing approach, his pure zest for everything he did. I feel privileged to have known Rod. He truly was one of the very best."
Revolution Sports is fundraising for Pancreatic Cancer UK, please read more about it here.