Results from the Dodson & Horrell National Amateur & Veteran Championships 2017
Sunday 19 November 2017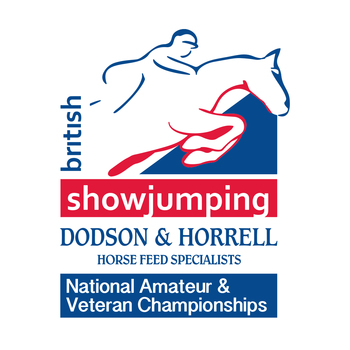 Following six busy days of exciting competition at the Dodson & Horrell National Amateur & Veteran Championships, the Champions of 2017 have now been crowned. The Championships took place at Aintree Equestrian Centre during the 14th – 19th November and the results were as follows:
Championship stalwarts Monica Ballard and her own 19 year-old bay mare My Amazing Grace won the National Amateur 0.85m Championship. Monica is based in Sittingbourne, Kent.
Monica Ballard also headed the National Amateur 0.95m Championship on her own 11 year-old chestnut mare Anemoon Van De Kapel.
The winner of the National Amateur 1.05m Championship was Mark Thompson from Findern, Derby on Hunky Dory III, a 10 year-old chestnut mare owned by Michelle Yates.
Levi Critchlow from Ormskirk, Lancashire scooped the National Amateur 1.10m Championship title on his own 7 year-old chestnut gelding Valarico.
The Minor Veteran Riders Championship was won by Angela Mills from Haswell County Durham on board Quids In II, her own 13 year-old bay gelding.
Rosemary Tillson from Stourport-On Severn, Worcestershire became the Major Veteran Riders Champion with Ballinteskin Laughtons Flight, a 19 year-old roan gelding owned by Mr Sport Horses.
For a full list of results and further information about the Dodson & Horrell National Amateur & Veteran Championships, please visit www.aintreeequestriancentre.co.uk. A full report with images will follow.
Dodson & Horrell:
Dodson & Horrell Ltd is a family run business that is proud of its heritage. The company is Europe's leading specialist equine feed manufacturer and a worldwide authority on nutrition and feeding. A pioneer of manufacturing methods the company has been leading the way in equine nutrition and nutritional research for over 75 years and exports to over 42 countries.
As official supplier of nutrition to Equestrian Team GBR since 2009 Dodson & Horrell works closely with the entire team to deliver nutritional advice to both the Performance and World Class Programmes.
In addition Dodson & Horrell supports a variety of top equestrian athletes who make up 'Team D&H'. The ambassadors play a vital role within the company by highlighting the quality of the feed and nutritional advice representing a variety of disciplines - carriage driving, eventing, para-dressage, showjumping and dressage. Dodson & Horrell's Showjumping Brand Ambassadors are Lauren Hough (USA), Yazmin Pinchen and Joe Davison.
Dodson & Horrell were honoured to be granted the Royal Warrant of Appointment in 1985 for horse feed and is proud to continue as Horse Food Manufacturer to HM Queen Elizabeth to the present day.
For further information, please visit www.dodsonandhorrell.com or call us on 01832 737300. For any further nutritional advice please call the Helpline on 0845 345 2627 or email enquiries@dodsonandhorrell.com.