Nicole Pavitt wins the Connolly's RED MILLS Senior Newcomers Masters
Saturday 12 August 2017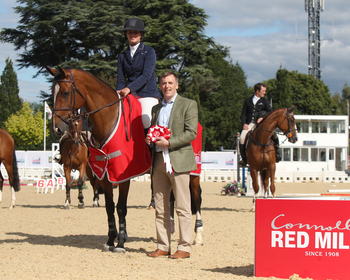 Nicole Pavitt took the Connolly's RED MILLS Senior Newcomers Masters on day five of the British Showjumping National Championships, held at the NAEC Stoneleigh in Warwickshire.
Aboard Xena 16 owned by Sandra Pavitt, Nicole was last to go in the jump off of 19 riders so the pressure was high. Unphased, the pair flew down the line to the last fence to take the lead in a time of 41.18 seconds.
"Xena is naturally fast and careful so I didn't need to worry about turning tight to the fences. This is a fantastic achievement for her; she has just recently come back from an injury and this is her third show back." The pair has now qualified for the final at Horse of the Year Show at the NEC in October.
NB: Qualifications will be updated pending grading of results.
Image Credit - 1st Class Images
The Horse of the Year Show 2017 will take place from the 4th – 8th October at Birmingham's NEC.
Connolly's RED MILLS:
Connolly's RED MILLS is an Irish family owned company, providing precision nutrition for a wide range of equine needs. The company was established in 1908 in Co. Kilkenny, and today, exports to over 50 countries worldwide. For people who value their horses as high performers, Connolly's RED MILLS has been the automatic choice for over 100 years. We know just what it takes to get you the best results in terms of equine nutrition, health, well-being and performance. Some of the most successful high-performance sport horses in the world have been fed on Connolly's RED MILLS and we are delighted to launch our new dedicated Sport Horse range of feeds. The quality products that produce these results are supported by nutritional research along with some of the most technologically advanced innovation and manufacturing processes in the world. For further information, please visit www.redmills.co.uk/Horses/Home.