Nick Skelton OBE and Big Star scoop €1,000,000 Rolex Grand Prix of Aachen
Sunday 30 June 2013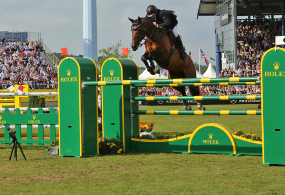 Nick Skelton OBE riding Beverley Widdowson's superstar stallion Big Star, has scooped this afternoon's €1,000,000 Rolex Grand Prix of Aachen in front of a phenomenal 40,000 spectators.
Having wowed the crowds at the London 2012 Olympic Games and received a standing ovation in Rome, he has once again proved what a true talent he is, this time in front of a sell-out crowd in Aachen, Germany.
The 1.60m technical course took its toll on many world class combinations, leaving just Nick and the 10 year-old bay stallion to jump the only triple clear from the 40 strong starting line-up, securing the €330,000 winner's purse ahead of Switzerland's Janika Sprunger and Frenchman Patrice Delaveau, who each lowered a pole in the final nail biting jump-off.
Results
€1,000,000 Rolex Grand Prix (Aachen)
1st Nick Skelton OBE & Big Star GBR (Owner: Beverley Widdowson) – 0/0/0 – 56.41 seconds
2nd Janika Sprunger & Palloubet d'Halong SUI – 0/0/4 – 53.48 seconds
3rd Patrice Delaveau & Orient Express HDC FRA – 0/0/4 – 53.75 seconds
4th Daniel Deusser & Cornet d'Amour GER – 1/0 – 76.95 seconds
5th Steve Guerdat & Nino des Buissonnets SUI – 4/0 – 69.34 seconds
6th Ludger Beerbaum & Chiara 222 GER – 4/0 – 69.49 seconds
7th Beezie Madden & Cortes 'C' USA – 0/4 – 71.27 seconds
8th Christian Ahlmann & Codex One GER – 0/4 – 73.93 seconds
9th Shane Breen & Balloon IRL – 4/0 – 74.24 seconds
10th Harrie Smolders & Exquis Walnut de Muze NED – 0/4 – 74.85 seconds
Today's win etches Nick into the history books as the first person ever to win the Aachen Grand Prix title on a record breaking four separate occasions, having previously taken victory in 1982 (with If Ever), 1987 and 1988 (both with Apollo).
The Aachen Grand Prix forms part of the inaugural Rolex Grand Slam, whereby any rider delivering wins in the Grand Prix's at Aachen, Calgary and Geneva will be awarded a whopping €1,000,000 bonus prize.
For more information please see www.chioaachen.de