Monday, June 25, 2018
NICK SKELTON & CARLO WIN THE GRAND PRIX AT LA BAULE
Sunday 13 May 2012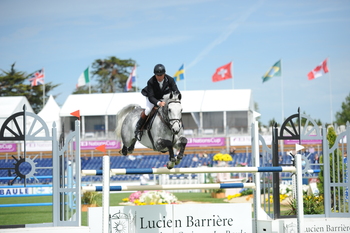 In a class that saw almost fifty competitors take part in the hope of winning their share of the €200,000 prize money on offer it was Nick Skelton with Beverley Widdowson's 11-year-old grey gelding Carlo who took the top spot.
With twelve competitors qualifying for the second round, many of whom rank amongst the world's best riders, it was always going to be an incredible Jump Off . However, it really did prove to be one that many will remember for a long time to come from the reaction of the crowds who were on the edge of the seats watching it play out in the arena before them.
Joining Nick into the second round was Ben Maher with his own and Quainton Stud's 10-year-old black stallion Tripple X. Jumping clear, one of only six who managed to do the same in the Jump Off, Ben finished in third place just behind Belgium's Phillippe Le Jeune. An incredibly tight time between the two of them it was less half a second that seperated them.
Nick seemed to be keeping an eye on the clock the entire way round the course knowing how tight the times were between those that had managed to jump clear before him. Putting his foot on the accelerator once he felt confident a clear was in his grasp he managed to open up a lead of just over a second that proved impossible to beat securing him podium position.
Talking after the class Nick said I was lucky to have a late draw so that I could watch some of the other riders go first and it goes without saying that I'm delighted to have won the Grand Prix today. My sights are naturally on the Olympics but I don't want to put myself under that sort of pressure at the moment, we are just taking it week by week and it's definitely fair to say that I'm in the extremely fortunate position of having two exceptional horses in both Carlo and Big Star".