Monday, June 25, 2018
MILLIE ALLEN WIN GRAND PRIX & GBR SECOND IN NATIONS CUP FONTAINEBLEAU
Monday 16 April 2012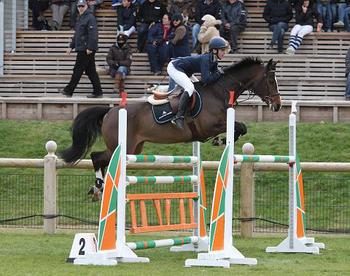 British Showjumping Pony Chef d'equipe, Katrina Moore alongsideTeam Coach Alan Fazakerley were celebrating with the British Pony Squad following their successes in Fontainebleau over the weekend.
The team of four riders to contest the Nations Cup competition on Saturday 14th April consisted of the following riders and ponies.
Stockton-on-Tee's based, 14-year-old Millie Allen with her father's (Peter) nine year old bay mare Song Girl.
Christie Pritchard aged 15-years from Holyhead accompanying Birchill Dessy a 15-year old grey gelding owned by her mother Tracy.
Cheshire based 16-year-old Darby Ward riding Carolyn Nevinson's 12-year-old grey gelding Maradonna
Ayrshire based 14-year-old Graham Babes with his father's (George) 14-year-old bay mare Dollar Girl


With Both Millie and Graham jumping clear in the first round and Darby incurring faults at just once fence and a time fault it was Christie Pritchard's 12faults that became the drop score in the first round. However a faultless performance by Millie, Christie and Darby in the second round resulted in there being no need for Graham to jump for them to secure their runner up position behind Ireland.
Finishing with just one fault behind Ireland, they were one fence above the Netherlands who were relegated into third position with Germany, France and Finland slotting in behind them respectively.
Sunday afternoon saw the Grand Prix take place and it was Millie Allen who produced one of the only eight clears in the first round across the field of fifty starters. Her faultless performance in the jump off secured her pole position finishing almost 1.5seconds faster than Switzerland's Vladya Reverdin and almost more than two seconds ahead of Nicole Cepollina from Italy.
Millie's performance was not only notable in respect of her tremendous win across an incredibly strong field but also in that she was the only competitor to produce a double clear round in the Nations Cup in addition to the Grand Prix.

Congratulations were also due to 13-year-old Emily Ward from Cheshire who won the CSIP Grand Prix with her father's (Nick) and Seara Monserrat's cheshut mare Dafina K

Great Britain had a successful show at Fontainebleau, a CSIOP show which takes between 13-15th April, with other winnings and placings. Full results for which can be found by visiting
The British Showjumping Teams are strongly supported by the UK Sport Lottery funded BEF World Class Programme
Further information can also be obtained from the British Showjumping office by calling 02476 698806 during office hours or emailing press@britishshowjumping.co.uk