Sunday, May 19, 2013
Kerry Brennan wins the Tri-Zone Airlite Senior Discovery Championship 2012
Sunday 26 August 2012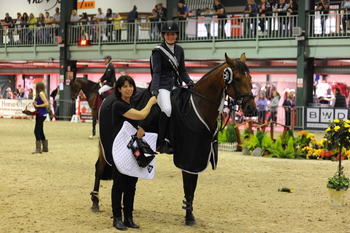 Following stiff competition at the 12 Regional Finals leading up to the Tri-Zone Airlite Senior Discovery Championship, 20-year-old Kerry Brennan from Chesterfield, Derbyshire had a terrific first day at the Plevin British Showjumping Scope Festival.
Taking the first of the show's championships, Kerry fought off the challenge from the other 73 starting combinations to win the Tri-Zone Airlite Senior Discovery Championship 2012 in front of an enthusiastic audience. Kerry took the class on board Michael Wharmby's six-year-old bay mare, Vermillion II.
The track proved tricky and following the first round, 26 made it through the second round of the class. The second round produced only 15 clear rounds to carry forward to the jump off.
The early combinations in the jump off did not waste any time, but the pace was set by Staffordshire based rider, Derek Morton on the Skerne Leys Stud's five-year-old bay gelding, Skerne Scipio. The combination was the sixth to go and they produced a quick time of 37.93 seconds. However, Kerry and Vermillion II did not hang about and they finished clear with an unbeatable time of 37.53 seconds to claim victory.
Margaret Donnelly, General Manager of Equilibrium Products, presented the prizes to Katie and these included a Tri-Zone Airlite saddlecloth, a pair of Tri-Zone Airlite Tendon Boots and a pair of Tri-Zone Airlite Fetlock Boots. Katie also received a Championship Rug.
The Plevin British Showjumping Scope Festival incorporates many National Championship Finals. Qualifiers have taken place around the country throughout the year, culminating in these prestigious finals. Show jumping will take place in the indoor Championship and four outdoor arenas from approximately 8.30am, the indoor Championship Arena continuing until approximately 10.30pm. Entry is free each day until 6.00 pm, it is then £5 per ticket until 8pm when the gates close. Admittance to the showground between 6pm – 7am will be restricted to those wearing wristlets (or producing a purchased ticket which is valid until 8pm only), car parking is free.
HOW TO GET THERE: Staffordshire County Showground is located on A518 between Stafford and Weston (Jct 14 M6).
Tri-Zone Airlite:
Tri-Zone Airlite Boots have been designed and developed by EQUILIBRIUM Products, a company dedicated to making products that are of the highest quality, giving you the confidence that your horse is protected and can perform to the best of his ability.
Tri-Zone Airlite Boots, are a highly innovative new range of boots that completely challenges the traditional rigid boot design by providing high protection whilst maintaining lightness, flexibility and breathability.
Unlike other showjumping boots, Tri-Zone Airlite Tendon and Fetlock boots use a triple layer system to provide excellent protection without any impediment or restriction offering an extremely comfortable and lightweight boot. The Tri-Zone Airlite range has been tested in an independent safety laboratory for its ability to reduce concussion and resist penetration using the same test as body protectors and police armour.