Jess Winter from Hampshire is August's NAF Shining Star
Monday 19 August 2019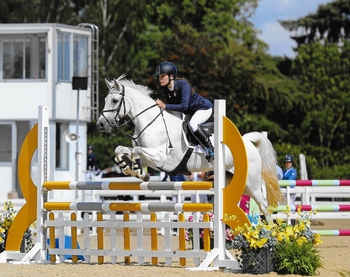 Jess Winter from Liphook in Hampshire not only celebrates her birthday this month but she will also be celebrating being crowned NAF's Shining Star for August! Surrey Academy Lead Coach Claire Edwards nominated Jess for the award as an acknowledgment of the great amount of dedication she puts into her training sessions in order for her competition results to benefit.
"Jess is a very dedicated member of the Junior Academy. She trains regularly with her pony Luna and has set herself a goal of improving their consistency in the ring. Through flatwork and jumping sessions Jess has developed a greater understanding of allowing gradual progression and is now riding much more accurately especially down related distances and in jump-offs" says Claire. "Jess has also shown a lot of dedication to her NAF training; she recently completed her NAF Pony 3* award and took part the Pony NAF 3* competition at Stoneleigh."
After finding out she was the NAF Shining Star winner for August, Jess said "I was surprised, excited and very pleased to find out I had been awarded the NAF Shining Star Award. There are so many great things about being part of the Academy; the training is excellent and the support I have had from coaches has been brilliant. Having friends that I have met through the academy at shows and competing against each other makes for a really nice atmosphere.
I competed at the National Academy Show this week and I am heading off to Pony Club Camp now and I am really hoping to qualify for some winter Championships in 2020"
Lisa Field from NAF commented "It's so great to hear about Jess and all the hard work she has been putting into her training. With some amazing support from her mum, Jess is achieving her goals and has completed her Pony 3*. We loved hearing how her dedication and determination have helped her achieve such incredible results with her pony Luna. Congratulations Jess, this month's Shining Star! We wish you all the best for the future!"
Jess will receive a number of NAF equine products to use including a range of shampoos and Oestress that she already uses.
The NAF Shining Star Award was introduced when NAF became a British Showjumping Business Partner. The award is for members of a Junior Academy who have shown a great deal of commitment, progression and outstanding behaviour along with their riding ability and much more. Riders are nominated by their lead coach, and then judged and awarded by NAF to one person each month.