Sunday, June 24, 2018
Jess Dimmock crowned U23 British Champion
Friday 20 December 2013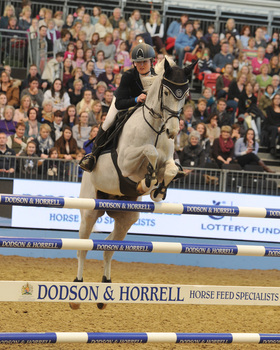 It was a magical afternoon at Olympia, The London International Horse Show, Olympia as Northamptonshire showjumper, Jess Dimmock, was crowned the Dodson & Horrell and the World Class Programme U23 British Champion for 2013.
Jess, aged 20, was part of a twenty-four strong showjumping line up to contest the class. All twenty-four started the first round, but the field was soon whittled down, as only the top fourteen riders from round one went forward to contest round two, which saw some lovely jumping produced over a technical course built by course designer Bob Ellis.
The course, which asked some questions of the young riders, saw four clear rounds produced in the second round from Jess, Emma O'Dwyer and UK Sport funded World Class Development riders Jessie Drea and Jessica Mendoza. All four riders then went forward to contest the third and final round - the jump-off, alongside Scarlett Ward who also rode a clear round but recorded an unlucky time penalty.
In the jump-off, starting in reverse order (based on times from round two), Scarlett was first into the arena with Milena 8 and dazzled the packed venue repeating her performance from the second round, with another clear to finish on 49.84 seconds, carrying forward a single time penalty from round two.
Next to go was Jess Dimmock riding her own Capello II. Having produced two clear rounds heading into the jump-off, the pressure was on for a repeat performance, and she didn't disappoint – producing yet another stunning clear in a fast time of 41.00 seconds to head into the lead.
Emma O'Dwyer was next to go in the Championship Final, with Miss Tonic, but an unfortunate fence down, meant Emma finished with four penalties in a time of 42.89 seconds. European junior silver medallist Jessica Mendoza riding Spirit T flew round the course to record a time of 39.12 seconds but had a fence down, putting her into third.
Last rider to go Jessie Drea and Touchable, had the crowd on the edge of their seats as she sailed round the course in 38.65 seconds, but was unfortunate to have two fences down to finish in fifth place, with Jess Dimmock taking the honours.
Jess commented after her round; "It means absolutely everything to me; this time last year he [Capello II] was really poorly and nearly died - it's around a year on now and it's just amazing. To win is just unbelievable. I'm so lucky to have Capello [II]; he's really a horse of a lifetime".
World Class Showjumping Performance Manager, Rob Hoekstra commented; "It was a very good class, all about jumping, with three clear rounds winning the title. To have four double clears at this level and such a good standard of jumping and talent coming through looks great for the future."
There was a total prize fund of £15,300 at the Final, as well as Training Vouchers to the value of £2,900 awarded to the top eight prize-winning riders.
The Championships are supported by feed manufacturer Dodson & Horrell and by the World Class Development Programme. The Development Programme is funded by Lottery and Exchequer funds via UK Sport; the Programme seeks to identify and develop talented athletes who have shown the potential to reach the world stage.
Dodson & Horrell has a long history of support in equestrian sports across all levels, from its sponsorship of Riding Club and Pony Club events, the British Showjumping National Amateur & Veteran Championships, over 25 years of support for Point-to-Point racing to title sponsorship of the iconic Chatsworth International Horse Trials. As Royal Warrant holder and official supplier of nutrition to Equestrian Team GBR, Dodson & Horrell will play a pivotal advisory role in the lead up to next year's WEG, Normandy and the 2016 Rio Olympics.
Results:
1. Jess Dimmock (Capello II, owned by rider)
2. Scarlett Ward (Milena 8, owned by Peter Ward and Jill Willows)
3. Jessica Mendoza (Spirit T, owned by Sarah Mendoza)
4. Emma O'Dwyer (Miss Tonic, owned by Vina Buller and Joanne O'Dwyer)
5. Jessie Drea (Touchable, owned by Lynne Humphries)
6. Carian Scudamore (Larino 0087, owned by Nigel Scudamore)
7. Chloe Aston (Kolibri Classic, owned by rider)
8. Ben Walker (Victory VI, owned by Di Cornish)
For more information about the class and for the complete results list please visit the The London International Horse Show website: www.olympiahorseshow.com
Image: Jess Dimmock and Capella II / photographer, Trevor Meeks