Friday, May 24, 2013
Hickstead News - Saturday
Saturday 23 June 2012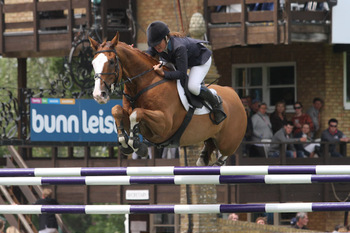 Trevor Breen has a superb track record in the Bunn Leisure Speed Derby round the unusual track to win in what was a hugely competitive revival. Irishman Trevor and his elder brother Shane now have two wins apiece in this class, and between them hold the record for the three fastest times.

Daniel Coyle (Special Leap) set the first sub-100sec time, but the quick times continued to come, with eventual third Harriet Nuttall (Highland Cruiser II) going clear in 97sec. Guy Williams then set the quickest time, but two fences down meant eight seconds were added to his time. Trevor was next and went clear, before Shane Breen set a quicker time – but one fence down cost him his chance of winning.

Trevor looked home and hosed, but last to go Ahmad Saber Hamcho gave Trevor a real fright, finishing clear and only just missing out on Trevor's time to take second place. It was a brilliant ride from the Syrian rider, who was having his first attempt in the Bunn Leisure Speed Derby.

"I love the Speed Derby – it's a real test for horse and rider. There are massive gallops between fences, and two banks, where every instinct is telling you to take a pull but you have to kick hard instead. You just have to be brave and hope your horse is brave too, thankfully my horse was brilliant today," said Trevor.

Ahmad, who received a standing ovation from the crowd, praised the showground. "The atmosphere at Hickstead is great, it's one of the best shows I've been to," he said.

Harriet Nuttall backed up her credentials in this class with her third placing, having finished runner-up in 2011.

Another young rider from the West Country triumphed earlier in the day in the Hickstead Derby Trophy, with the title going to Sammie Jo Coffin and Willem De Lux.

"I really didn't expect to win, I just wanted to jump around and have a nice time," said Sammie Jo. "I was just happy to go in the main ring as I've never been in it before. This is my first international show, and the atmosphere is amazing. 'Will' loved it, he really grew as soon as we rode in."

Sammie Jo was delighted to finish ahead of Olympian Nick Skelton and the talented Big Star, who netted a steady double clear to go fourth.

"I watched Nick go and knew that I needed to keep it as tight as possible and to keep moving, and it went well. It feels amazing to have won and to beat Nick Skelton!" she said.

Image :Sammie Jo Coffin