GUY WILLIAMS SHOWS HIS SUPPORT FOR BRITISH SHOWJUMPING
Monday 25 June 2012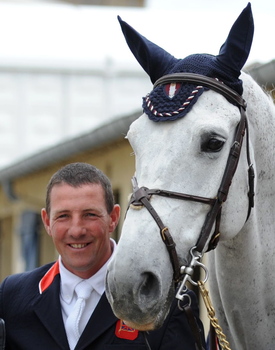 Guy Williams, 2011 European Championship Bronze Team Member and one of Great Britain's leading international riders has offered for auction a fantastic 'experience auction' in his support for British Showjumping.
The auction has been offered on ebay and can be found by visiting:
The day will start with you arriving with your horse or pony at Guy's yard near Canterbury in Kent at 10am in the morning. On arrival you will spend some time with Guy prior to your lesson discussing what you would like to cover and what he would like to assist you with. You lesson will last approximately an hour but may go on for slightly longer if both yourself and Guy feel it beneficial to do so.
After your lesson, refreshments will be available before Guy gives yourself, and up to two guests, a tour of his yard. During the yard tour you will have the opportunity to meet some of Guy's top horses, so you could well find yourself spending time with the incredibly talented and eye-catching Depardieu Van't Keizelhof or one of the many others in his string. In addition you will get to see the training area that Guy created and trained Skip Two Ramiro in when he secured the 2010 DFS Hickstead Derby title.
In addition to this, a photographer will be present to take a photo of yourself either in your lesson or during the yard tour so that you can be reminded of your Day with Team Williams!
The only requirement if you are to bid on the auction is that are able to bring your own horse or pony to Guy's home under your own steam and that both the lesson and yard tour are undertaken on the same day. Due to the summer's competition schedule the day will be organised at a mutually convenient time between October 2012 and March 2013.
Guy has generously offered the auction to assist with the raising of funds alongside the British Showjumping Awards Ball where funds raised are reinvested back into the arena via series like the International Stairway to support the Performance Pathway programme and the delivery of medals for Great Britain.