Monday, May 20, 2013
GREAT SUCCESS FOR SHOWJUMPING BREEDER
Thursday 02 August 2012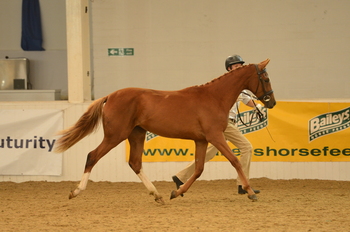 Showjumping breeder Joan Gray from Market Harborough earned a high accolade for her young horses at the Baileys Horse Feed/British Breeding/British Equestrian Federation (BEF) Futurity Evaluations held on the 26th July at Arena UK.
The BEF Futurity evaluation series aims to identify British bred young potential sport horses and ponies destined for careers in dressage, eventing, showjumping or endurance, and may even find the Olympic Champions of the future.
A higher first premium indicates the young horse has the potential and outlook to compete at national level competition.
The top scoring showjumper and yearling of the day was Celine, owned and bred by Joan Gray. Celine earned a higher first premium with a score of 8.91. She is by the Danish Warmblood, Cendy, out of St Pr Fantasia V by Fleurop. Celine is the fourth foal from St Pr Fantasia, a state premium mare who Joan bought from the Elite Auctions at Addington in 2003. Fantasia is now back in foal to San Amour and next year will be sent back to Cendy. "I chose Cendy because in 2009 my first foal was competing in the Shearwater and Badminton potential young dressage horse 5 year old classes, ridden and trained by Craig Millard, and Cendy, also ridden by Craig Millard, was in the potential young dressage horse 4 year old classes. So I saw Cendy compete on quite a few occasions and I knew that he was a very lovely young horse with a superb trainable temperament, a strong canter and walk. I loved the quality of his jump" said Joan. She plans to keep Celine and produce her ready for young horse classes and possibly aim her at the Equine Pathway. This was Joan's third visit to the Futurity at Arena UK. "I always enjoy the event as it is run well and Arena UK is a great venue" said Joan.
The BEF's Head of Equine Development, Jan Rogers, said: "The futurity continues to grow and be shaped by feedback we receive and is developing into an assessment the British horse world recognises as a valuable indicator of future performance talent"
The BEF Futurity Evaluations are held at 12 venues throughout the UK and young horses go home with a BEF Premium (grade), a stylish rosette and a detailed, informative score sheet. An attractive certificate to keep and frame follows on after the event. All results are published on the fully searchable British Breeding website. www.britishbreeding.org.
For further information on the BEF Futurity Evaluations, visit www.britishbreeding.org