Great Britain are Olympics bound following European Bronze medal winning success
Friday 23 August 2019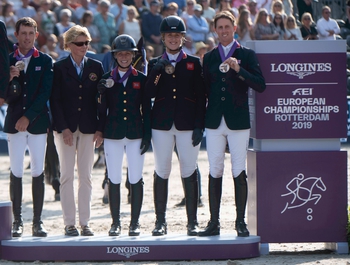 Emotions ran incredibly high this afternoon when Great Britain won Team Bronze at the European Championships in Rotterdam and secured their ticket for the Tokyo 2020 Olympic Games.
The team of four riders claimed their position on the podium with some incredible performances from pathfinder Ben Maher, Holly Smith, Amanda Derbyshire and anchor rider Scott Brash.
The primary objective of the Championships for Great Britain was always to pick up one of the three Olympic tickets so it was a delighted Di Lampard, Performance Manager, that stepped up on the podium with the riders to claim their medal. Their medal came as the result of some great performances from all four, with none more so being the rounds from Ben who took the role of pathfinder. Riding the 10 year-old chestnut gelding Explosion W, owned by Poden Farms, he posted an outstanding clear to mirror those delivered on the first two days. This not only gave a solid start for the team to build on but also assured him of his continuing place at the top of the Individual leader board going in to Sunday when the Individual medals will be contested.
Holly Smith with the 10 year-old British bred bay gelding Hearts Destiny owned by TJ Hall Limited and Holly were unlucky to touch the top rail of a vertical to pick up 4 penalties in what was otherwise a faultless round.
For Amanda Derbyshire and Luibanta BH, an 11 year-old bay mare owned by Gochman Sport Horse LLC, it was the same finish score when they touched an early oxer.
For anchor rider Scott Brash on the 13 year-old bay mare Hello M'Lady, owned by Lady Kirkham and Lady Harris, it was an 8 penalty finish but with Great Britain already secure in Bronze the top three placings were decided with Belgium and Germany taking Gold and Silver respectively ahead of us.
Talking after the medal winning ceremony Di Lampard commented "It has been a fantastic result today and they were an incredible team in the way that they came together like they did with everyone putting in a counting score across the three rounds of the competition. Dublin, where we won the Nations Cup two weeks ago, was a great trampoline for them here in terms of getting the momentum going and it's not just the riders supporting each other but also all the owners supporting the entire team.
"We came here to qualify for Tokyo and we have come away with a lot more than that in terms of a Bronze medal and we now of course have Ben in pole position going into Sunday in the Individuals and Holly in 12th. Our focus is now very much on Sunday and supporting the pair of them."
Ben, who has led the Individual leader board since yesterday, said about his thoughts for Sunday "My priority today has very much been about the team and us gaining Tokyo qualification. On a personal level looking forward, we always have high expectations coming into a Championships, especially with a horse like Explosion. It's one day at a time, he will enjoy his rest day tomorrow I'm sure, and then it's all down to our final day on Sunday."
British Showjumping Chief Executive Iain Graham said "We are obviously delighted. Qualification for the 2020 Olympic Games has been our focus since the World Equestrian Games last year. The team came to Rotterdam to secure our ticket to Tokyo, but we have also come away with a team bronze - our first medal at a Europeans since 2013 - and we can now focus on supporting our riders in the individuals on Sunday."
The Belgium team held onto their overnight lead to win the Team Gold on a score of 12.07 penalties with the Germans taking the Team Silver on 16.22 penalties. Great Britain finished on a total of 21.41. In winning the Team Gold, Belgium also secured their place at the Tokyo 2020 Olympic Games along with Great Britain and France.
Team GBR Performance Director Vikki Underwood added "I am so proud of the way the British riders have come together and delivered this outstanding result. There was an unwavering confidence in our ability to deliver a team medal and Olympic qualification for 2020 here. The whole team, including the riders, grooms, owners, support staff and of course Performance Manager Di Lampard, has created such a strong unit and I have no doubt that Team GBR will continue to thrive as we head into the final year of the Olympic cycle".
The last day of competition will be Sunday 25th August with the Individual medals being decided after another two rounds of jumping. Competition will get underway at 1.00pm (local time).
The Individual Final will be broadcast live on the BBC Red Button with coverage starting at 11.50am (BST).
For the full results from today, visit https://bit.ly/2zeDGuE.
The British senior teams are supported by the BEF's UK Sport National Lottery funded World Class Programme.