Georgia Coe from Shropshire is April's NAF Shining Star
Monday 15 April 2019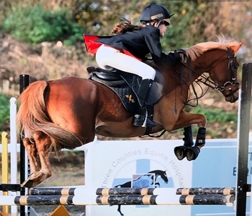 Georgia Coe has been awarded the NAF Shining Star for April after showing great determination which lead Area 33 Lead Coach Hannah Jackson to nominate her for the award.
Twelve year-old Georgia from Bridgnorth, Shropshire has shown tremendous commitment over the last year since joining the Hereford and Worcester Academy
"When Georgia first attended the academy she was in her local Pont Club and would only jump 60cm - 70cm, now a year later she has competed in two classes at the Blue Chip Championships and has gained all of her double clears for the Stepping Stones and the Springboard Finals" said Hannah "Georgia is a very valuable member of the academy, her commitment (along with her parents') is outstanding. She has been to every training session, academy competition and camp. Although she is very tough on herself, she has a great attitude to riding and all of her hard work is now paying off".
After finding out she was the winner of April's NAF Shining Star, Georgia said "I am over the moon – I have been working so hard all winter with my pony Fairley Picador. I have another year with him and I hope to qualify for the Novice and Discovery finals this summer at the British Showjumping National Championships alongside competing for my Academy Team. We are going to Cavan in July for the Home Pony International which will be a new experience and one I am really excited about. I have just recently started competing on my horse - Max - at senior level as well as bringing on my 148 pony, Lady Victoria, who is only 4 years-old so I have plenty to look forward to for the future.
I have met some really good friends through the British Showjumping Academy and see them regularly on the circuit and thoroughly enjoy meeting up and competing with them as a team. I love the training camps that are run; we can spend time learning on our ponies and having fun in the evenings. I would like to thank Hannah Jackson for all her support, coaching and guidance over the last few years – Hannah introduced me to British Showjumping via the Academy set up just over 2 years ago and I have learnt so much, loved every minute of it and never looked back."
Lisa Field from NAF added "Georgia has been working incredibly hard to be achieving such great results with her pony! It's great to hear of her dedication and commitment to training, which is definitely paying off with her amazing results. We look forward to seeing what 2019 holds for her, well done Georgia, a worthy winner of this month's Shining Star!"
Georgia will now receive a number of NAF Equine products to use alongside the products that she is already using including NAF Superflex, M power and Leather Quick Clean.
The NAF Shining Star Award was introduced when NAF became a British Showjumping Business Partner. The award is for members of a Junior Academy who have shown a great deal of commitment, progression and outstanding behaviour along with their riding ability and much more. Riders are nominated by their lead coach, and then judged and awarded by NAF to one person each month.
NAF:
NAF is the most respected and trusted brand for supplements and applications for your horses in the UK today. Using proven ingredients and creating unique effective formulations NAF has an extensive portfolio of products designed to offer something for your horse's every need.
NAF are proud to be Official Suppliers to the British Equestrian Teams and Business Partners to British Showjumping supporting the NAF Five Star Training programme and the Shining Star Awards. Jessica Mendoza says "NAF have a great team of veterinary scientists and nutritionists, they are a big help to me and are there at the end of the phone with free advice if and when you need it, 0800 373106 or info@naf-uk.com."