Danielle Farnsworth wins the British Horse Feeds Speedi-Beet HOYS Grade C Qualifier at Nottinghamshire County Show
Tuesday 15 May 2018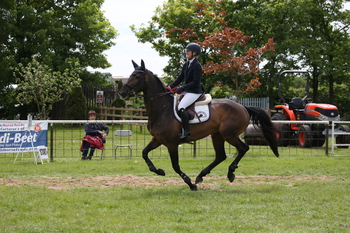 The first British Horse Feeds Speedi-Beet HOYS Grade C Qualifier of the season drew fifty keen starters to Nottinghamshire County Show in Newark on Sunday and it was Danielle Farnsworth who gave the winning performance.
With three qualification places available for the British Horse Feeds Speedi-Beet HOYS Grade C Championship Final at Horse of the Year Show, the class proved to be a great competition for competitors and spectators alike. After the challenges of the first round just fourteen combinations remained to compete against the clock in the final jump off.
As a local rider, Danielle made the short journey from Kinoulton, Nottinghamshire with Louise Fosters 9 year-old dark bay mare, Inglenook Eline. This combination secured their place in the jump off with a stron clear round before going on to produce the only double clear of the jump off , crossing the finish line in 54.84 seconds.
Nottinghamshire County Show – Sunday 13th May 2018
Speedi-Beet HOYS Grade C Qualifier
1st Danielle Farnsworth & Inglenook Eline – 0/0 – 54.84 seconds
2nd Charlie Jones & Clear Lasina – 0/4 – 54.39 seconds
3rd Georgie Strutton & Khaled O L – 0/4 – 54.67 seconds
NB: Qualifications will be updated pending official grading of results.
Image Credit - Real Time Imaging
The Horse of the Year Show will take place from the 3th – 7th October 2018 at Birmingham's NEC.
Speedi-Beet from British Horse Feeds:
British Horse Feeds, makers of Speedi-Beet, is the equine feed division of I'Anson Bros Limited and is based in Masham, North Yorkshire. British Horse Feeds is best known for its flagship product 'Speedi-Beet' which, thanks to the unique patented process has revolutionized the feeding of beet pulp. Speedi-Beet has improved nutrient availability and soaks in just 10 minutes, compared to 24 hours for sugar beet pellets. It's a great way to add quality fibre to your horse's diet for slow release energy. Fibre-Beet, a formulated blend containing Speedi-Beet and alfalfa has the benefits of Speedi-Beet with extra conditioning. For more information contact British Horse Feeds on 01765 680300 or visit our website on www.britishhorsefeeds.com