Claudia Moore Proves The Only Way Is Essex!
Thursday 28 December 2017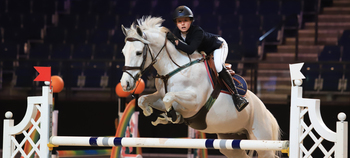 Essex teenager Claudia Moore got the Liverpool International Horse Show off to a flying start on Thursday with victory in the 148cms Pony Championship.
Thirteen-year-old Claudia, from Brentwood, guided Elando van de Roshoeve - a pony ridden to European Championship gold medal glory by Jack Whitaker last year - home in the jump-off, edging out Shropshire-based Faye Sutton on Robe Rudhr.
Reflecting on her success, Claudia said: "I know that my pony is capable, so I wasn't nervous at all. I've had good times here every time I have competed at Liverpool. Winning here today is a big step for me on this pony.
"He is the sweetest pony. He can be a quite crazy, too, but that's just his personality!"
The international amateur classes also began at Liverpool's Echo Arena, with the opening class, sponsored by the Pullman Hotel, going to Essex rider Jade Meekings on Pauls Lass in a jump-off time of 29.71 seconds after 14 combinations went clear in round one.
For further information and full results visit www.liverpoolhorseshow.com